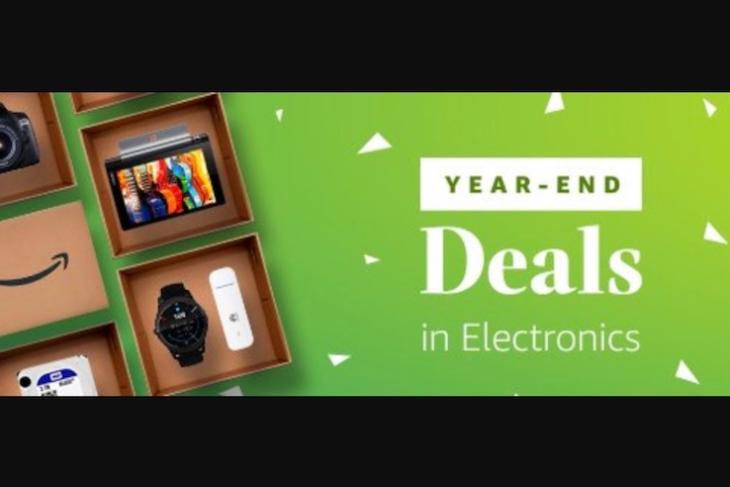 2017 is coming to an end and it's a good time to buy electronics as most of the e-commerce websites in India are providing great deals on a plethora of products. Just recently, Amazon India announced its best year end deals for 2017, covering a range of products including laptops, speakers, hard drives, PC accessories, headphones, and more. We have curated a list of the best deals you should definitely take a look at:
1. Dell Vostro 3468
If you were looking for a good portable budget laptop, take a look at the Dell Vostro 3468. You will get a portable 14-inch laptop with Intel 7th generation Core i3 processor, 4 GB of RAM, 1TB Hard-drive and Windows 10.
Buy From Amazon: (Rs. 31,990 – 11% discount on MRP Rs. 34,925)
2. Amazon Echo 2nd Generation
This is currently the best value for money smart speaker you can get. The original Echo was already great and the new one improves upon its predecessor by bringing a more compact design along with better sound quality. If you buy this right now, you also get a 1 year Amazon Prime Membership for free.
Buy From Amazon: (Rs. 6,999 – 30% discount on MRP Rs. 9,999)
3. Amazon Echo Dot
If you can't afford the Amazon Echo but still want all its functionalities, take a look at Amazon's Echo Dot. It's small, has all the functionalities of Amazon Echo, and is available for half the price. The only thing that you are sacrificing is the sound quality.
Buy From Amazon: (Rs. 3,149 – 30% discount on MRP Rs. 4,499)
4. JBL GO Portable Wireless Bluetooth Speaker
Looking for a cheap portable wireless Bluetooth speaker for at an ultra-affordable price? Try the JBL Go which comes in really nice looking funky colors and provides an exceptional sound quality for its size. Currently, Amazon is offering a discount of almost 50%.
Buy From Amazon: (Rs. 1,895 – 46% discount on MRP Rs. 3,495)
5. Apple Watch Series 2
Apple has won the smartwatch game as its Apple Watch has become the most sold smartwatch in the history and for good reason. Its seamless integration with Apple's ecosystem along with robust health applications makes this one the best smartwatch one can buy.
Buy From Amazon: (Rs. 26,900 – 23% discount on MRP Rs. 34,900)
6. Seagate Backup Plus Slim 1TB
If you are not in a habit of creating a manual backup of your computer on an external hard-drive, you should definitely start now. To get started you can buy the Seagate 1TB hard drive which works with both PC and Mac without having to format it first. Users who want extra storage can also check out the 5TB version.
Buy From Amazon: (Rs. 3,897 – 51% discount on MRP Rs. 7,999)
7. Samsung 850 Pro 256GB
If you want fast transfer speeds, it's better to go for an SSD than a hard drive. Currently, Amazon is offering a 41% discount on the Samsung 850 Pro (256GB), which makes this one a steal.
Buy From Amazon: (Rs. 9,425 – 41% discount on MRP Rs. 16,000)
8. SteelSeries The SIMS 4 Gaming Headset
If gaming headsets are your thing, how about buying one from a respectable brand for just Rs. 349. Yes, you read that right, so stop wasting your time and get the deal while it lasts.
Buy From Amazon: (Rs. 349, 83% discount on MRP Rs. 1,999)
9. Redragon M601
Want an affordable gaming mouse to go along with the above-mentioned affordable gaming headset? Buy the Redragon M601 at 53% off right now.
Buy From Amazon: (Rs. 799 – 53% discount on MRP Rs. 1,690)
10. Redgear MP80 Control-Type Gaming Mousepad
If you do decide to buy the gaming mouse listed above, you should definitely check out this mousepad to go along with it. It's a very good mousepad and I can personally vouch for it as I myself purchased it a while back and it has been great.
Buy From Amazon: (Rs. 499 – 50% discount on MRP Rs. 999)
That concludes our list of best deals you can currently get on Amazon India's year end sale. Do remember that these deals keep on changing everyday so be sure to check out Year End Sale page on a daily basis to discover new deals everyday.