Podcasts are one of our favourite ways of catching up with the latest happenings in our preferred niche and they have grown in popularity over the years. As an android user, you're probably wondering if there are any good podcast apps that can provide a seamless way to search for and listen to your favourite shows. While there are plenty of apps on the app store that promise to do this, they vary greatly in terms of design, function and performance. We have combed through the Google Play store and made a strong selection of apps for you to choose from.
Best Podcast Apps For Android
1. Pocket Casts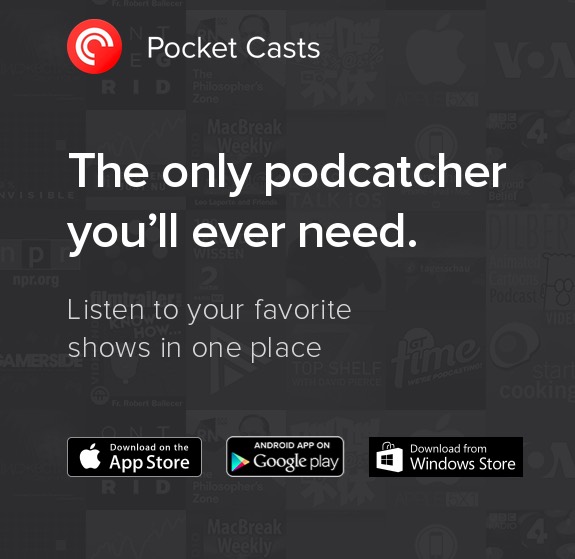 Pocket Casts is the most sought after podcast application on the Google Play store with a host of features. It's well designed, easy to use and includes a discovery option to help you find new shows.
It's material design interface follows the modern trends and it is well optimised for Phones and Tablets. You can synchronize your subscriptions and data to the cloud so you can always access them on any of your devices.
When you subscribe to a podcast, it gives you the option to download over your data connection or WiFi only and you can also set it to auto download podcasts.
Another great feature is it's ability to toggle video podcasts to audio and it gives you some audio effects so you can speed up podcasts or give a volume boost. Pocket Casts also comes with Chromecast support so you can send your audio or video with the tap of a button.
Developer: Shifty Jelly
Compatibility: Android 4.1 and up
Availability: Pocket Casts ($2.99) – Google Play Store (also available on iOS, Windows Phone and on the Web)
2. DoggCatcher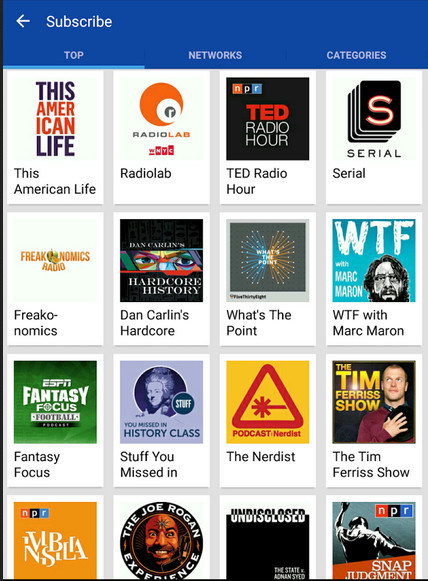 DoggCatcher is another highly-rated app that promises to help manage your podcasts and newsfeed for you.
It allows you to import your existing subscriptions in OPML format or search for podcasts via RSS Feed. You also get personalised recommendations based on your history once you've used the app for a while.
You can arrange your apps by category and add widgets to your home-screen for quick access to player controls. It also features Chromecast support and offline playback of audio and video podcasts.
Developer: DoggCatcher
Compatibility: Varies with Android device
Availability: DoggCatcher Podcast Player ($2.99) – Google Play Store
3. PodCast Republic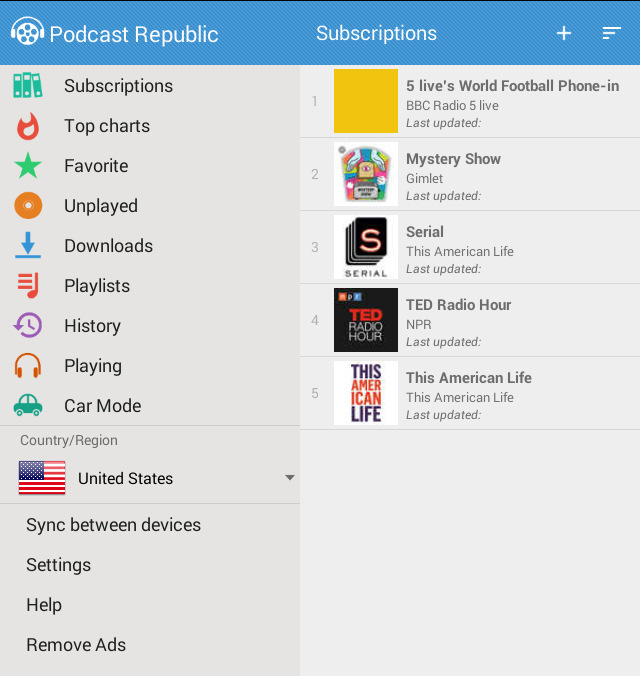 Podcast Republic is a free podcast manager android app that is well regarded on the app store with a 4.4/5 average rating.
The free version of the application comes with adverts but you can purchase the ad-free version via an in-app purchase. However, there is no feature difference between the ad-free and ad supported versions.
It provides customisable widgets that you can place on your homescreen or lockscreen. You also get expandable notification controls so you can easily control the audio without having to open the app.
You can choose to stream your favourite audio or video shows via Wi-Fi or data connection or download them for offline listening. It supports over 10 of the World's popular languages and features a car mode for quick playback. Android Wear and Chromecast are also well supported.
Developer: Podcast Republic
Compatibility: Varies with device
Availability: Podcast Republic (Free) – Google Play Store
4. BeyondPod Podcast Manager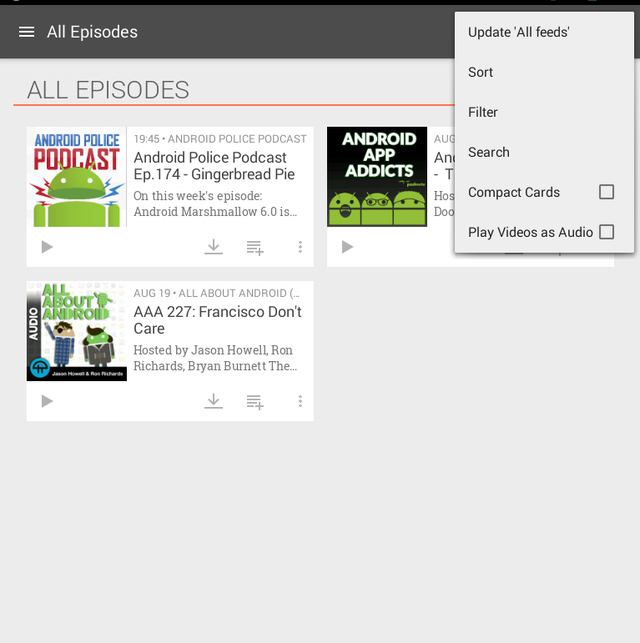 BeyondPod is another popular option on the Play store with over 3 million downloads.
It comes with a lite version which includes a free 7-day full feature trial allowing you to test the application before deciding whether to purchase it or not.
It offers smart playlists that add podcasts automatically based on your listening preferences and allows you to create your own playlists.
It also provides Feedly integration and allows you save bandwidth by scheduling your downloads at specific times such as when the device is connected to a WiFi network or while it's charging.
Developer: BeyondPod Team
Compatibility: Varies with device
Availability: BeyondPod Podcast Manager (Free) – Google Play Store
5. Podcast Addict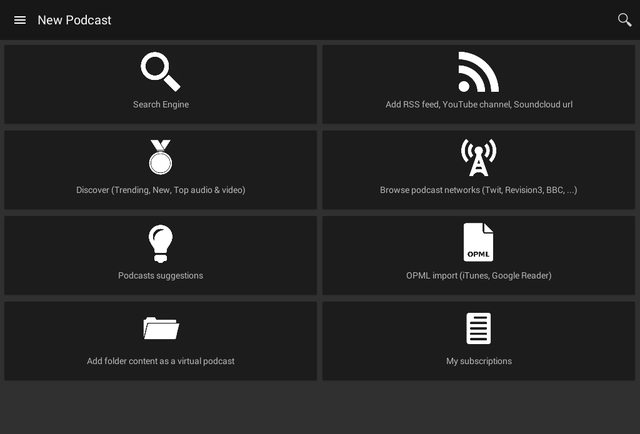 Podcast Addict is a great application for podcast lovers that offers a lot of unique options.
As well as being able to import podcast shows via OPML, you can also add your existing subscriptions iTunes or use it's powerful search engine to browse the Podcast Addict or iTunes database.
It can manage you YouTube channel subscriptions, iTunes subscriptions or RSS news feed in addition to the your regular audio or video podcast shows.
There are options to automatically update your podcast feed or download new episodes of selected shows and you get to see new and trending shows via the app. It also offers a comment download option and has different themes to select from.
Developer: Xavier Guillemane
Compatibility: Varies with device
Availability: Podcast Addict (Free) – Google Play Store
6. PodKicker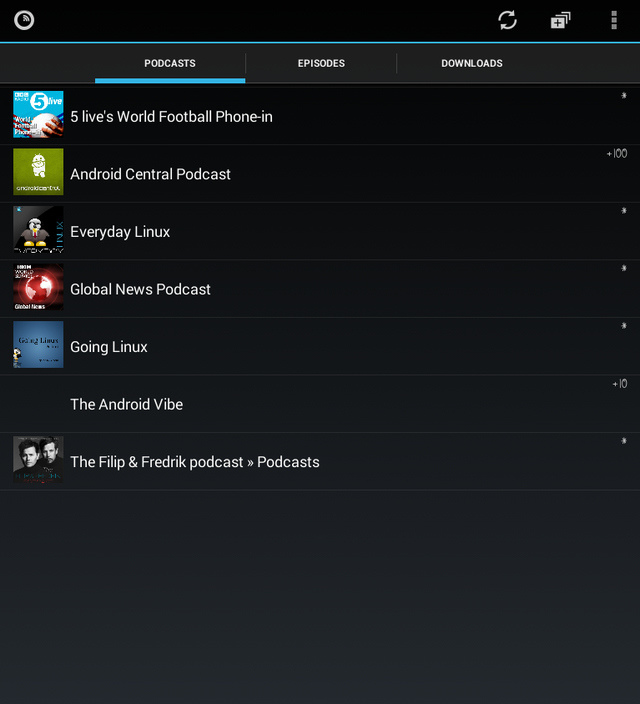 PodKicker is a minimalistic podcast app for android that offers all the standard features you would expect from a podcast app.
It offers video and audio support as well as the transfer of downloaded episodes to dropbox. It features a dedicated search engine that allows you search across over 250,000 podcasts and it also gives you suggestions based on your current subscriptions.
Other features include Car mode support, Flattr integration, sleep timer, categorisation of shows and automatic downloads while it's Chromecast feature is currently in beta.
Developer: QVGA
Compatibility: Varies with device
Availability: Podkicker Podcast Player (Free) – Google Play Store
7. Player FM Podcasts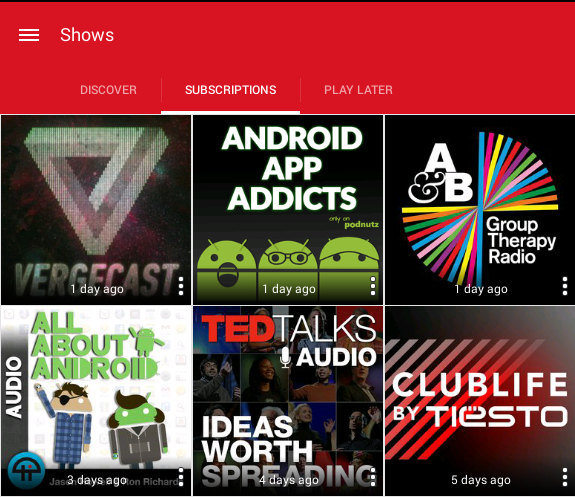 Player FM Podcast is a great podcast application that is completely free for up to 20 subscriptions. It features a clean, mordern design with no adverts and is simple to use.
You can import or export subscriptions as well as sync them in the cloud for access across all your devices.It gives you fresh recommendations across over 500 topics so you can keep up to date with your preferred industry.
It provides offline support and allows you customise the number of episodes you want to make available offline. It also supports Android Wear and Chromecast.
Developer: Player FM Podcasts
Compatibility: Android 4.0 and up
Availability: Player FM Podcasts (Free) – Google Play Store
8. Podcast 02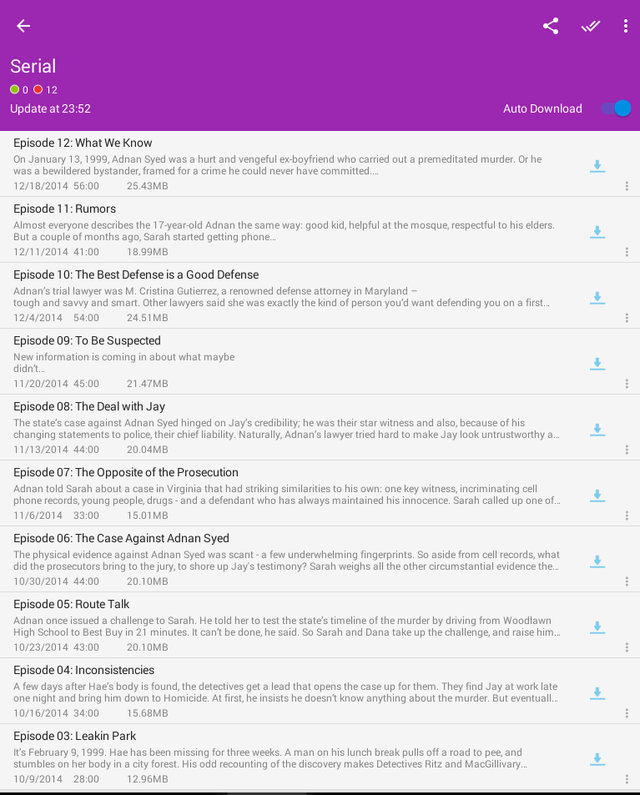 Podcast O2 is another well designed application that podcast addicts will love.
It supports streaming or offline playback as well as iTunes based search. You can import your subscriptions via OPML and iTunes or import your audio books as a virtual podcast. You get to easily browse podcasts by category and create playlists.
There are configurable options for notifications and background playback of videos. It also supports automatic downloading and auto cleanup of podcasts and Chromecast for sending to TV or other device.
Developer: App02
Compatibility: Android 4.0 and up
Availability: Podcast 02 (Free) – Google Play Store
9. DoublePod Podcasts for Android
DoublePod Podcasts is a lightweight podcast app that gives you access to over 250,000 free podcasts.
It allows you to search for and download podcasts an delete them once you have listened to them. It's country filters also gives you the option to filter out the podcasts from a specific country.
There are options to search for audio or video podcasts or both at once and you can also search by category so it helps you to view only the most relevant results. It's streaming support is excellent but you can always choose to download to your SD card if you prefer.
Developer: Mazinger
Compatibility: Android 2.2 and up
Availability: DoublePod Podcasts for android (Free) – Google Play Store
10. RatPoison Podcast Player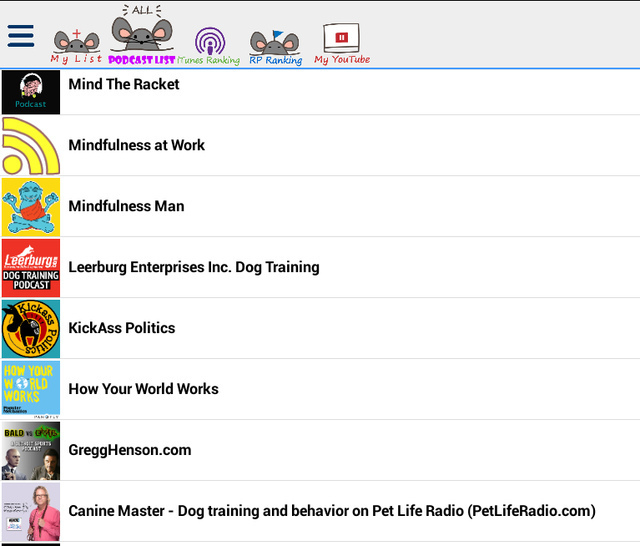 Despite it's odd name, RatPoison Podcast Player is a fairly solid podcast app with plenty of good reviews on the app store.
It offers a cartoonish but fairly simple interface with minimal options but has support for both Podcasts and Youtube. With over 30000 registered podcasts and radio channels registered here, there is no shortage of shows to listen and subscribe to.
Once installed, you can setup quickly by choosing anyone of the suggested podcast shows or searching for one by name or category. You can also checkout it's Weekly Popular Podcast Ranking tab for shows that got the highest amont of listeners during the week. Finally, you can add new Youtube subscriptions via the app.
Developer: Ratpoison Factory Manager
Compatibility: Android 2.2 and up
Availability: Ratpoison Podcast Player (Free) – Google Play Store
SEE ALSO: Top 7  Slow Motion Video Apps for Android
Conclusion
There you go. All these apps have their strengths and can do the basics fairly well so you should be able to find happiness with one of these selections. Feel free to try any of them out and share your experience in the comments section below. If you have any other favourite podcasting apps, do let us know about it also.