When it comes to offering a top-notch podcast listening experience, Pocket Casts has long been a popular choice. Unfortunately, Pocket Casts has found itself embroiled into controversy in China where it has been removed from iOS App Store in the country. The Cyberspace Administration of China has revealed that the app can be used to access illegal content in the country and demanded that Apple remove the app for the violation of Chinese law. Notably, Castro – another major podcast app – had also been pulled from China's App Store recently. We understand that it was not the apps' fault, but still, if you are concerned about its future or just looking for something new,  we've listed the 10 best Pocket Casts alternatives for Android and iOS that you can use in 2020.
Best Pocket Casts Alternatives for Android and iPhone (2020)
Though Pocket Casts' UI has always been intuitive, the app at times feels sluggish. Moreover, many users have reported that it doesn't often load content smoothly. Also the move to subscription-based pricing hasn't sit right with many users. While picking out Pocket Casts replacement apps for iPhone and Android, we've ensured the substitutes cover up most of these shortcomings, while also ensuring that they are equally good in terms of features and customization.
1. Overcast
If you are looking for a complete Pocket Casts alternative for iPhone and iPad, Overcast could be the right answer to your needs. The app features an intuitive UI and offers many excellent features. You can browse through the ever-growing collection and download your favorite podcasts to catch up with them offline. Just like Pocket Casts, it also features multiple smart filters to create custom playlists to easily access the podcasts you love to listen to.
In terms of personalized recommendations, Overcast is quite similar to Pocket Casts. The app keeps a tab on your interest and offers recommendations accordingly so you can quickly access the sort of podcasts that appeal to your taste. Another feature worth noting is the easy podcast management. Based on needs, you can set per-podcast priorities and rearrange the list in line with your preference.
With the timely alters, it keeps you in sync with the latest arrivals so that you don't miss out on them. One of my favorite features of Pocket Casts is a pretty neat podcast player that offers cool customization for a fully personalized podcast listening.
In this regard, I have found Overcast up to the mark thanks to the straightforward way to adjust volume and skip silences. Not to mention, it also offers a standalone podcast playback on Apple Watch so that you can tune into your favorite episodes right from the wrist.
Install: iOS (Free, $9.99/year)
2. Podcast Addict
What Overcast is for iOS, Podcast Addict is for Android. The 4.7 stars out of 5 from over 500K ratings and more than 9 million downloads just go on to show how popular it's on Android devices. Another department where it scores quite well is customization. You can fine-tune the playback speed and use features like loop mode, sleep timer, and shuffle mode to enhance your podcast listening experience.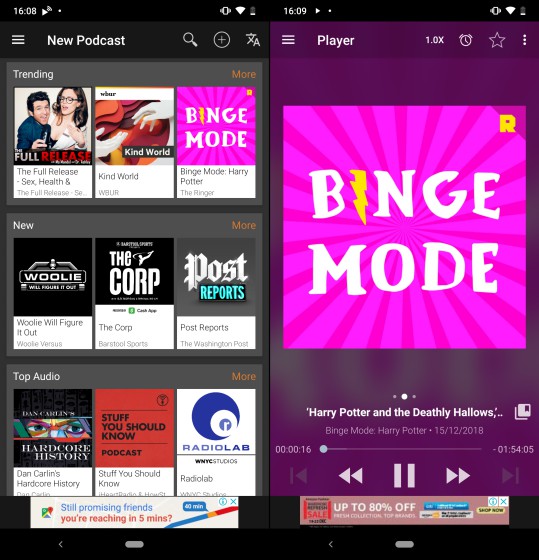 As compared to Pocket Casts, Podcast Addict has looked a touch better to me in terms of audio effects. The presence of features like mono playback, volume boost, skip silence, and the ability to work as a standalone player make it very user-friendly.
In addition, it provides some super handy automation like an automatic update, download, and deletion. Therefore, you won't have to worry about manually cleaning up the unnecessary episodes or downloading your preferred podcasts. Thanks to the support for Chromecast and Sonos, you can also beam your favorite podcasts on the streaming device.
If you use RSS reader feeds, you will love the option to import OPML files within the app. Besides, the ability to import audiobooks from the device and play them directly from the app is also worth taking note of. Considering these features, Podcast Addict can easily stake the claim of being one of the best Pocket Casts substitutes for Android.
Install: Android (Free, offers in-app purchases)
3. Podcast Guru
Another podcast app that has never failed to impress me is Podcast Guru. Both in terms of quality and quantity, the app can give a strong competition to Pocket Casts. Unlike Pocket Casts, Podcast Guru has a clean user-interface that makes navigation a breeze. Besides, its freemium version doesn't seem bloated by ads.
You can count on this app to not annoy you with too many ads. Many a time it becomes a bit inconvenient to find the best podcasts despite a ton of AI-driven intelligence. That's why the app provides reliable reviews and ratings by Podchaser so that you can easily find desired podcasts.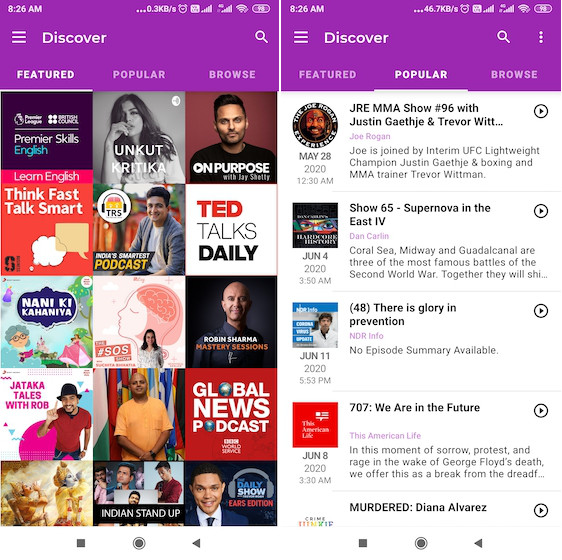 Like Pocket Casts, Podcast Guru comes with a smart download manager to prevent downloaded episodes from hogging precious storage on your device. Depending on your needs, you can choose to download episodes only on Wi-Fi to prevent the app from gobbling up a lot of mobile data and save episodes to removable storage to clear them out easily.
What's more, Podcast Guru features a super handy dark mode to not only safeguard your eyes against straining but also extend the battery life of your device. Keeping in mind these features, it's an able Pocket Casts alternative for Android devices.
Install: Android (Free, offers in-app purchases)
4. Google Podcasts
If I were to choose a Pocket Casts alternative purely based a personalized experience, Google Podcasts would be one of my top picks. The app provides a variety of podcasts like comedy, news, politics, entertainment, business, and sports. So, irrespective of what type of podcasts you like to listen to, it has got you fully covered.
On the customization front, Google Podcasts can make a good match with Pocket Casts. You can adjust the playback speed, skip silences, or queue up episodes for seamless listening.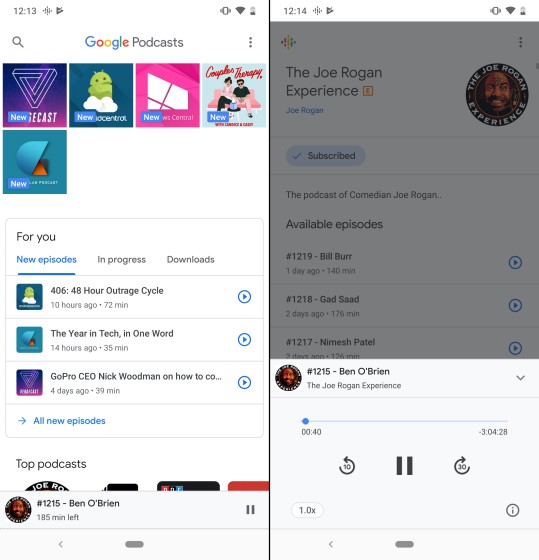 Furthermore, Google Podcasts also comes with a useful download manager. Like Pocket Casts, it lets you auto-download apps so that they will be available when you want to listen to them offline. And with a smart cleanup tool, you can keep the app clutter-free by deleting the redundant episodes. In addition, the app makes it pretty straightforward to keep track of your listening history, downloads, and subscriptions.
Thus, managing history in Google Podcasts is less tedious than in Pocket Casts. On top of all, Google Assistant is always there to let you play or search a specific podcast faster. Everything considered; Google Podcasts is probably the smartest Pocket Casts substitute out there.
5. Apple Podcasts
Why look anywhere else when you already have a top-notch podcast app on your iOS device? You guessed it! Well, I'm talking about the Apple Podcasts app that comes built-in with your iPhone, iPad, and Mac. The app also sports a clutter-free UI for quick navigation. Of course, Apple's offering is nowhere near as elegant as Pocket Casts. However, when it comes to getting the job done, it's up to the task.
One of the biggest advantage of Apple Podcasts is its integration with Siri. You can ask Siri to play podcasts on your iPhone, Mac, and even HomePod. And your play history syncs across devices for free, which is icing on the cake.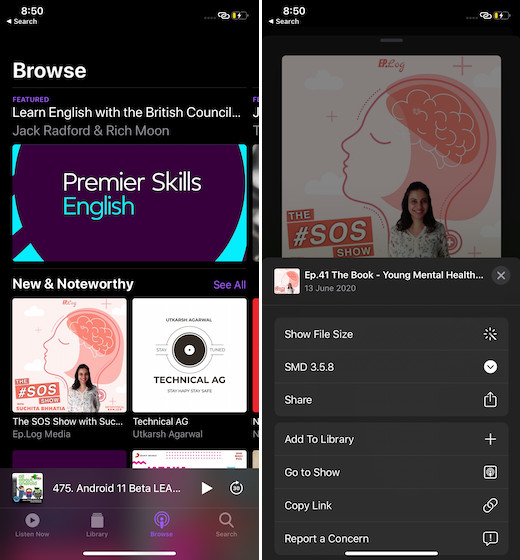 Just like Pocket Casts, Apple's offering also offers a complete download manager. You can set it up to automatically download all the new episodes so that they will always be ready to go even when you don't have an internet connection. After you have played episodes, the app automatically deletes them so that useless episodes don't hog a lot of storage. Overall, you are gettitng a great podcast listening experience, and that too, for free.
Install: iOS (Free)
6. Stitcher for Podcasts
As a podcast player, Sticher has looked quite good to me. The app offers a one-stop platform for listening to a variety of podcasts and radio programs. Moreover, it also offers popular shows from major sources like NPR, WNYC, the New York Times, Earwolf, and BBC so that your catalog always has something really nice to catch up with.
Not to mention, the exclusive premium podcasts that will always have a few surprise elements up their sleeve to appeal to you. Though Stitcher doesn't feature an elegant UI like Pocket Casts, it runs comparatively smoothly.
In addition, Sticher has the support for CarPlay and offers integrations with more than 50 other car models from Ford, GM, Mazda, BMW, Jaguar, and Landrover. Plus, it also plays nicely with all the major smart speakers (features Amazon Alexa skill and connects to Sonos speaker systems) so that you can listen to podcasts on your smart speaker.
Stitcher's premium version is available for $4.99/month and $34.99/year which is comparatively higher than Pocket Casts' $0.99/month or $9.99/year plans. But for this subscription, you are premium content, ad-free listening, and bonus episodes. If you don't want these extra goodies, you can keep using the free version.
Install: iOS / Android (Free, $4.99/month)
7. Podbean
Podbean is the sort of podcast app that can easily appeal to most podcast listeners. You can use this app to subscribe to several well-known podcast channels including PR, CBC, BBC, HowStuffWorks, The New York Times, This American Life, and Gimlet. From sports to politics to finance, the app can easily take care of your varying tastes. Plus, you also get personalized recommendations based on the types of podcasts that catch your attention.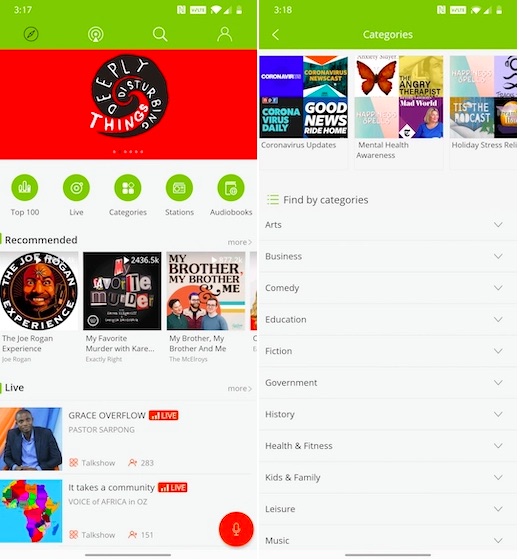 But what sets this app apart from many other counterparts including Pocket Casts is the full-fledged podcast studio that allows you to record professional-quality podcasts for your listeners. Featuring high-quality background music and several cool sound effects, it lets you fine-tune your audio like a pro. With the powerful post-production tools like edit, split, merge, and export, Podbean offers you the needed control to enhance the quality of your audio.
That's not all, Podbean lets you listen to trending live audio shows and also engage with host and other listeners via messaging. If you are after a Pocket Casts rival that can let you not only listen to top-rated shows but also record great podcasts for your listeners, you shouldn't fail to try out Podbean.
Install: iOS / Android (Free, offers a subscription plan for uploading podcasts)
8. Castbox
A feature-packed podcast app like Castbox deserves a mention in this roundup. Probably the biggest highlight of this podcast app is a mammoth collection of audio content that not only include podcasts, but also audiobooks, white noise, guided meditation podcasts, and FM radio. So, it doesn't matter where your interest lies, chances are the app won't let you look beyond.
That aside, the app also features highly-rated TV series podcasts like Binge Mode: Game of Thrones, Game of Thrones The Podcast, History of Westeros (Game of Thrones), Game of Thrones LIVE, and more. As someone who relishes classy TV series podcasts, I have found Castbox's library quite interesting. And I'm sure your story won't be too different from mine!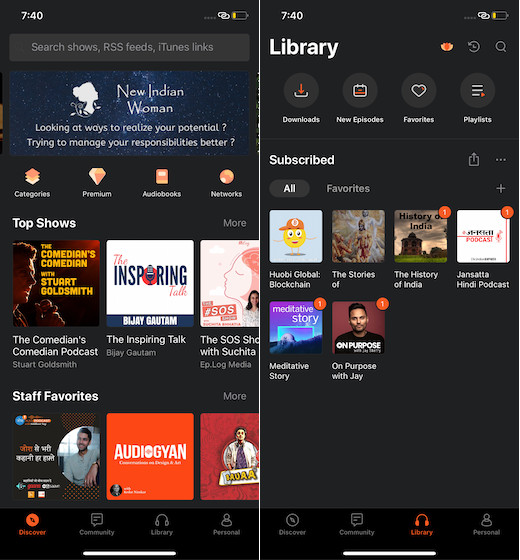 It also looked on par with Pocket Casts when it comes to personalization. Features like the quick way to adjust playback, a handy sleep timer, the ability to trim silence make it a complete podcast app. Just like Pocket Casts, it also offers a freemium model and if you want to unlock all of its features you will need to go for the subscription plan – $7.99/month or $39.99/year.
9. Podcast Republic
Podcast Republic is one of the very few podcast apps that I want to get on iOS sooner than later. What has caught my eyes in this app is a pretty straightforward way to manage podcasts, YouTube channels, SoundCloud Channels, RSS news and blog feeds, and online radio streaming right from one-stop. So, just in case you have to hop from pillar to post to take control of all these things, the Podcast Republic is what you should choose to stay in control with ease.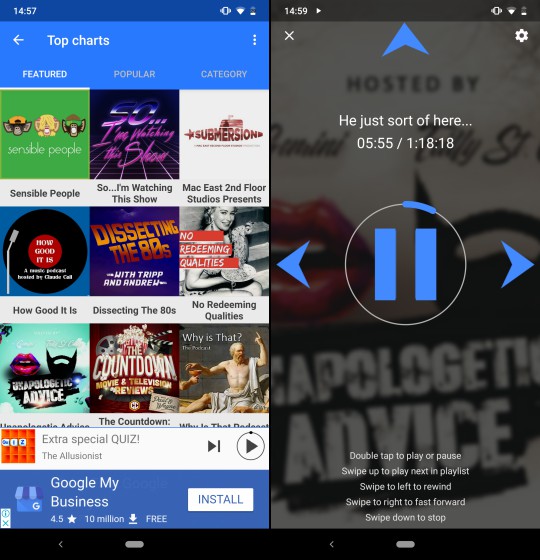 Another feature that has called for my attention is the painless way to import and export subscriptions which come in handy during switching. If you prefer to use multiple podcast apps and often feel the need to import podcasts, you would really appreciate this feature. On the playback front, Podcast Republic is as efficient as Pocket Casts courtesy the presence of features like volume boost, prioritizing, and sleep timer. In short, Podcast Republic is a versatile alternative for Pocket Casts.
Install: Android (Free)
10. Player FM
If all you need is a simple podcast app that can take care of all of your podcast listening needs, Player FM is what you should go for. Granted, its UI doesn't look as neat as Pocket Casts' but when it comes to providing an audio and video podcast listening experience, it is second to none. The app has got some of the coolest themes which you can use to spice up the personalization aspect.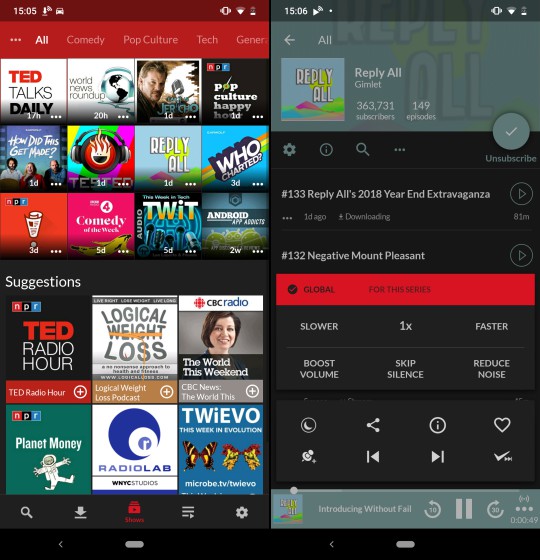 The app gets regular updates to include the latest shows and episodes. Thus, you will always have quick access to the trending episodes. In addition, it also offers a ton of free audiobooks, documentaries, and video podcasts to cater to ever-changing interest. One of my top picks of this app is the availability of vibrant colors and dark themes that come into play when you want the app to make a better match with your mood. Though Pocket Casts also offers several themes, Player FM has an upper hand in this department.
Install: iOS and Android (Free, offers in-app purchases)
Choose the Top Pocket Casts Substitutes for iOS and Android
So, these are the top-ranked Pocket Casts alternatives for iOS and Android devices. Having explored notable rivals, I hope your eyes have found a suitable answer to your one-stop-podcast listening. But before you tune into an exciting show, let me know the names of the podcast apps that have found a spot in your kitty. And yes, also tell us about the deserving podcast apps that are worth adding in the above roundup.