The excitement, the long queues, and the craze! This is the impact of Apple's first store(s) in India, now open both in Mumbai and Delhi. All this while I couldn't really think of a prominent reason why an Apple Store stands out and now that I have visited it during a special preview session held yesterday, here's what I felt when I set foot at a place that welcomed me with all the excitement.
Inside Apple Saket, Apple's Second Store in India!
Apple Saket is a relatively smaller property if you have to compare it with Apple BKC. Instead of an opulent, two-floor store, this one gives a rather compact and intimate vibe. But what was the most attractive part? The warm welcome I got, followed by cheers and claps — all this making the experience lively.
The store is well segregated into different stations, each of them showing the iPhones, Apple Watches, MacBooks, iMacs, and iPad, placed on white oak tables, and those who are suckers for nice interiors will love this. You get dedicated corners for audio products, phone cases, MagSafe accessories, Apple Watch bands, and even charging cables and adaptors.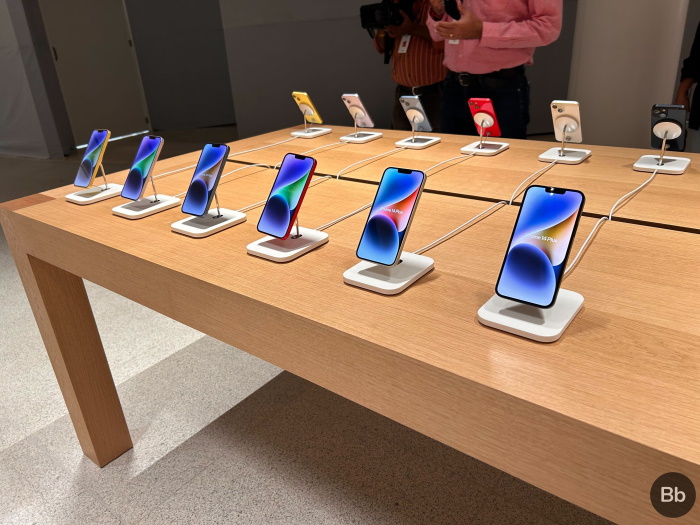 A special wall meant for you to try Apple Arcade and Apple TV+. And some 'Dilliwali' vibes with the feature for some cultural touch. The aesthetically-pleasing environment is topped with the fact that there's every possible variant of a product on display, which helps make the choice. And then comes the focus on a sustainable environment. Apple Saket is carbon neutral and uses renewable energy to function.
The dedicated Genius Bar for guidance on a round table, Apple trade-ins and gift card options, and a pickup station (for you to book an Apple product online and pick it up from there for hassle-free purchases) are the highlighting perks you will get here.
In all honestly, despite these things, I couldn't feel enticed. An Apple Store after over two decades is definitely a good thing in India but what's the thing that is for a buyer either looking for an upgrade or entering into the Apple ecosystem for the first time? In my opinion, this is just another store but there's definitely something different. Apple raves about it and indeed, it's the people. You get well-trained, knowledgeable, and skilled members (around 70 of them) that know 15 languages.
These people come from different backgrounds and the diversity makes the Apple Store experience different from any other store. You know you will get to chat with friendly people and get proper assistance, especially when it's your first Apple product.
If you are looking for offers and discounts, you might feel disappointed for that's not what the Apple store is about. But if a personal touch is what you need to make an expensive purchase (a rarity in stores in India), you might feel the most fulfilled. Come here for the experience and the interesting people, not for discounts!
Now that the Apple Store in Saket is all open for you to visit, do let me know if you end up going there and your experience in the comments below.