If you're in the market for a gaming monitor, you've probably come across a whole bunch of them at multiple price points. However, if you're looking for a monitor that brings a ton of features, and comes in at a competitive price point, the BenQ Zowie XL2546 is probably one you would've seen. So, if you're planning on buying this gaming monitor, and are doing your due diligence before making a purchase such as this, I mean, it's priced at Rs. 37,690, we have you covered. Here is our review of the BenQ Zowie XL2546 gaming monitor.
Zowie XL2546: Specifications
Before we dive into the review, let's get the specifications for this monitor out of the way.
Display Size
24.5-inches
Resolution
1920x1080 (Full HD)
Refresh Rate
240Hz
Response Time
1ms
Aspect Ratio
16:9
Brightness
320nits
Viewing Angles
170/160 degrees
Stand
90-degree pivot, 45-degree swivel, 140mm height adjustment, -5 to 20-degree tilt adjustment
Ports
1x HDMI 1.4
1x HDMI 2.0
1x DVI-DL
1x DisplayPort 1.2
1x Headphone Jack
1x Mic-in
Zowie XL2546: Design and Build
The Zowie XL2546 looks like most other expensive gaming monitors at first blush. It has a thick build to accommodate the plethora of ports, and things like the built-in headphone hanger, it doesn't do a lot to hide its bulk, and it looks slightly intimidating, especially if you're using it at work, like I am, and you're surrounded by sleeker looking monitors.
That's not bad though, because the Zowie XL2546 doesn't try to make its way into fitting in at your workstation, even though, as I've found through my usage of this monitor over the past few weeks, it can fit in for all the work-related tasks you might need it to do. With this monitor, BenQ simply had gamers in mind, and that's very obvious in a bunch of design aesthetics that the company went with.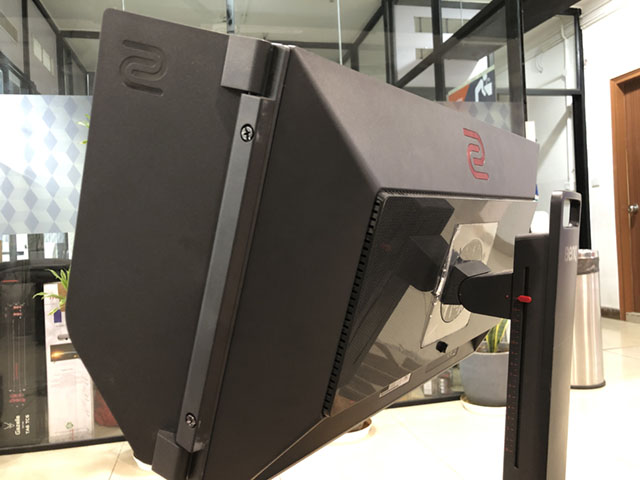 One of those design aesthetics is the black and red color combination used throughout this monitor and its stand (which is included, by the way), but even so, BenQ doesn't overdo it, and it looks nice, and adds not only a splash of color, but also some character to the set up. Then there's the height marker running along the side of the stand. It goes all the way from 0 to 14cm, and comes with a small plastic marker so you can remember what height adjustment you prefer for gaming (and/or work). The stand also comes with tilt degrees marked on it, and the base has a set of markers to identify when the monitor is perfectly straight towards you.
What's really good about the design here is that sheer number of configurations you can use this monitor in. It can be brought close to the desk, tilted up and down, swiveled around, and even rotated 90-degrees into a portrait orientation (that might come handy for streamers wanting to use a secondary display to show their Discord, Steam, or Twitch chat. Basically, the Zowie XL2546 is as versatile as it gets as far as configurability options are concerned, and I really like it.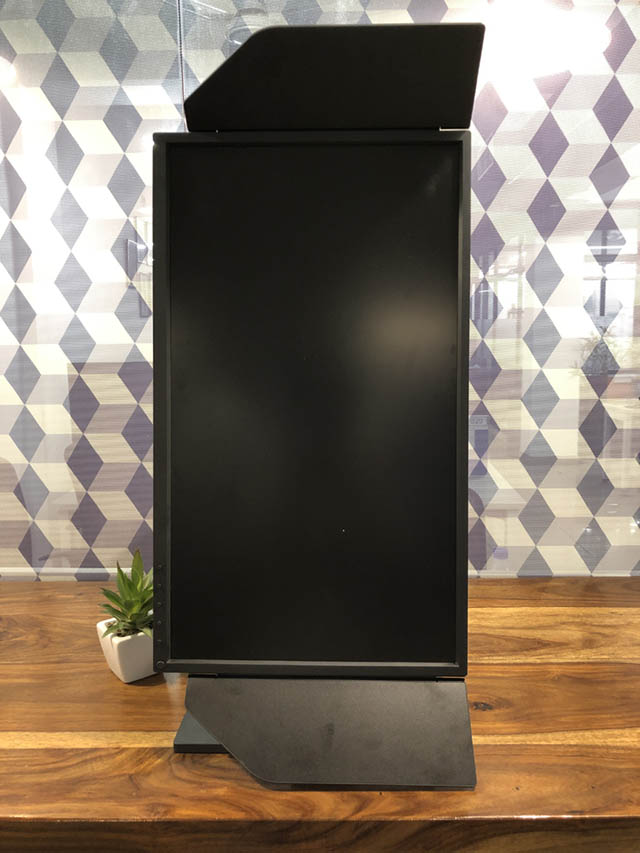 There are relatively big bezels here though, which isn't really something I personally like, but BenQ claims that it's helpful to make gamers focus on the game without getting distracted by their surroundings — something that's also done by the included shields that attach to the sides here. That said, these aren't massive bezels, especially when put in perspective to the size of the display itself, and after an hour or so of using the monitor, you don't really notice them anymore, unless you're hunting for the buttons on the bottom right to adjust a setting on the display.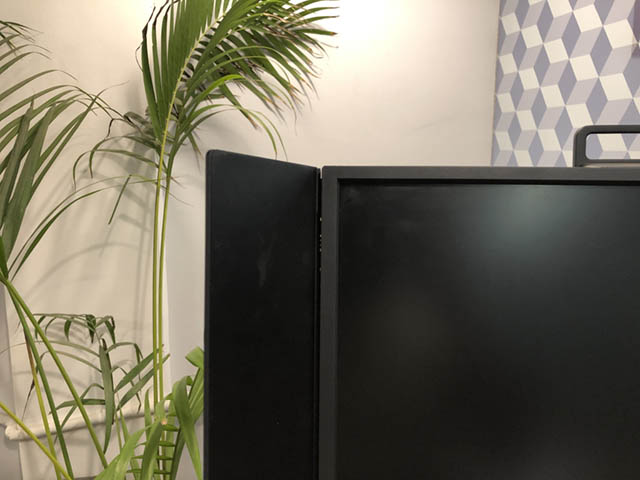 Moreover, the bezels certainly add more in the way of a sturdy construction, which is yet another thing that's great about this display. It doesn't feel weak or cheap; it's made of high quality plastic and metal, and while it's certainly a little on the heavier side, the included handle on top of the stand makes for easy portability should you need to move the monitor to a different location in your house, or, as was the case for me, in the office.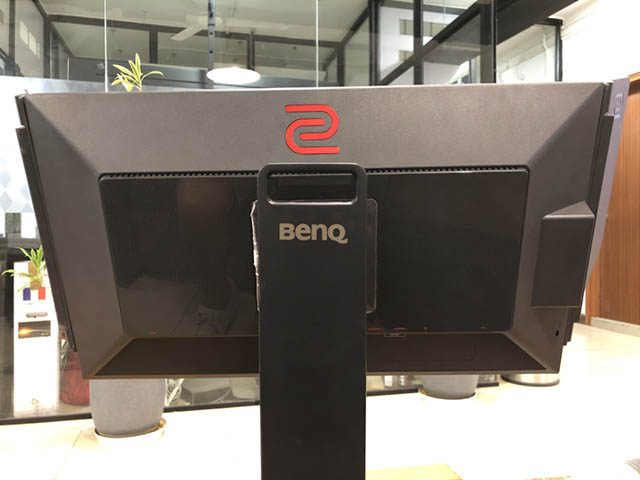 Zowie XL2546 Display and Picture Quality
This is a relatively difficult section to describe, because even though this monitor is aimed at gamers, I also used it as my daily display for work, and in those situations, this doesn't seem to be the best display out there. Especially if you're coming from a higher resolution laptop, such as my usual daily driver 2017 MacBook Pro with its 13-inch Retina display.
Still, since this is a gaming monitor, I'll treat it as such, and not dock points for flaws that are really only visible when using this is a non-gaming display.
So this here is a 240Hz panel with a response time of 1ms, and those are specs you would expect from a display priced at Rs. 37,690. Does that make a big difference to games? Kind of. Does it make a big difference in daily usage — definitely. As long as your laptop or PC has a GPU that's capable of driving 240Hz displays (and most modern GPUs will do), everything on this panel is pretty frikkin awesome. The animations are smooth, scrolling is a treat, and gaming is smooth and responsive. It's all pretty great.
For testing this display from a gaming display point of view, I connected it to one of the many gaming laptops at our office, and yes, gaming on this display is fun. It's definitely better than gaming on a standard laptop display, and the refresh rate and response time will certainly make a difference, especially in fast-paced shooting games like Fortnite, PUBG, or Battlefield V.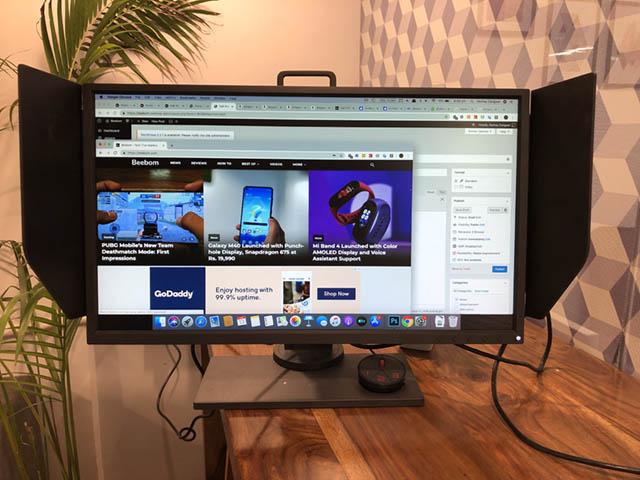 When I did connect the display to my MacBook Pro for general office-related work, I had to set the color profile to fix the otherwise washed out colors that the monitor defaulted to. However, that's something I've noticed happen with a lot of displays so it's not really something I'd attribute to this monitor itself. Other than that though, the Zowie XL2546 is a pretty solid display.
The colors here are nice, and while I do feel like the whites are a little less white than what they should be, it's not a big difference, and general media consumption on this display is satisfying enough an experience. That said, I'd suggest staying at arm's length from this display because a 1080p resolution on a 25-inch monitor will definitely show you pixels if you're looking at it too close, and that can (and will) ruin your experience, even in movies, and especially if you're using subtitles.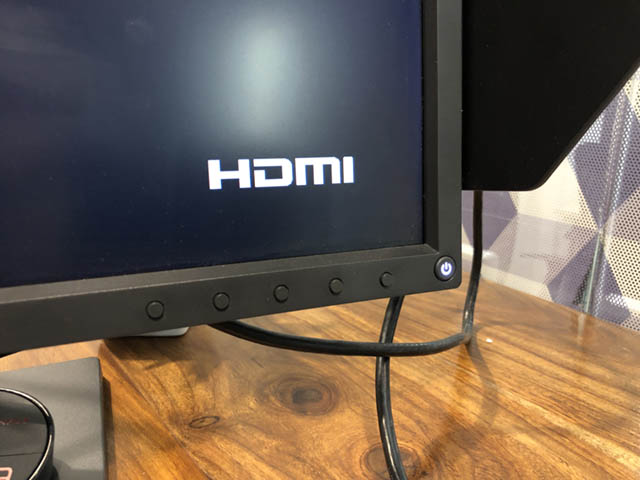 The one thing that I don't like about this display are the viewing angles. Zowie claims the monitor has 170/160-degree viewing angles, but move your head even slightly off the center of the display and it takes on a yellow-ish almost sepia-like overlay which looks absolutely terrible. The only consolation to that is the fact that while gaming, you'll not really be looking at your screen from the side, so it shouldn't bother you while you're engrossed in a match of PUBG.
Zowie XL2546: Ports and Connectivity
The Zowie XL2546 comes with a plentiful selection of ports on both the side, and below the bottom lip of the display. There's quite a lot of stuff here, but mostly what you'll be concerned with are the HDMI ports, and the USB 3.0 ports on the side.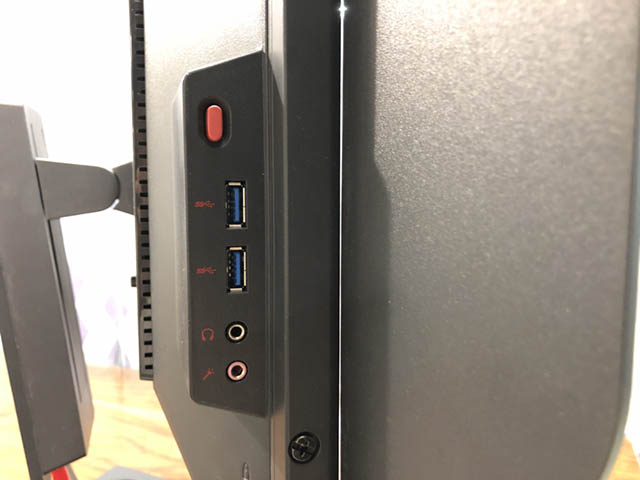 There are 2 HDMI ports, one of which is an HDMI 1.4 port, and another an HDMI 2.0. There's a DisplayPort, a DVI slot, a headphone jack, mic-in, USB-3.0 ports, and even a headphone hanger, which isn't strictly a port, but it's a handy addition to the monitor, so you can easily store your headphones when you're done gaming, and pick them back up when you're ready for more rounds of your favorite game.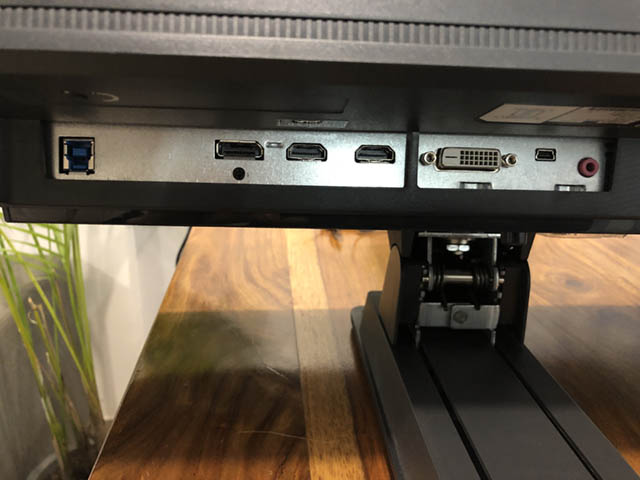 Zowie XL2546: Features
As a gaming monitor, the XL2546 would be remiss if it didn't offer features that are aimed specifically at gamers, and it offers quite a lot of them, so let's take a look at them one by one.
1. DyAC
DyAC, or Dynamic Accuracy, is a feature that works more or less to reduce motion blurring on the display, making it easier for you to aim at moving objects in games. DyAC comes in three settings: Premium, High, and Off. While Zowie claims that High and Premium are considerably different in terms of performance, I found both of them to be pretty close, but DyAC does make a big difference because turning it off results in a very observable change in the way games look and feel on the display.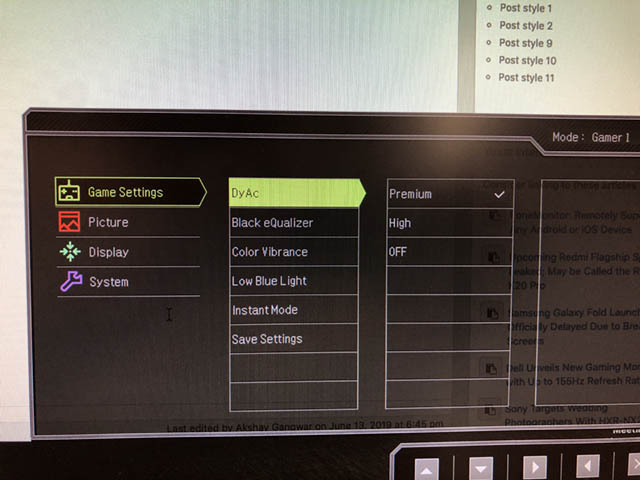 2. Black eQualizer
No I didn't get the capitalisation wrong there, that's how Zowie writes Black eQualizer. Think of this as the Pixel 3 Night Sight feature but for your display… almost. With Black eQualizer, the monitor will increase the brightness in dark areas in a game, but will maintain the white areas so they don't become over-exposed. This can come in very handy for spotting enemies hidden in the dark, and in PUBG, it definitely helped me quickly take a look inside houses without having to actually properly look and check if there was a hidden enemy in the dark somewhere.
3. ColorVibrance
ColorVibrance, or CV, is another feature in the Zowie XL2546 that makes colors stand out better, and can help with spotting enemies easily. Personally, other than colors becoming more saturated, CV didn't really feel like a very helpful gaming feature to me, and I found myself leaving CV at the default value of 10 throughout my usage of this monitor.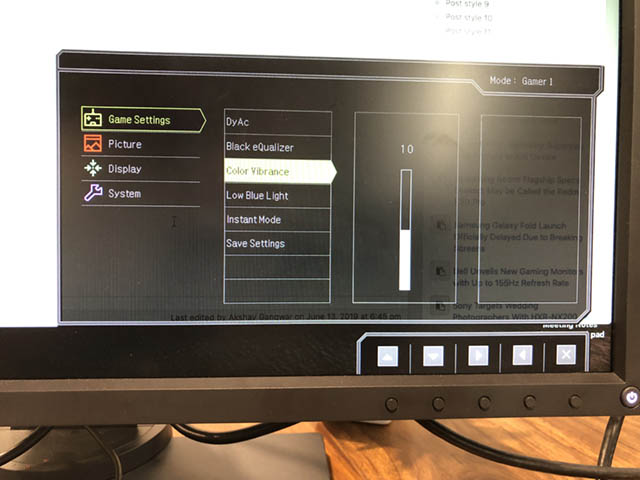 Apart from these features, the Zowie XL2546 also comes with Flicker Free technology which reduces screen flickers, and helps avoid strain on the eyes. There's also the Shield here, which, contrary to what you might think, is not actually meant to add a little privacy to your gaming sessions. Instead, BenQ says that this helps gamers focus on the game better. Now, I'm not sure about that, but personally, after having used Shield on the monitor for a week or so, I can't go back to using it without the Shields, so it definitely helps with concentration, and a more immersive, less distracting experience, which is awesome.
Zowie XL2546: S Switch
The Zowie XL2546 also has an additional accessory. Called the S Switch, this circular set of, well, switches, comes with 3 custom keys that you can program to quickly change the display settings on the monitor. You can simply change the settings to whatever you want, then press and hold on the 1,2, or 3 buttons on the S Switch for 3 seconds, and the setting will be saved. From there on out, you can simply press the button to switch display settings of the monitor to your liking, so you can create a setting that suitable to games like PUBG, one for something like watching movies, and yet another one for casual usage, and quickly switch between the three with just the push of a button.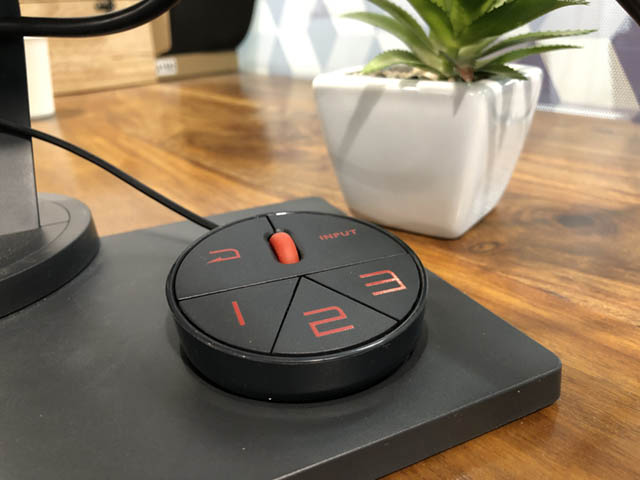 I didn't use this very often, but it was helpful to quickly be able to switch settings from game-mode, to something more suited for finishing off articles on the website. Plus, the base for the Zowie XL2546 comes with a dedicated place where you can keep the S Switch — that's definitely a good touch, and, if you're not using the S Switch, like I wasn't, you can use that place on the base to keep your drinks, which is also pretty handy.
Zowie XL2546: Pros and Cons
The Zowie XL2546 definitely looks like a pretty solid gaming monitor, but as the age old adage goes, there are two sides to every coin, so lets take a quick look at the good and the bad of this monitor.
Pros:
240Hz refresh rate
1ms response time
S Switch makes it easy to switch profiles
Built-in headphone hanger
Cons:
Viewing angles are not good
1080p resolution seems a little low for a big, 25-inch display, especially when using it close up.
Zowie XL2546: Worth the Money?
All things considered, the Zowie XL2546 is a pretty good gaming monitor. It's packed with features, it comes with a 240Hz refresh rate, and 1ms response time, it brings a nice, versatile stand that can let users set up their monitor any way they want and more. However, at Rs. 37,690, the drawbacks of the Zowie XL2546, especially the shabby viewing angles, sound more jarring than they otherwise would. As a purely gaming display, the Zowie XL2546 is good, but there are other options out there. There's the Acer Predator XB272 which is priced at Rs. 39,990 and brings 240Hz refresh rate, 1ms response time, and a Full HD 27-inch display. There's also the HP 27XQ, which brings a 144Hz refresh rate, 1ms response time, and a 27-inch QHD display for Rs. 35,399. There are others too, and all of this just goes to show that the Zowie XL2546 has tough competition in this segment, and other than the added features that it brings to the table, major brands like HP and Acer will definitely bring the fight to it, and personally, they feel like better choices.
Buy the BenQ Zowie XL2546 from Amazon (Rs. 37,690)
REVIEW OVERVIEW

Ports and Connectivity

8.5

SUMMARY

As far as gaming monitors go, the Zowie XL2546 is right on point in a lot of ways. It brings a 240Hz refresh rate, 1ms response time, and some gaming-centric features baked in. However, at Rs. 37,690, the Zowie XL2546 needs to compete against brands like HP and Acer, and it falls apart when it comes to viewing angles, and sometimes, even in resolution. If you're in the market for a gaming monitor, consider this one, sure, but make sure you see other options as well.