Gas-electric hybrids like the Toyota Prius have been plying on our roads for quite some time now, although, fully-electric cars, like the Nissan Leaf and the various Tesla models, are only now beginning to become mainstream. However, that hasn't stopped a Chinese shipping company from launching a fully-electric ship that is said to have an 80km range with 2,000 tonnes of cargo on a single 2-hr charge. The ship is 70.5 meters in length and weighs about 600 tonnes. According to reports in the Chinese state media, the vessel was launched in Guangzhou in South China's Guangdong Province on Sunday, when it made a test run at Longxue Island in Nansha district.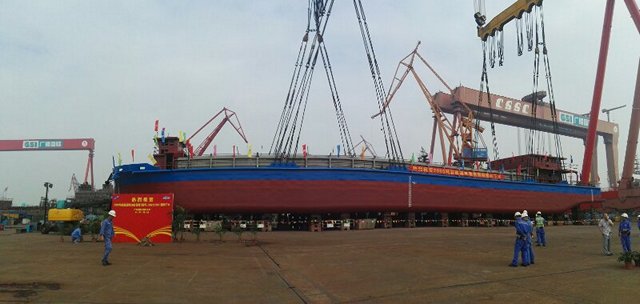 Being fully-electric, the ship doesn't emit any greenhouse gasses and produces no emissions thereby contributing towards a cleaner, fossil fuel-free future. The ship is powered by a 26-tonne lithium battery rated at 2,400 kilowatt-hours and, can cruise at speeds of up to 7 knots (12.8 kmph). Manufactured by Guangzhou Shipyard International Company Ltd and owned by CSSC Offshore & Marine Engineering (Group) Company Ltd under the China State Shipbuilding Corporation Group, the vessel is expected to be used as a cargo ship, carrying coal to thermal power stations along a stretch of the Pearl River.
While using electricity to power a gigantic ship may sound like an expensive proposition to many outside of China, it's actually an extremely affordable source of power in the country thanks to heavy government subsidies. According to Chen Ji, the general manger of Guangzhou Shipyard International, "The cost of electric power is less than that (of) traditional fuel. The main cost of the new energy cargo ship depends on how much lithium battery it is equipped with". In fact, the ship is actually capable of carrying much more than 2,000 tonnes of cargo if it's equipped with larger batteries.