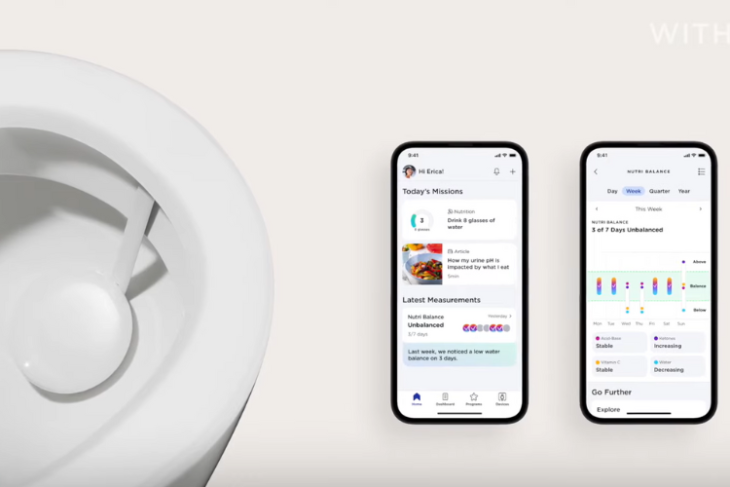 Besides new gaming laptops and processor chips, CES 2023 brings some really innovative technologies including one that involves your urine. At the event held in Las Vegas, Withings; a consumer electronics company launched the U-Scan, which is a device meant for urine screening. Check out all the details below.
U-Scan Is a Solution for In-Depth Urine Analysis
Called the first hands-free connected home urine lab, U-Scan is a miniature device that measures 90mm in diameter but does a whole lot. The device itself is attached to a toilet bowl and provides an immediate snapshot of the body's internal balance. It does that by analyzing your urine and detecting a variety of biomarkers found within.
The U-Scan device has been designed in a pebble shape that efficiently guides the discharged urine to the collection inlet. The device detects urine through a built-in thermal sensor for ease of use.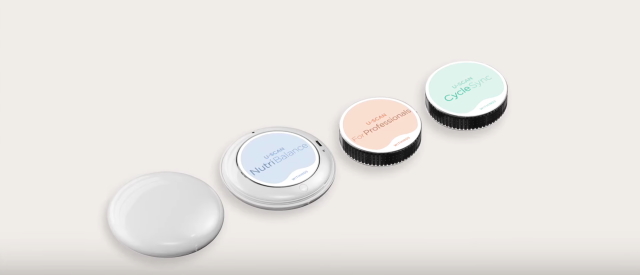 Once the urine is in, it is inserted into a test pod present inside the cartridge. A chemical reaction then begins, which is read by an optical sensor. The device is capable of testing multiple samples at once because of multiple test pods in the cartridge.
U-Scan can even detect multiple users with its Stream ID feature that identifies different urine based on distance and movement of the stream. Post-delivering the test, the urine is expelled through the outlet vent and the U-Scan is cleaned with the toilet flush.
U-Scan sends the test results in just a couple of minutes to the connected Withings app on your phone. The U-Scan uses an interchangeable cartridge system. As such, the cartridge and the batteries require a replacement every three months.
Different Cartridges for Health and Hormonal Cycle Sync
Since the U-Scan is by itself a reader, Withings has provided two different varieties of cartridges users can insert. These depend on the use case with one focused on hormonal tracking.
The first cartridge is called Nutri Balance and evaluates the impact nutrition and water intake have on people's bodies. Nutri Balance runs the urine through its specific biomarkers and analyses them accordingly. Depending on your lifestyle and test results, the U-Scan provides actionable insights, recipes, and activities to the user.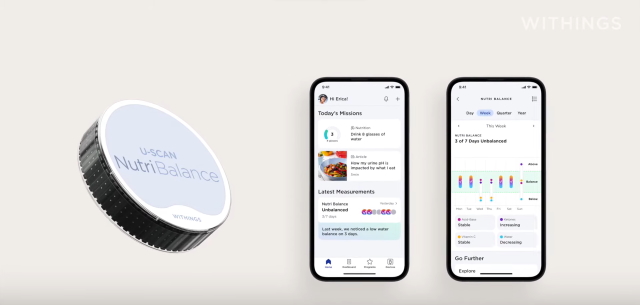 The U-Scan Cycle Sync cartridge has been made to help manage the mental load that comes with monthly hormonal cycles. The device will be able to show menstrual cycle predictions and even provide insights into the ovulation window. Furthermore, U-Scan will monitor the different cycle phases and provide recommended actions and data co-relation for menstrual cycles.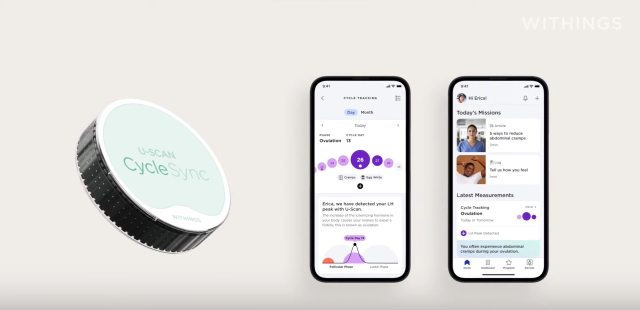 In addition, the cartridges measure different markers such as Ketone levels, Vitamin C, pH, water balance, and more. These combined with other insights will help U-Scan deliver accurate test results wirelessly.
While consumers can easily use the U-Scan, the company has also tinkered with the device for the health sector. As such, medical professionals will easily be able to customize the specific biomarkers and create their own custom cartridges. This not only allows medical professionals to use them for patient monitoring but other applications such as clinical studies and research.
Pricing and Availability
Withings is set to launch U-Scan and two consumer cartridges in Europe starting in mid-2023 at €499.95 (~ Rs 43,900). Consumers can subscribe to get automatic cartridge refills or buy standalone ones. A U.S. release is dependent on FDA approval whereas worldwide availability is not yet known. So, what do you think of the device? Let us know your thoughts in the comments below.