Summary: Windows 10 gives new life to Windows – it's a truly-modern operating system that caters to the needs of users together with being better accessible across various devices. It's launching on July 29 and the best of all, its prerelease builds are forever free. Sounds interesting, right? Read on.
Windows 10 is the next big thing from Microsoft. It's an ingenious version of the Windows operating system – an entirely new version that comes with new look, new browser, new apps and new features. It's idealized from the success story of performance-giving Windows 7 and the failures of modern-looking Windows 8, and promises to provide the best of both worlds.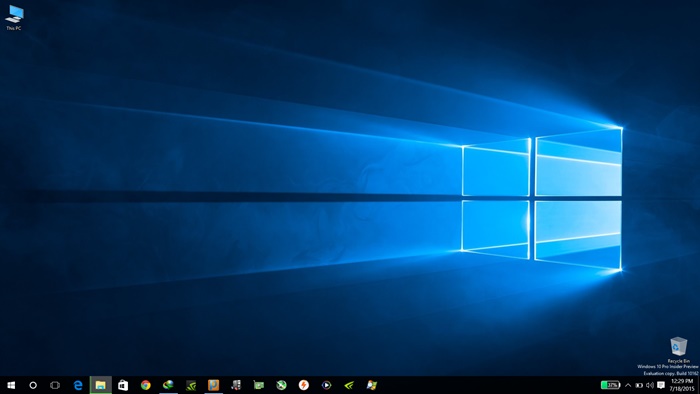 Are you waiting eagerly for July 29? Let's check out what's in the store.
Windows 10 is much more than its predecessors of the Windows NT family. The biggest change is its release as a Software-as-a-Service rather than a stand-alone software like the previous versions. The biggest surprise is its availability for free! Yes, Microsoft is offering a free preview copy of Windows 10 to anyone ready to test the new operating system under the Windows Insider Program.
Likewise, there is much more about Windows 10. That's why, we've made a compilation of 11 facts about Windows 10 to help you know what to expect from the forthcoming version of Windows.
1. Windows 10 (Preview) is Free
Windows 10 is the product of the Microsoft's innovative engineering and the feedback of 5 million Windows Insiders who tested the preview builds and provided over more than 800K pieces of feedback to the company to help them build a better product. In return, Microsoft is happy to provide them a free copy of Windows 10 Preview build under the Windows Insider Program.
These prerelease builds will continue to update as more preview builds are provided for testers and thus your Windows 10 Preview will be activated till you keep updating to latest preview builds. That means, it's possible to get a pre-release or beta version of Windows 10 that's free forever!
2. Windows 10 is the Last Windows
"Right now we're releasing Windows 10, and because Windows 10 is the last version of Windows, we're all still working on Windows 10". That was the statement from Jerry Nixon, Microsoft's developer evangelist, speaking at Microsoft's Ignite conference. Is this the end of Windows?
Negative!
Microsoft is changing the approach of building and delivering the next-gen Windows. There won't be a Windows 11 just after a year to cost you bucks, but your same Windows 10 will get incremental updates adding features and improving stability and performance of the same for next several years.
3. Start Menu is Back
Windows 10 brings back the favorite Start menu – quite same as the Start menu that has always greeted you on pressing the Start button in previous versions of Microsoft's operating system. But it's not the very same as can be expected – it's redesigned to serve the purpose of two: the Start menu of Windows 7 and its predecessors as well as the Start screen of Windows 8.
Press the Start button or the Windows key and the Start menu pops up with your most-used apps stacked in a column on left. Press the All Apps button and you'll find the alphabetically grouped list of installed programs. Live tiles from Start screen sits on the right, continuously serving up news & weather bytes and social-media updates.
4. Welcome Microsoft Edge
Microsoft Edge (code named Project Spartan) replaces venerable Internet Explorer in the new Windows. Internet Explorer has lost its charm in last some years and Edge attempts to keep up the Microsoft's idea of completely refreshing the Windows experience. It's based on a brand-new rendering engine that improves performance and brings distinctive sharing functionality.
The Edge browser proves to be faster than world's fastest browsers – Google Chrome and Apple Safari. Cortana is integrated right into the browser – always ready to join in while you type anything to perform searches or browse the Web. For example, typing "weather in Washington" instantly shows a sidebar with weather information. The most noticeable feature is the reading view that is distraction free and the ability to annotate Web pages directly: you can draw right on Web pages and type notes to OneNote, and share them with others using email or social networks.
5. Say Hi to Cortana
Cortana comes to desktop with Windows 10. It's the Microsoft's answer to Apple Siri and Google Now – a personal digital assistant that sits around the corner ready to help you. It's implemented as a universal search bar that sits next to Start button and replaces Windows' embedded search feature.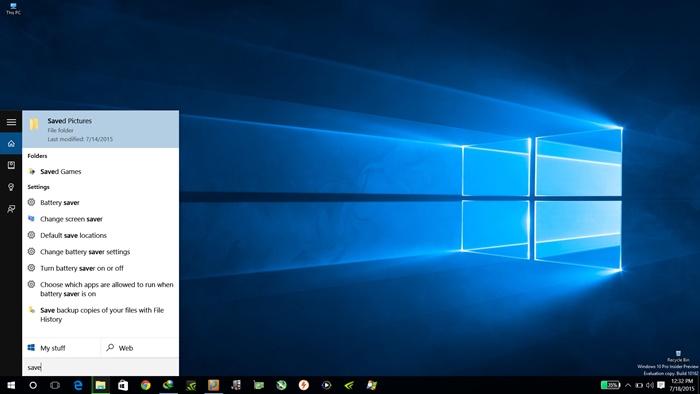 Cortana learns from your preferences much like other artificial-intelligence-powered systems. It interacts naturally via talking or typing and provide relevant recommendations, quick access to information, better searches and important reminders. It can also open apps, play music, send emails and even implements a "Notebook" feature for managing personal information.
6. Virtual Desktops
Virtual Desktops are integrated directly into Windows 10 to provide a native virtual desktop experience as offered by many other OSs and tools like Linux and Mac OS X. It can be used to group or arrange apps to ease app management and improve productivity. It also provides better privacy because only the active apps present in the current virtual desktop is shown as active in the taskbar.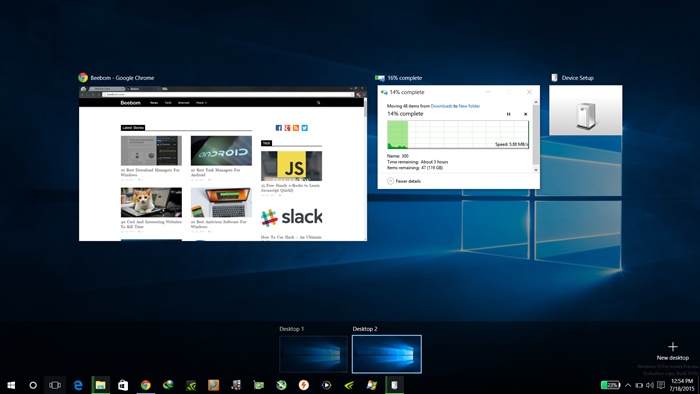 Virtual Desktops can be activated by pressing the Tasks View icon in the taskbar or the Windows + Tab keys. Then click the New desktop button at the bottom right corner to create a new virtual desktop. You can move the windows between desktops using drag-and-drop, or right-click any windows on a virtual desktop and use the Move to option from the context menu.
7. Action Center & Notifications
Windows 10 offers a revamped version of the Action Center that's more like the notification bar of mobile operating systems. It's part of the Microsoft's dream of "Windows everywhere" – it's a unified notifications area that will show notifications from apps as well as system across multiple devices.
The new Action Center consists of two parts – Notifications area and Quick actions. Notifications area displays the notifications from various apps and Quick actions are much like Quick Toggles in Android that provide various toggle buttons to switch on/off system settings like tablet mode, location, Bluetooth, etc.
8. Continuum & Snaps
Continuum is a feature designed for 2-in-1 aka hybrid devices, like Microsoft Surface, that allows a convenient shift between desktop and tablet mode. Windows 10 will move easily between keyboard/mouse and touch/tablet as it detects the transition and switches to the new mode. You can also enable the tablet mode on regular desktops if you prefer the tablet experience.
Windows 10 comes with various Snap features: Snap Assist, Corner Snap and Snap Fill. These features allows you to effortlessly position windows the way you want them on the desktop. Whenever you put one window to half-side of the screen, Snap Assist shows the list of active windows to choose as the second window for the other half of the screen. Corner Snap lets users create powerful layouts of three or four windows by snapping them to the corners. Snap Fill optimize the size of second window to automatically fill up the available empty space.
9. Unified Apps & Unified Store
Windows 10 comes with unified apps that are going to work everywhere the new Windows works. Windows 10 supports the broadest family of devices – from PCs, tablets, 2-in-1s, mobile phones to Xbox, the Internet of Things, Microsoft Surface Hub and Microsoft HoloLens. To that end, Microsoft is proclaiming universal apps that'll exists side-by-side on PCs as well as mobile devices.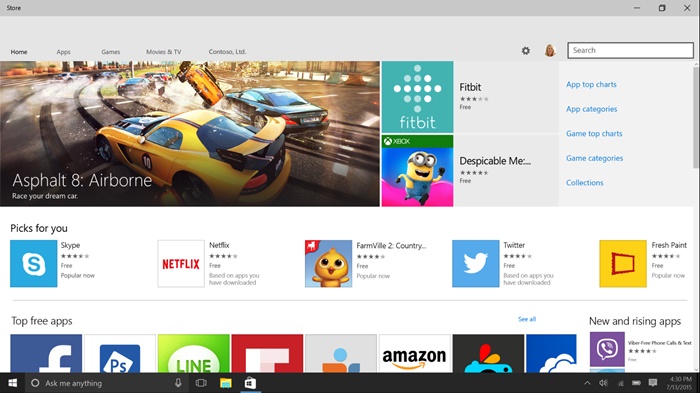 Unified Store will be the source of unified apps across the entire device family. It will be the one way experience to discover apps and games, purchase and update them across all of your devices. Xbox app, for example, let's you see what your friends are doing and chat with them, and even enables you to stream games from your Xbox One console directly to your PC.
10. Device Guard, Windows Hello and Microsoft Passport
Windows 10 comes with various security innovations. It brings many additional ways to secure your device data and sign-in to the desktop. It tries to make computing more personal and make users feel a great sense of trust on the go across all of their devices. Device Guard is a security feature that allows organizations to lock down devices as an advanced malware protection technique. It works by blocking anything except the trusted apps (the apps signed by vendors, Windows Store or the organization).
Windows Hello is a biometric authentication feature that can provide instant access to your Windows 10 devices. It uses face, iris or fingerprint recognition to offer an ultimate level of security that is much safer than traditional passwords. Microsoft Passport is an enterprise-grade two factor authentication feature to better protect business data and online experiences easily than ever before. It lets you login securely into apps and other system parts without a password.
11. Windows 10 Editions
Microsoft is offering different Windows editions that are customized for various users and device groups. It's coming in six editions: Home, Pro, Enterprise, Education, Mobile and Mobile Enterprise.
Windows 10 Home is targeted at home users. Pro adds many extra features to Home to meet the varied needs for small businesses like sensitive data protection and support for remote & mobile productivity.
Windows 10 Home is available as free upgrade for users of genuine Windows 7 Starter, Home Basic, Home Premium, and Windows 8.1 and 8.1 with Bing; and Windows 10 Pro is available as free upgrade for consumers of genuine Windows 7 Pro and Ultimate, and Windows 8.1 Pro.
Enterprise builds on Pro adding advanced features developed to meet the demands of medium and large size organizations. Education builds on Enterprise and provide the right tools to meet the needs of schools and educational organizations.
Mobile is built to provide best user experience on small and touch-centric mobile devices. Mobile Enterprise is developed to provide a superb customer experience on smartphones and small tablets as well as incorporate the latest security and innovation features.
SEE ALSO: 10 Best Antivirus Software For Windows
Which fact surprised you the most? Which is your favorite feature in Windows 10? Have you reserved your copy of Windows 10? You can share your answers through the comments.
---
Load More