Windows 11 release date is right around the corner, and eligible PCs are set to receive one of Microsoft's biggest OS updates starting this October. While Microsoft initially imposed Windows 11 requirements, excluding 7th-gen Intel processors and older, the Redmond giant has since slightly expanded the officially supported CPUs eligible for Windows 11 update. It has now offered more clarity on what a user could expect when installing Windows 11 on an unsupported PC. And well, we are here to discuss how it affects you.
What to Expect If You Update to Windows 11 on an Unsupported PC (2021)
Moving away from its previous stance of strictly avoiding the Windows 11 update to 7th-Gen Intel CPUs, Microsoft has now added some models to the supported CPU list. We have detailed what you will likely be missing out on when you choose to update your unsupported PC to Windows 11. That said, let's get started!
List of Newly Added Intel CPUs to Windows 11 Supported CPU List
Not a lot has changed since the initial list of supported CPUs, outside those from Intel. In fact, there are no new additions as far as first-gen AMD Zen processors are concerned. That said, Microsoft has added some Intel CPUs to the list, and they are as follows:
Intel Core i5-7640X
Intel Core i7-7740X
Intel Core i7-7800X
Intel Core i7-7820HQ (based on DCH design principles)

Dell Precision 5520
Lenovo ThinkPad T470p
Surface Studio 2

Intel Core i7-7820X
Intel Core i7-7900X
Intel Core i7-7920X
Intel Core i9-7940X
Intel Core i9-7960X
Intel Core i9-7980XE
Xeon W-series
In a disappointment to many, a majority of seventh-gen Intel CPUs haven't made the cut. Check out the updated list of eligible Intel CPUs from our linked article to browse the complete supported CPUs list.
What You Get When You Install Windows 11 on an Unsupported PC
So, what if you decide to install Windows 11 on an unsupported PC anyway? What happens then? Well, Microsoft says it won't stop you from doing that. You can manually download the Windows 11 ISO and flash it yourself to enjoy all the new Windows 11 features. You will find instructions to install Windows 11 manually in the next section. If you take this route, all you need is a dual-core CPU with TPM 1.2, at least 4GB RAM, and 64GB storage.
However, it comes with a huge compromise — updates. If you have been keeping up Windows 11 news, you would know that Microsoft has switched to an annual cycle for feature updates starting with Windows 11. Hence, you get one major Windows 11 feature update every year.
In a statement to The Verge, Microsoft has clarified that unsupported PCs won't receive Windows updates. The worst part here is that these users may not even receive security and driver updates. And with new vulnerabilities found every other day, it won't be a wise decision to stay in a vulnerable Windows build that's likely to be exploited. Moreover, since you are on your own to update Windows 11, clean installing Windows 11 whenever a new ISO is available can prove to be quite inconvenient.
Who Should Use Windows 11 on an Unsupported PC?
As we went through Microsoft's new stance for Windows 11 on unsupported PCs, it became clear that the company wants users to upgrade to a new system capable of running Windows 11. If you would prefer running Windows 11 on your aging PC, be prepared to tinker around for feature updates and potentially driver updates. In fact, Microsoft is not even entirely transparent about its approach. While Microsoft told The Verge that security and driver updates might be withheld, Mary Jo Foley of ZDNet reports that unsupported PCs "may (or may not) include security and driver updates". This, in turn, causes unnecessary confusion.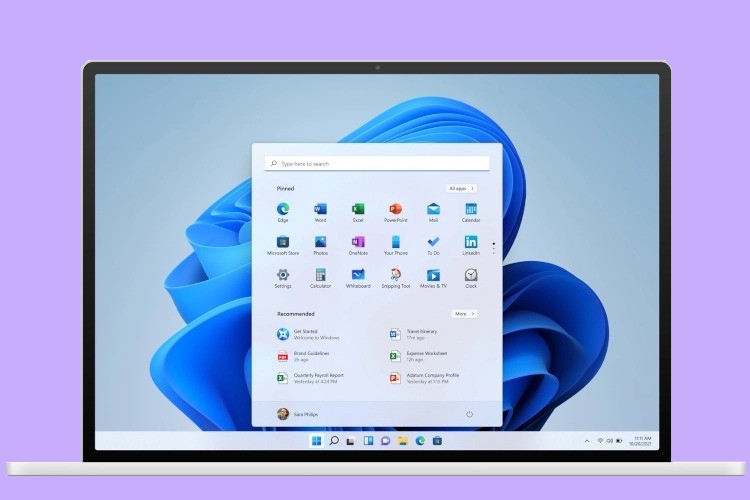 Considering how Microsoft has not officially acknowledged this catch and has spoken to the media about it, there's still some hope left. You might get security updates on your old, unsupported PC/ laptop running Windows 11. We will have to wait to see how Microsoft handles the situation when Windows 11 stable update starts rolling out later this year.
With all that said, we would not recommend running Windows 11 as your primary OS on a PC that doesn't officially support it. According to Microsoft, PCs that do not meet the minimum requirements had 52% more kernel mode crashes, also known as the infamous blue screen of death. As long as you don't care a lot about the visual overhaul, Windows 10 is still a good choice with guaranteed updates until October 14, 2025.
How to Update to Windows 11 Anyway?
If you are willing to take the risk and install Windows 11 anyway on an unsupported PC, check out our detailed articles on how to download Windows 11 ISO officially, and install Windows 11 from USB on your PC.
If you don't like Microsoft's latest take on Windows, you can always roll back from Windows 11 to Windows 10 with ease. However, instead of going back to Windows 10, we suggest you try customizing the Start Menu and taskbar to feel more at home. Windows 11 brings a myriad of UI changes and enhancements, which may look awkward at first, but the update will grow on you. So, do give it a try before downgrading back to Windows 10.
Things to Keep in Mind Before Installing Windows 11 on Unsupported PC
So that's all you need to know about installing Windows 11 if your PC doesn't meet the official requirements. Microsoft is also testing an updated PC Health Check app with Insiders that aims to give more details on why your PC isn't eligible for Windows 11. Meanwhile, you can use this free app to know why your PC can't run Windows 11. Moreover, once you have installed Microsoft's new OS, check out the best Windows 11 features right here.