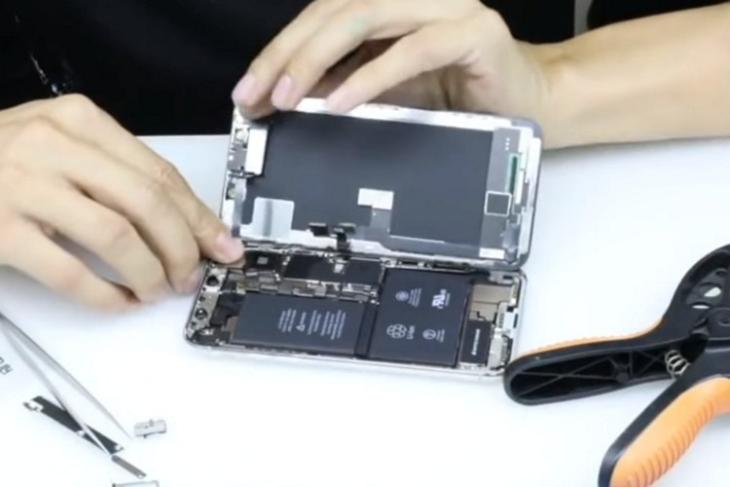 Apple's hugely awaited smartphone of the year, the iPhone X has finally arrived at the stores and if you're willing to shell out nearly thousand bucks, you can most certainly get your hands on them, as long as it's available in stock. Although it has just been a few hours past the launch date, Chinese experts have already managed to successfully crack open the latest iPhone. The video quality is mediocre, and if that seems to be a concern, you should probably be waiting for the iFixit's teardown that might be up anytime soon. Regardless, here's the video if you still want to check out while you're waiting for your iPhone X to arrive:
https://www.youtube.com/watch?v=eu573kI_JXo
Well, if you want to understand what they're trying to convey, you need to get a hold of your Chinese friend, because I personally have no clue what they're talking about. After all, it's just the video feed that I wanted anyway.
The first thing that you'll realize from this teardown video is the fact that the new iPhone X has not just one, but two batteries inside it. Yes, you read that right, we're looking at multiple batteries in a smartphone. If you read the specifications properly, the new iPhone X packs a slightly larger 2716 mAh battery, despite being significantly smaller than its ageing sibling, the iPhone 8 Plus.  Now, you might be wondering how exactly Apple managed to jam-pack a big battery into a footprint that's just slightly larger than the iPhone 8 with a 4.7-inch screen. Well, you can thank the lack of the physical home button which used to take up a chunk of space.
The Cupertino-based company has taken advantage of the additional space, and added an extra battery at the bottom, as a result of which you're getting a bigger battery in the new iPhone X. Months before the official iPhone X reveal, it was widely rumored that LG would be supplying L-shaped batteries for Apple's newest flagship. However, it seems like instead of opting for an L-shaped unit which is harder to manufacturer, Apple has found themselves a solution with multiple batteries.