Twitter has started rolling out a major design overhaul for its desktop site after testing it since the beginning of the year. In a blog post on Monday, the micro-blogging platform said that the updated website will be "faster, easier to navigate and more personalized".
According to the company, the new version of the site has "an updated look and feel that is more consistent with the Twitter you see on other devices". The new UI will also make it easier for users to access many of the popular features, and with more customization options, said the company.
The updated interface includes a large new sidebar on the left (see image above) with all of Twitter's key sections, including Notifications, Direct Messages, Explore, Bookmarks, Lists and more. 'Direct Messages' (DMs) have also been expanded to let users see all their conversations and send messages from the same view.
Another notable change is the ability to quickly switch profiles, which will certainly be useful for people running multiple profiles on the platform. "Whether you have one profile or a few, now you're also able to switch between accounts faster, directly from the side navigation", said the company.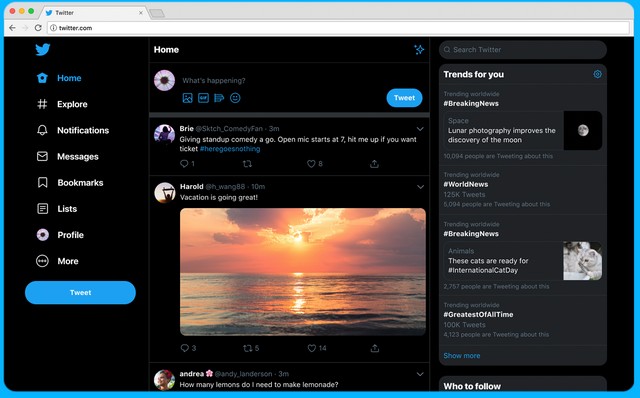 Last, but definitely not the least, are a couple of dark mode options that make the site look infinitely better right off the bat. The first one, called 'Dim', is a greyish theme that most people would opt for, but there's also a 'Lights Out' option for people preferring a pitch dark theme. These are just part of an overall change that added a whole host of personalization options to the desktop interface, including a whole bunch of other themes and color options.