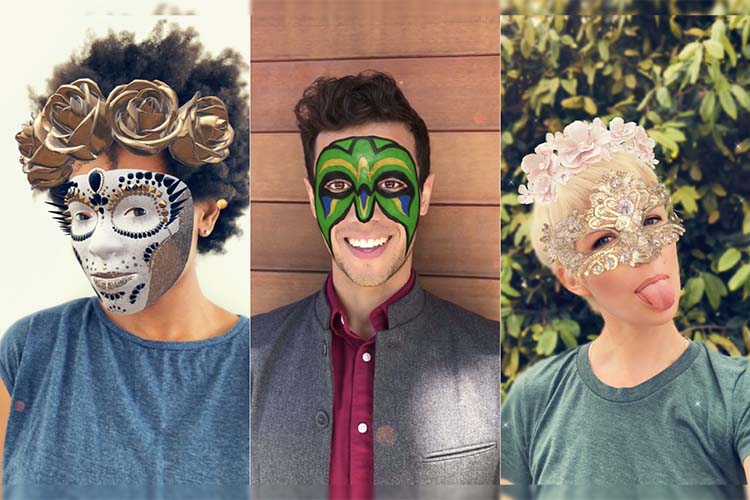 Snapchat has finally realized that it can make use of iPhone X's advanced facial recognition hardware to its advantage and has released a bunch of exclusive Snapchat Lenses for the device.
Engadget reports that the new Lens face filters, which make use of iPhone X's TrueDepth sensors, are the most realistic looking face filters from the company yet. The exclusive Snapchat Lens appear periodically within the Snapchat carousel on the iPhone X and are far better than the usual offerings.
The TrueDepth sensors on the iPhone X project 30,000 infrared dots on the user's face which is the reason behind its unmatched accuracy and precision. While the facial recognition feature might be slower than the ones found on competing devices, it is undoubtedly the most secure facial recognition on a smartphone yet. Other than using the TrueDepth sensors for facial recognition, Apple also uses the sensors for the Animoji feature which accurately mimics the users expressions. While a number of other manufacturers like Samsung and Huawei have tried to copy the feature, it isn't as good as the one found on the iPhone X, thanks to the dedicated sensors.
Snapchat makes use of this technology to give its face filters more accurate depth detection, which results in better background blur, better ambient lighting, and better shadows which give the new filters their appeal. We expect to see more such filters from competing apps, which will make use of iPhone X's advanced hardware to provide more depth and detail to the otherwise cartoonish filters. If you're an iPhone X user, you should receive the new filters with the latest Snapchat update, but since the company has just started rolling out the update, it might be a while before you get it on your device.
What do you think about the new face filters from Snapchat? Do you think other apps can make better use of the TrueDepth sensors to make something more useful? Let us know in the comments section below.
---