The most important thing that helps create a good impression on your website's visitors is its appearance and you should remember this when you're designing your website or blog. There are many approaches in creating a captivating website. You could attempt to ace code and do all the tweaking yourself, but that's a very tiring and complex job. You could let somebody else do the design and coding for you, but that usually costs a lot of money. There's also another solution, called SnackTools, that will help you make your website look incredible in less time than it would take you if you chose to do things by coding. This obviously seems to be a fair option in all cases.
SnackTools lets you make your website look more attractive by adding various graphical elements or widgets to your website. SnackTools is a collection of apps that let bloggers and webmasters make rich media banners and widgets such as video playlists, music players, photo slideshows, online flipbooks (make PDFs look as though they were books whose pages can be flipped). These are only a few of the most intriguing widgets that could be made using this site. They are all easy to use and have a simple interface. All you have to do is write in your browser snacktools.com and the rest is done. Your website will be standing out in the lot, due to various tools and applications available at snacktools.com.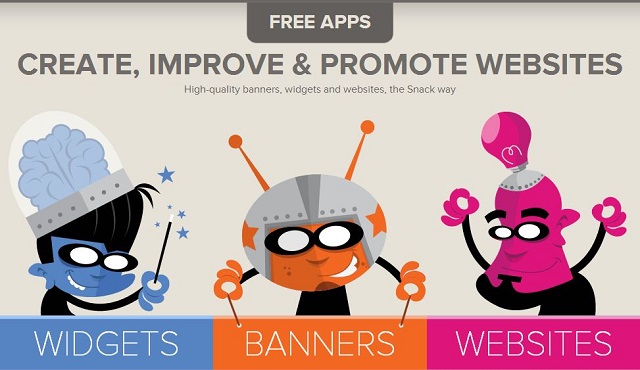 All the widgets made using Snacktools work perfectly on every significant blogging platform and CMS Blogger, WordPress, Tumblr, Joomla and Drupal are all backed. These widgets can also be shared on social media websites like Facebook, Twitter or via email.
Let's take a look at the Snacktools.com apps, one by one:
PhotoSnack
PhotoSnack is a great application you will come to love when you see how easy it is to include photographs, make gorgeous slideshows with music, and share them with your loved ones. What's more amazing is that its absolutely free! Another advantage is that you can add music to photo slideshows, include images from Facebook, Flickr, Picasa, Photobucket, Smugmug and Instagram. But that's not all! The slideshow templates are also using a responsive design. Really a very useful tool for bloggers, it helps them give their posts an extra edge with pictures and music or can use PhotoSnack for website headers and image sliders.
PodSnack
PodSnack is a music playlist creator that lets you make custom players in three simple steps: add your music files, customize the player to your tastes and share it. The process is very simple, much simpler than on any other website, and you can have a high-quality player without any efforts on your part. That is why we like PodSnack.
TubeSnack
TubeSnack is a video playlist creator that lets you make custom video playlists online, by adding video URLs from YouTube. By using TubeSnack, you can now effortlessly make and share video playlists and customize them to match the look of your blog or website. You can then use the embed code to integrate the video player in your website.
SlideSnack
SlideSnack is a presentation tool that turns your PDF, JPG or PNG files into beautiful online slideshows for work or school. You don't need to install PowerPoint or any software on your computer when using SlideSnack. There are many templates available and you have many customization options to help you captivate your audience. You can additionally record your remarks or notes and make a slidecast (presentation + voice). Next, you can publish your presentation or slidecast on your site, blog or YouTube or share it on social media.
PollSnack
PollSnack is an online application for polls, surveys & quizzes, and it's very easy to use. You don't need to know any coding to create a poll and embed it into your website. Because of its great features, PollSnack could be used by bloggers who need to set up web surveys and similar stuff.
FlipSnack
FlipSnack allows you to convert your PDF or JPG files to online magazines, with flipping pages. All you need to do is upload your file and FlipSnack does the rest. You can then embed and share the flipbook. FlipSnack has a special version for education purposes, called FlipSnack Edu.
NotifySnack
NotifySnack is an extraordinarily useful app that lets you make lovely, brilliant notification bars for your site. Being so customizable, it will integrate perfectly with the general feel of your page and grab the attention of your visitors without disturbing them.
You can use NotifySnack to greet your guests, drive them to presentation pages with high conversion rates, expand your subscribers list, advertise anything or show Twitter or RSS content.
BannerSnack
BannerSnack is an online banner maker application that lets you make smart banner ads, greeting cards, posters, ecards, microsites and website headers. You can make PNG and JPG� banner ads and GIF banners for free. BannerSnack banners are perfectly compatible with Google Adwords and Facebook ads (png, jpg). You'll be amazed to see how easy it is to make and share your interactive ads! All these without coding!
SnackWebsites:
All these apps are great and they can help you make your website look stunning, but SnackTools is also offering a website builder too. By using it, you can create your website in a few easy steps. You can create any kind of website! This tool allows you to build a google friendly, ads free website. Surely the best deal you can have!
Overall review:
To summarize, I'd say that snacktools.com is without any doubt one awesome service and there's definitely a SnackTools app you can use on your website. It has got everything that your website needs and all apps use a very simple and user-friendly interface. But what strikes more is the quality of all tools. They all are very useful and work smoothly. It seems that the developers have thought about all the details. SnackTools is the whole package: quality, efficiency and adaptability. You can totally trust it if you're creating a website and want it to shine in the lot.
SEE ALSO:
Animated Explainer Video At MakeWebVideo (Review)
Social Chat Room – Rumbletalk (Review)
---
Load More