If you own a smartphone then you're definitely familiar with the running games where you have to keep running for as long as you possibly can in order to score the highest points. Well, if you're still not familiar with the genre or need some suggestions for your next running game then keep on reading because we've got the 10 best running games for your android device.
Below are the 10 Best Running Games for Android:-
1. Subway Surfers
Subway Surfers launched on the Google Play store as another Temple Run clone, however, the game has become even more popular than Temple Run and is played by millions of people from around the world. This game is not entirely a clone but a simple endless running game that offers unique new twists and features in the endless running genre. The gameplay is as simple as it can get, you have to run down a vast line of subway tracks because there's a cop or a guard chasing you along with his buddy dog.
There are 3 lanes on the subway and you can get on any lane by swiping left/right on your smartphone's screen. Changing lanes is very important because there will be incoming trains and other obstacles that you can bypass by changing the lanes or jumping up which can be done by swiping up. Swiping down will let you roll which comes in handy when there are objects that you can easily roll through. Collect as many coins as you possibly can because you can use these coins to buy extra powers and other content in the game. The controls are pretty simple and easy to understand so you will have a no problem learning the ins and outs of this amazing game.
2. Temple Run 2
Temple Run redefined the endless running game genre on today's smartphones. This is the game that made you pull your hairs out when you died right before hitting that million or a ten million score. Temple Run 2 is the successor to the original game and it does continue the legacy in a very good way.
This game, however, has a bit of complex controls if you're not used to tilting your smartphone a lot. You can jump and slide by swiping up and down respectively, however, in order to move left or right, you need to tilt your smartphone in the respective direction for your hero to go in that specific line. You also have to make turns, and swiping left/right would allow you to make a turn in the respective direction. The goal is similar to other endless running games, you have to collect all the coins, gems, and even power-ups that will help you in your speedy journey. There's a large monster chasing you down and you don't want to trip if you want to live. You can unlock other characters by using the in game gold coins or you can outright buy them with your hard earned money, the choice is yours.
3. Sonic Dash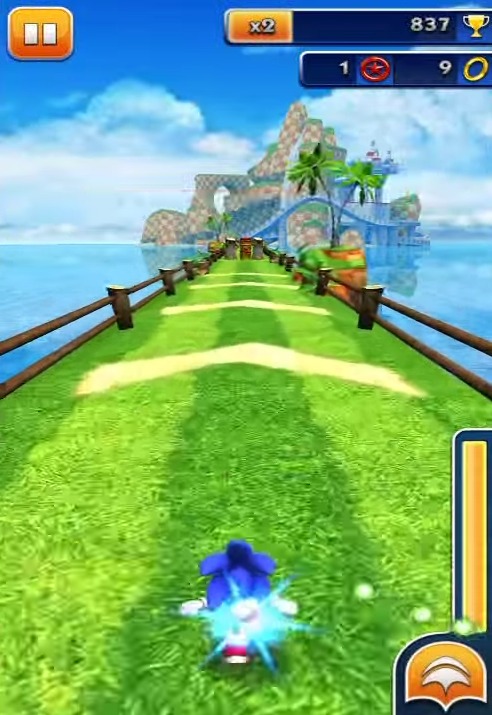 It doesn't matter how badly Sega has declined over the past few years because their main guy is still one of the most popular gaming characters in the world. Sonic is the star mascot for Sega and it has been a favorite character for every gamer who has enjoyed the classic sonic games. Well, he's back and he's still running. Sonic Dash is an endless running game available for the Android platform and it features the fastest running hedgehog in the world. The gameplay is  pretty straightforward for an endless running game, however, most of it is spoiled by an endless array of in-game purchases. The game is filled with in-game purchases and it seems like that the developers just want to force you into or maybe lure you into buying something with your hard earned money. You can still enjoy the game without spending a single dime but if you want to unlock some new characters then you might have to shell out a few bucks.
4. Lara Croft: Relic Run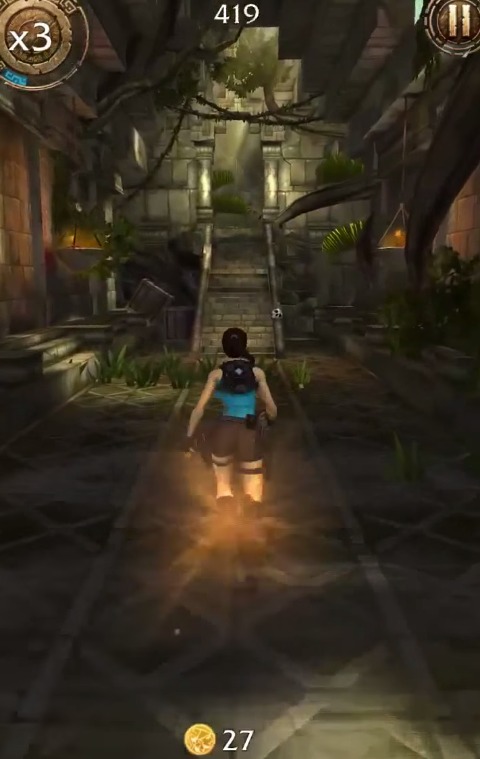 Lara Croft has had enough of the shooting and treasure hunting. She has now decided to run as far as possible in haunted ruins, and lush jungles. There is still that occasional shooting and action jumping but the main part of Lara Croft: Relic Run comprises of endless running adventure with your favorite heroine. The game is pretty similar to Subway surfers, you swipe left or right to change the lanes, you try to collect all the golden coins, and then there is that famous shooting at different occasions when you're ambushed by some evil beasts who keep throwing spears at you. You can spend the collected coins to buy upgrades and other stuff for Lara as she keeps on running in these beautiful sceneries.
5. Agent Dash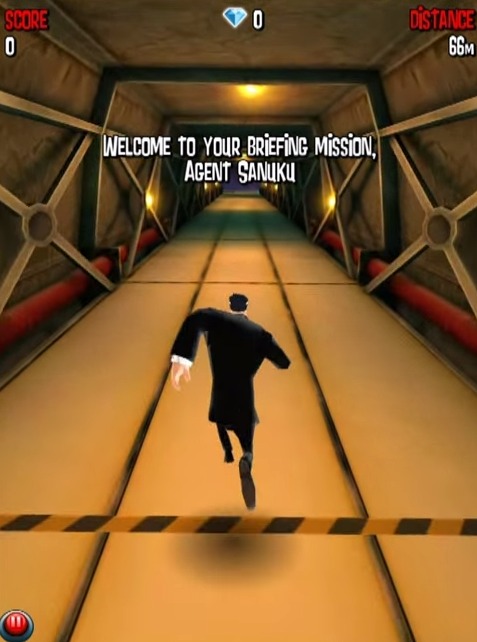 The game is pretty similar to Lara Croft because it involves the occasional shooting and actions as well, however, since Agent Dash was released way before Relic Run then it safe to assume that Relic Run actually copied our hero in the suit. Agent Dash is on a mission to save his city and humanity, pretty similar to most action movies. Your mission is to clear levels, the game has different levels and each level has different bosses and minions that you have to shoot with a range of weapons at your disposal. You are the best agent in the business and you have to infiltrate and escape your way out of the evil Quantumfinger's grasp. There are extra unlockable characters that add another layer of fun to this exciting game.
6. Canabalt HD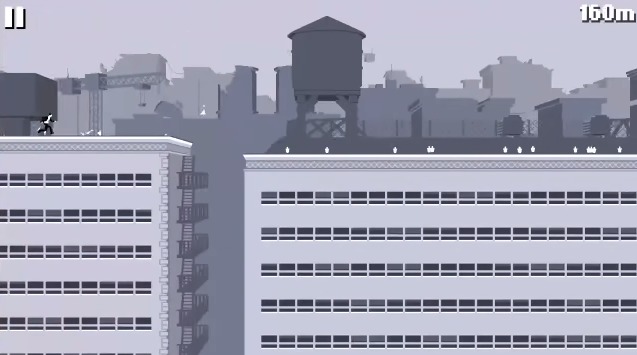 Canabalt HD was first released as a browser game but it quickly became the best endless running game. The popularity made it possible for the developers to bring this amazing game to multiple platforms that includes but not limited to Android. The game is similar to its browser counterpart. Instead of the regular behind the back camera view, in this game you get a side-scrolling view of your tiny hero, who's running and jumping from rooftop to rooftop in order to outrun the apocalypse that's taking down each building one by one. You have to perfectly time your jumps in order to make it to the next building and a single misstep will lead to your demise. The controls are newbie friendly with just a tap required to make your hero jump, that's all you need in order to play this game.
7. Jetpack Joyride
Another side-scrolling action but unlike Canabalt HD, Jetpack Joyride packs very colorful graphics and an exciting background music. In this game you play as Barry, who is taking his revenge on the company that performed horrible experiments on this tiny hero. The game combines running and flying into one amazing gameplay experience. You can run as far as you want but you're packed with a jetpack and touching the screen will put the jetpack in action so you can fly as high as you want. There are many different upgrades and powers available that can be unlocked with the coins. There are achievements in the game that give it a high replay value.
8. Rayman Jungle Run
Side scrolling platformer games are not complete without the introduction of the legendary platforming hero, Rayman. He's back in action and this time he's going to run his way to the victory on your favorite Android device. Rayman Jungle Run consists of many different levels and you can actually advance to different levels unlike other running games where you have to keep running until you die a terrible death. In this game you actually discover different worlds with your hero and fight different enemies to help your people. Completing different level even unlocks amazing and beautiful wallpapers for your android device that you can use to show off your love for rayman and his buddies.
9. Despicable Me: Minion Rush
Who doesn't love the small, yellow, gibberish speaking minions from Despicable Me? Everybody loves them and their weird ways of doing things and that's why developers have actually released a full-fledged running game dedicated to the minions. Minion Rush is one of the best endless running games which also consists of different levels, however, each level has an endless running aspect to it because you can keep running as long as you can but the next level will automatically unlock after you have complete an objective. Coins are old and lame that's why in Minion rush you have to collect bananas instead of coins because minions love their bananas. You can fight against bosses from the movies and play on different levels that are also inspired by the movies. A must have for all the Despicable Me fans out there, specially the ones who adore minions.
10. TMNT: Rooftop Run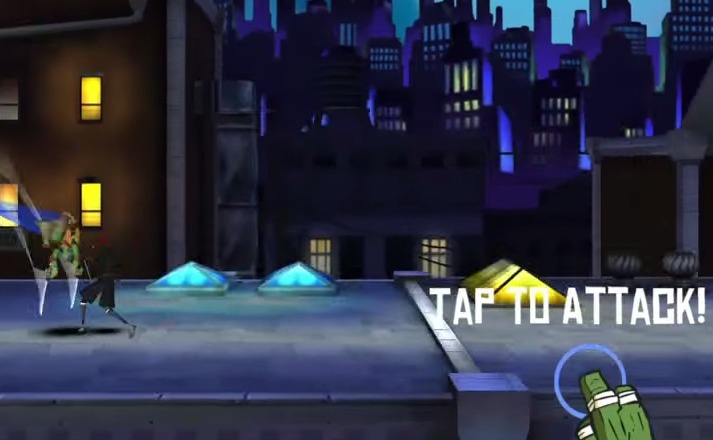 Your childhood heroes, the Teenage Mutant Ninja Turtles are back and they are going to beat the crap out of criminals in this part endless running, part action game. This game offers so many new features for an endless running game. You can actually drive the turtle vehicle in this game during the vehicle mode and take it out for a ride in the streets. You can also fight your enemies in a close-up action sequence after activating the turtle time feature. Different challenges in the game make sure that you get the most out of this game every time you play. You can play as the 4 turtles and as their close friends. The latest addition to the roster is Casey Jones, the hockey wielding, butt kicking, mask wearing guy. The game will take you on a memory trip if you grew up watching the TMNT shows.
SEE ALSO: 15 Best Puzzle Games For Android and iPhone
All the above games should be enough for you to keep you busy throughout the whole year. Even only a single game from the above list is enough to keep you hooked for a very long time. If you have some other running games in mind that you think deserve a mention then feel free to let us know in the comments.