Delhi's Vasant Kunj PVR has become the first multiplex in India to have an LED screen instead of standard projection systems typically found in public theaters. The Onyx Cinema LED panel from Samsung comes with a high dynamic range (HDR), specialized low-tone greyscale settings and what the company is calling an 'infinite contrast ratio'.
According to Samsung's official press release, the peak brightness level of the panel is around 10 times greater than what's generally offered by standard cinema projectors (146fL versus 14fL). The display delivers improved uniformity, free of optical distortion and interference, claims the company.
The 3D Onyx Cinema LED screen "makes 3D movie-watching more realistic through enhanced brightness and consistent color amplification", says Samsung. It is world's first DCI-certified cinema display that's available in a number of different screen sizes, including 5mts, 10mts and 14mts in width.
The screen also offers state-of-the-art Onyx surround sound from JBL by Harman International and Samsung's Audio Lab, and eliminates rearward bias by expanding the audio "sweet spot" to ensure that all viewers can enjoy the crystal clear audio regardless of their seat location within the theater.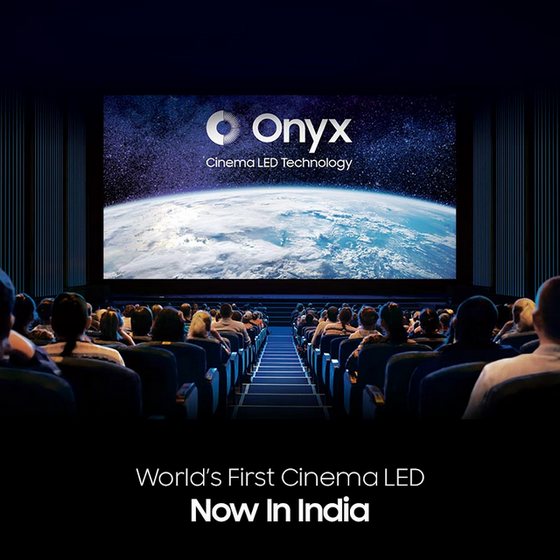 In a press statement, Puneet Sethi, the vice-president of consumer electronics enterprise business at Samsung India said, "India is a film-loving country. Our movies are full of vibrant colours and rich music. Onyx Cinema LED will be the true solution for such content and we believe this technology will be a 'blockbuster' in the film industry. It is going to revolutionize the movie viewing experience".
The new technology was unveiled last year by Samsung, and is expected to be rolled out in more theaters in the country going forward.