An increase in the usage of cell phone has increased the number of vulnerabilities also. Engagement of children with Smartphones has caused an effect over their studies, while an abuse by employees causes a low productivity. To tackle this, PhoneSheriff, a monitoring app has been developed to provide a solution for tackling all these issues with its monitoring and filtering issues.
About the Software
PhoneSheriff is considered to be a parental control software for the next generation, which is available to be used in tablets and mobile phones. So, using this software, you can keep a track of how and with what your loved ones communicate with and thus, prevent them from vulnerable sites or other links that can harm them. You can install this program into a device used by your child or your employee, you can start tracking their activities. It is compatible with Android, iOS, Windows, Symbian and Blackberry based devices.
PhoneSheriff for Parents
In this world with high tech devices, the use of a mobile device has become essential for adult users, while children use it for fun. Along with the safety of use, mobile phones are extensively used by children in harmful ways as they are not mature enough for properly using a Smartphone. Thus, parents can use this tool to keep a track of the activities of their children, thus keep them safe and filtered for explicit content. There are many different features of this tool that help parents monitor their children.
SEE ALSO : SniperSpy – A Tool With Exciting Features To Remotely Control a PC
PhoneSheriff for Businesses
With an advancement of technology, businesses have relied more on these devices to communicate with their employees. An enhanced use of technology has opened up new reasons for lowering of productivity , which also include employees using their smart devices for personal uses rather than professional tasks. Social communication has become a major reason for diversion of employees from their work and thus, reduced their efforts towards the business productivity. To tackle this and improve the productivity of a business, PhoneSheriff app provides a useful solution offering employers to track the record of their employees' communication and Smartphone usage. This tool helps employers prevent their employees from being diverted to personal tasks and hence, focus on their job to provide a better output for the business.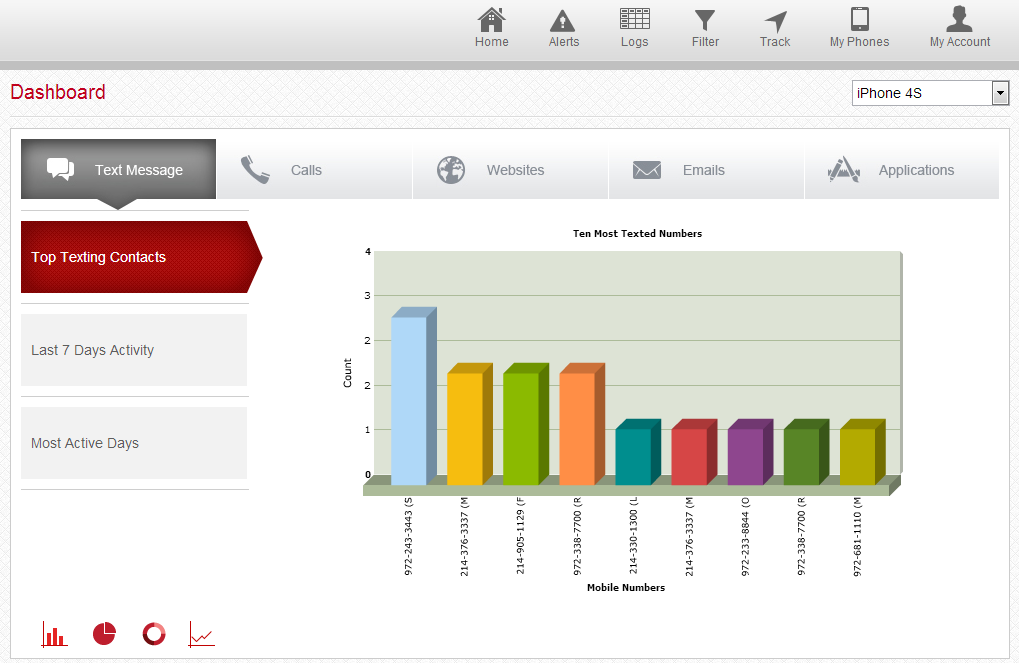 Features of PhoneSheriff
Being a hybrid software service, this tool allows you to track the activities of your employee or a child from a website that can be connected to the mobile device used by the target person through the PhoneSheriff app. However, there are many attractive features of this app, which can be used for monitoring purposes, which are given below.
Call & SMS Logs: Logs of messages and calls made through the device under track can be recorded and accessed from the Smartphone or a website. These logs contain contact numbers, time and date for the call or message sent or received through the device.
GPS Location: The GPS location of the tracked device can be accessed any time from the user's account on the website.
Time Restrictions: The use of this app allows user to restrict the use of the device under control specifying the time during which the use of phone or calling and messaging features can be restricted.
Web/App Blocking: User can block access to certain web addresses, applications or other functions of the phone through this device.
Content Monitoring: The content available on the device can be accessed through the web account to keep a control on its access.
About the Company
PhoneSheriff application has been developed by Retina X-Studios, which began its services in July 1997 in web design and consulting field. The company launched this software after the development of a number of monitoring programs. This company developed its first monitoring application, AceSpy, which was launched for the commercial use in April 2003, which was compatible with Android, iPhone and windows based devices. This company is dedicated to provide professional software applications for mobile & PC users.