Black Friday deals for Paramount Plus were made live on 20th November catering to both new as well as current subscribers.
By using the coupon code "BLACKFRIDAY" you can get the Paramount Plus Essential Plan (With Ads) for $1.99/month and the Showtime Plan (No Ads) for $3.99/month for three months.
This deal is a limited-period offer expiring on 3 December 2023.
Marking the month of November, Paramount Plus Black Friday deals are official here. Paramount Plus aired its Black Friday deals on Monday 20th November for both new and former subscribers. Eligible subscribers can treat themselves and their families to a few months of cheaper streaming following their awesome deals. Paramount Plus offers its subscribers a vast list of content to choose from and in this article, learn all you need to know about the Black Friday deals on Paramount Plus for 2023!
Paramount Plus Black Friday Deal 2023 Revealed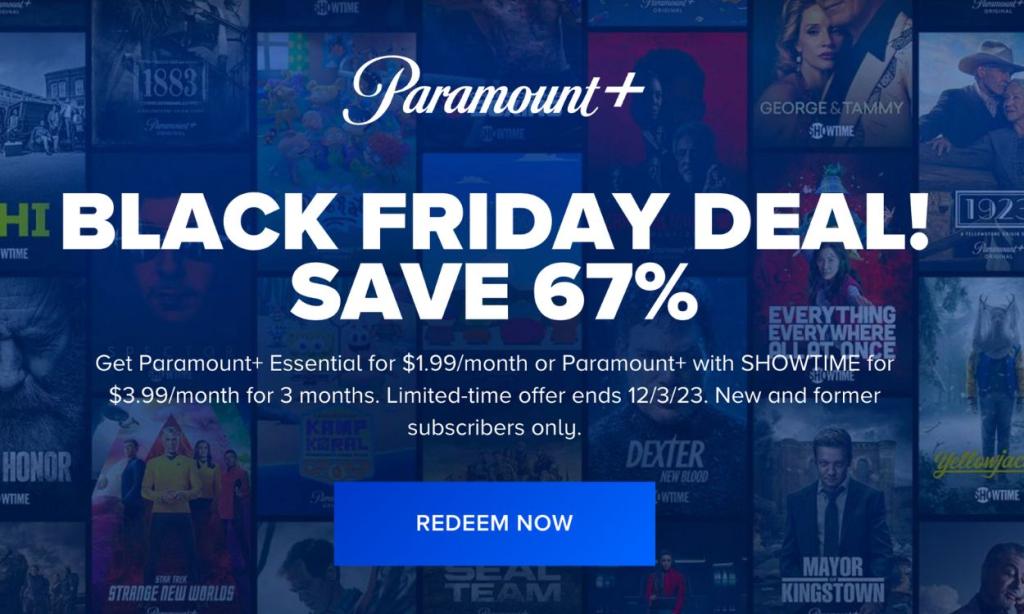 On 20th November the Black Friday deals for Paramount Plus were made live and it is offering us some pretty good deals. Usually, Paramount Plus offers two subscription plans for its users without any discounts. One is a $6 per month ad-supported Essential plan and a $12 per month Paramount Plus with Showtime plan where you can stream content partially ads-free with ads only in Live TV and a few shows.
Now, with Black Friday almost here, you can use the coupon code "BLACKFRIDAY," which will get you the Paramount Plus Black Friday deal. With this, you will be able to get the Essential ad-supported plan for $1.99 per month for three months and the Showtime plan for $3.99 per month for three months.
This is a limited-period deal that will expire on December 3, 2023, at 11:59 PM PT (or December 4, 2023 at 2:59 AM ET). Once this limited-period offer ends or the duration of three months of these plans is over, the prices will go back to the original $6 per month for Essential Plans and $12 for Paramount Plus showtime plans.
Even though Paramount Plus is not available for the anticipated 99 cents per month price, you can redeem the Hulu Black Friday 2023 deal to get that attractive offer.
Paramount Plus is a subscription service that takes into consideration the audience of every age group and has a vast catalog of content. From the legendary Star Trek series to the latest Teenage Mutant Ninja Turtles movie, Paramount Plus is jam-packed with mind-blowing content. It is indeed a great addition to your subscription plans for everyone, so guys, use the coupon code given above to claim your discounts now!
How long is Paramount Plus Free?
If you are a new subscriber, the first 7 days of your Paramount Plus are free for you
How to get Paramount Plus for 99 Cents?
Paramount Plus is not available for 99 cents, however, if you choose your channels with Prime Video, you will get access to Starz, Showtime, Paramount Plus, and other streaming services for just 99 cents per month.
---
Load More