While I never expect Connections to be perfectly easy, today's puzzle got my goat more than once. Was it supposed to be a company or a nature reserve? If you're currently playing and stuck with the same questions, this is the one for you. Keep reading as we talk about what exactly the answer for NYT Connections today is, along with some subtle hints to guide you along the way. So, without further ado, let's jump right in.
Hint for Today's Connections Themes
If you want to learn more about what today's categories are based on but not really, then check out these subtle hints first.
Yellow Category – Burst into flames
Green Category – Knowledge you obtain from others
Blue Category – umm…I'd just say Valley
Purple Category – The powerhouse
Additional Hint: Don't think about computing companies and gadgets. Move on.
We wish we could go into any more detail for you, but these hints are the best we can do. However, they are closely related to the actual categories, so think long and hard before you scroll below. After all, it's quite easy to confuse one thing for another, right?
Spoiler Warning #1: While this section included hints for the categories, the next section spells them out for you. It will spoil the categories for today's Connections puzzle, so proceed at your own risk.
Today's Connections Category Names
If you are tired of us beating around the bush, here are the themes for today's categories for the NYT Connections game.
Yellow – IGNITE
Green – INFORMATION
Blue – SMALL WOODED AREA
Purple – THINGS WITH CORES
At this point, you might have already clicked on some of the answers. The yellow and green categories are by far the easiest to get in today's puzzle. However, even though purple is supposed to be the hardest, some might have more trouble with the blue category instead. If you're still unable to figure out the answer, scroll down and check out the same.
Spoiler Warning #2: The next section includes the answer for today's puzzle, and you will find all 16 words in their exact categories. So, proceed with caution if you don't wish to be spoiled.
Connections Answer for November 2
Have you finally, given up and are ready for the answer? The answer to November 2 Connections is!
IGNITE – Burn, Kindle, Light, Torch
INFORMATION – Data, Info, Intel, News
SMALL WOODED AREA – Dell, Glen, Hollow, Valley
THINGS WITH CORES – Apple, Computer, Planet, Reactor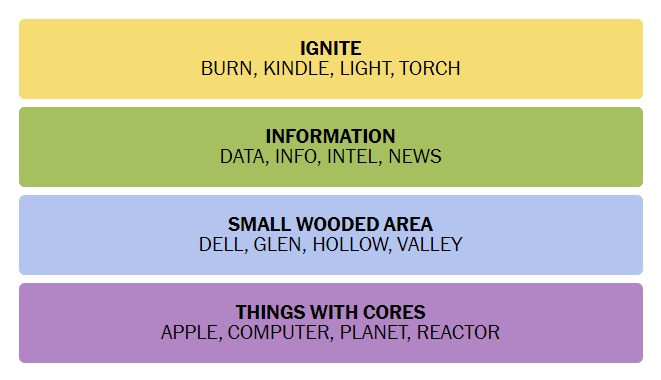 As you can see yourself, today's answer was incredibly confusing. Ignite and Information were easy enough to solve as Data and News go quite well together. And I didn't even need to think much before locking in those groups. I did take the computing companies and gadgets route, bundling Intel, Apple, Dell, and other words together. However, I quickly corrected course after finding intel categorized under the "Information" group.
My troubles came with today's blue and purple categories. First, I paired up Apple, Glen, Dell, and Computer together. I quickly lost that chance when I realized it wasn't that kind of Apple. Nonetheless, I made a little use of the brain, and I remembered that everything has a center. After almost 15 minutes of suffering, I could guess the purple Connections answer for today (well, not without luck).
So yeah, these are the answers for NYT Connections for today. If you stumbled here by mistake, then it is quite easy to learn how to play NYT's Connections game. Once you are done, come back here if you still cannot find the answers. How was your experience solving this word puzzle today? Where did you get stuck, if you did? Let us know in the comments below.
---
Load More