Today was a fairly easy but interesting word combination for NYC Connections. I don't think I've ever heard of cooking and combat at once in a sentence. However, if you are confused by this intro alone, then perhaps you should keep reading to learn the answer to the November 10th NYC Connections puzzle. Join us as we slowly unravel the hints for the categories and then list the answers all at once. So without any further ado, let's begin.
Hint for Today's Connections Themes
If you want to learn about what today's categories are based on but only through hints, check out these clues first.
Yellow Category – Tastemakers in cooking
Green Category – Your parents hope you're this
Blue Category – These help you smell good
Purple Category – Ever head of trial by combat?
Additional Hint: We sure hope you love to cook
We wish we could go into more detail here, but these hints are the best we can do. They are all closely related to the categories in question today, so think long and hard before you scroll below. Don't want to? Perhaps you could try some simple tips to solve NYT Connections to give these answers another try.
Spoiler Warning #1: While this section included hints for the categories, the next section names them directly. It will spoil the four categories for today's Connections puzzle. Proceed only if you're sure.
Today's Connections Category Names
If you are tired of us beating around the bush, here are the themes for today's categories for NYT Connections.
Yellow – SPICES
Green – INTELLIGENT
Blue – DEODORANTS
Purple – MEDIEVAL WEAPONS
Today's categories aren't exactly the most difficult of the bunch. However, . If you're having the same problem, then it's time to scroll down.
Spoiler Warning #2: The next section includes the answer for today's puzzle; you will see all the answers in their exact categories.
Connections Answer for November 10
Have you finally given up and are ready for the answer? The answers to today's Connections puzzle are:
SPICES – Anise, Dill, Nutmeg, Sage
INTELLIGENT – Bright, Quick, Sharp, Smart
DEODORANTS – Axe, Degree, Old Spice
MEDIEVAL WEAPONS – Club, Mace, Speaker, Sword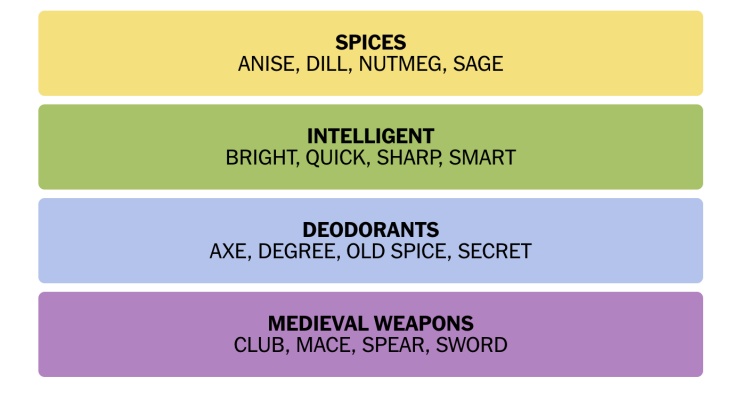 Today was an interesting contrast between homely and old-school violence when it came to solving Connections. I started with clubbing (pun intended) club, mace, and sword together but couldn't figure out the last one, so I benched it. I then moved on to Spices, which was easy. Deodrants followed suit with all the best brands I haven't used recently.
Next, since I am sharp (yet another pun), I went on to solve the Intelligent category. I finally decided that spear was the remaining choice and got the purple category, thereby, solving the NYT Connections for November 10.
What about you? How was your experience with today's word puzzle? Where did you get stuck if you did? Do let us know in the comments below
---
Load More