Every web-based professional knows importance of social media marketing, especially in this world, in which it does have great influence. Suppose you are trying to promote a product or service online and you have a website or blog with you. In such situations, you have different ways to implement social media into your site, but finding exact solutions for doing so is a somewhat tough task. In this situation, LoginRadius is all set to simplify implementation of social media in your website. LoginRadius is a compilation of several social media promotion solutions. In this article, we will go through different aspect of this wonderful solution to share our opinion about LoginRadius and prominent features the service offers.
Social Login – The New Way of Login
This is perhaps the most interesting feature offered by LoginRadius. Using its Social Login feature, you can let all your users sign in or sign up to your website using their social media accounts. So, users can register in your website or log into it through single click. LoginRadius offers support for more than thirty social networking websites, including your favourite Facebook, Twitter, Google, LinkedIn, etc.

 You can implement Social Login in different web-based platforms such as WordPress, Drupal, Magento, phpBB, etc, and programming languages such as PHP, ASP.NET, JAVA, HTML5, Node JS etc. For Content Management Systems mentioned here, you can download dedicated plug-ins, whereas you will get appropriate API for PHP, ASP.NET etc. In addition, there is a quite resourceful support section, where you can find appropriate tutorials for implementing this feature in your website or blog without facing any issues. LoginRadius offers dedicated support for mobile platforms, such as Android, iOS and Windows Phone. Among these, we found the CMS plug-ins very useful. When you run a site on a popular CMS, say WordPress, implementation of LoginRadius becomes incredibly simple in all means.
Apart from these, LoginRadius offers some superb features such as on-time profile creation by getting data from that social network profile used by client, ability to personalize login screens, plethora of analytics-based features to give more enhancements to user experience, etc.  Additionally, we loved the social commenting feature offered by plugin for WordPress sites.
Single Sign On: Single Sign On, which is commonly known as SSO, is one of the noteworthy features of LoginRadius. It will help your users create a centralized account, using which they can access different websites you own. SSO would be very useful if you have something like a blog network or something, where personalization is a big deal.
Analysis of Gathered Data
Analyzing every bit of information you have got from your clients is very important when it comes to marketing using social media. When you are able to draw conclusions regarding your style of common audience from that data, it will lead to success of marketing efforts. Analytics section of LoginRadius lets you capture different information from the audience; amount of datapoints that can be captured varies within different social profiles. Apart from this, this will analyze engagement data of your users as well; simply put, you can know what all are your clients doing in the site.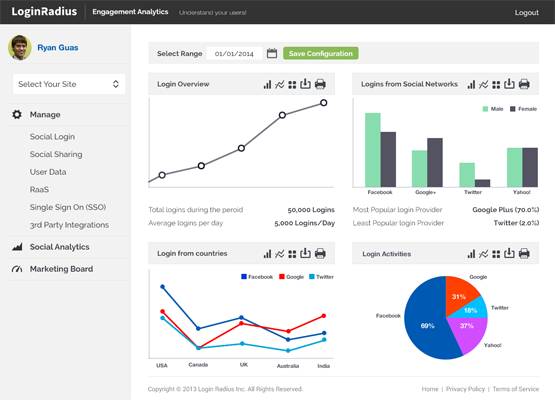 You can analyze gathered information based on variety of criteria such as the most used social network, location of your users etc. You can use all these information to optimize your marketing efforts so that your content will reach right people in right way. Also, it has an integrated option that lets your users invite their friends or others to your website to try your product or service. There is needless to say that these will have superb effect in promotion of the product or service you put forward.

Social Sharing
When it comes to LoginRadius, social sharing is not that old liking or recommending your post in Facebook! What the service puts forward is an innovative style of sharing, where you can decide what that specific sharing should do. For instance, when your client has purchased an item from the site, you can update that information through his/her social media profile – may be a Facebook share. Along with this awesome feature, LoginRadius lets you place some social sharing widgets in your site as well.
SEE ALSO: 
How To Make Your Viral Marketing Campaign Work
Bottom Line
According to our experience, LoginRadius is a must-use service for your social media marketing practices, especially if you are looking forward to promote your product or brand quite extensively. Particularly, we liked the abilities for analyzing data you have got from LoginRadius through various methods.
Although they do have a free account, some features for data analysis are available only in the premium version of LoginRadius. But, the pricing plans of service are much affordable, especially when we compare them with those of other products for social login. Altogether, we do recommend this one-stop solution for social media marketing to our users.
Have you used LoginRadius for your marketing efforts? We are eager to know your opinion about it.