Android is the most widely used mobile operating system across the globe and it doesn't really have any major alternatives except for Apple's iOS. Though Android has a beautiful interface and thanks to its flexibility & customization options, we don't get saturated very easily but there comes a time when we want to try something new. That's when we want to give iOS a try but iPhone being a premium priced device, not everyone can afford to switch easily. Thankfully, Android's flexibility lets you use iOS (Well, sort of!) on your Android device.
There are a number of launchers on the Google Play Store that claim to bring you an iOS experience. Sadly, most of them aren't worth our time. A few of the iPhone launchers bring what they claim but there's only one app that does bring a feature-rich iOS experience on Android, that is One Launcher.
Best iPhone launcher for Android – One Launcher
One Launcher is without a doubt the best launcher you can have if you want the iOS interface packed with some cool customization features. Along with iPhone-looks, it is also the most feature rich among its competitors. Once you install One Launcher and open the app, an introductory screen comes up along with a button that says "Experience". Once you hit the "Experience" button, the app takes you straight to the iOS-like homescreen. The first thing you will notice is that it succeeds in looking almost exactly like iOS 9. The icons, which although are a tad different, look very much the same as you would have seen on an iPhone.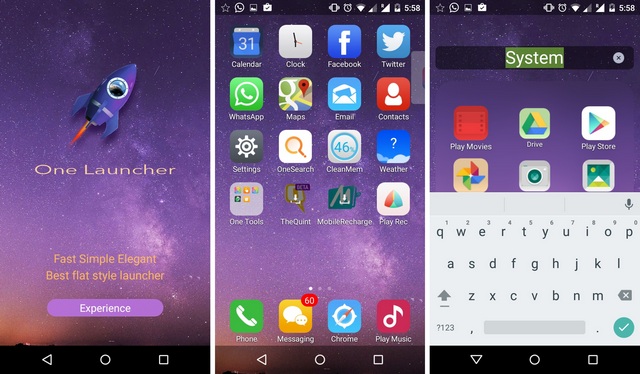 Just like on iOS, you can press hold an app or icon to move them around or create a folder. Press holding in an open area on the homescreen brings shortcuts to Effects, Wallpapers, Themes, Preferences, Gesture Setting and more. The launcher also brings apps like OneSearch, memory cleaner and an "All Apps" icon. The All Apps icon shows you all the apps you have installed sorted alphabetically in a horizontal list. The launcher also packs in a search feature similar to Spotlight Search in iOS 8 and iOS 9.
On the left most page of the homescreen, you will find a folder dubbed "One Tools", which features launcher Preferences, SingleHandMode, Theme, Battery Saver and One Wallpaper. Preferences are where you would find the settings for the launcher. In the "Preferences" page, there's an option to set the "One Launcher" as the default launcher, which you can also do by going into Settings->Home. The launcher also brings a "Notification Toggle", which as the name suggests adds a row of toggles in the notification shade. There's ability to choose between toggles or "Quick Search".
The app also features "Lockscreen Settings", which takes you the Play Store page of One Locker, an app which brings the iOS lockscreen. You can set various gestures in the launcher to do certain tasks. You can choose the gestures to hide apps, show the notification bar and activate SingleHandMode. The launcher also shows an animated clock with a seconds hand like iOS 9, which does consume a little extra battery. There are also options to enable/disable entry animation and app label shadow.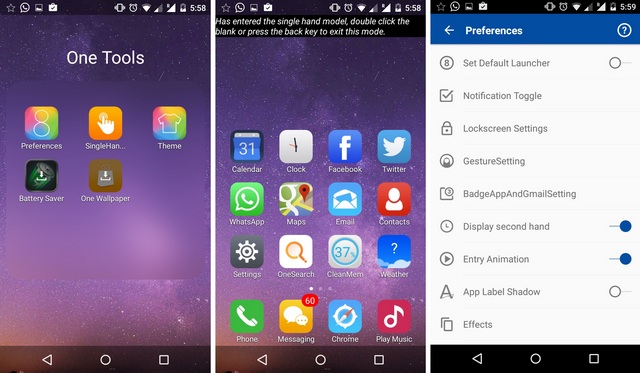 One Launcher lets you choose from various transition effects like Rotate, Push, Windmill, Cube, Expand, Flip, Cross Flip, Fade, Snake, Card Stack, Domino, Cylinder and more for page-turning on the homescreen. There are also some effects for the moving of icons on the homescreen like Breathe, Twinkle etc,. The launcher also lets you try different themes from its recently launched Theme store. There are "Featured", "Hot" and "Local" themes. There's also options to change icon size, app label color on the homescreen, try live wallpapers and more. Like iOS' "Reachability", One Launcher comes with a SingleHandMode, which lowers the icons of the screen, so that you can use the interface with a single hand easily.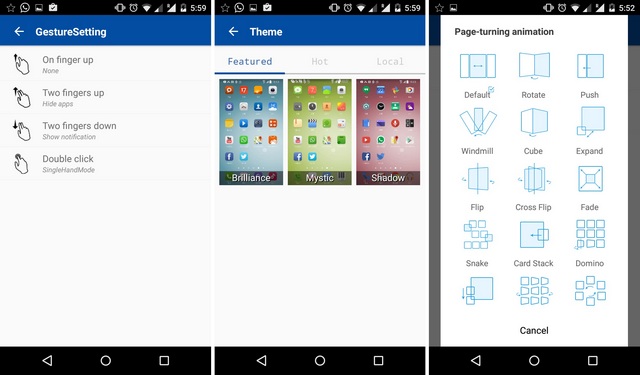 Along with the features we just talked about, One Launcher also makes sure you have a lag-free experience. The app is light on CPU resources, as well as the battery and you get a smooth performance throughout. The whole time we tested the app, One Launcher worked as it's supposed to all the time, without any stutters at all. To sum things up, if you want a serious iOS launcher app on Android, One Launcher is your best bet. There are other iPhone launchers for Android but none of them even come close to what One Launcher offers. Moreover, One Launcher is available for free on the Google Play Store and the good news is it does not even employ any ads in its interface.
Install: (Free)
Compatibility: Android 2.3.3 and up
Other Substitutes that bring the iOS experience on Android
One Launcher is no-doubt the best iPhone launcher you can get, but there are a host of other offerings on the Play Store. These apps too bring the iOS experience but if you expect a lot more, you will be disappointed. We totally recommend One Launcher but if you have some qualms with it, you can try out the following iPhone launchers and other apps that brings iOS equivalent features:
i Launcher OS & Launcher 8 Pretty
i Launcher OS and Launcher 8 Pretty are virtually identical apps. They have the same interface and the same set of few settings. They don't have many features but at least you get the iOS homescreen on your Android smartphone without any fuss. Once you click the app, you are taken to the iOS like homescreen. There are not many customization options here. You can change the background wallpaper, move around apps and create folders. The good thing is that both i Launcher OS & Launcher 8 Pretty don't cause any problems to your phone's performance. They run smoothly and there are no stutters or lags.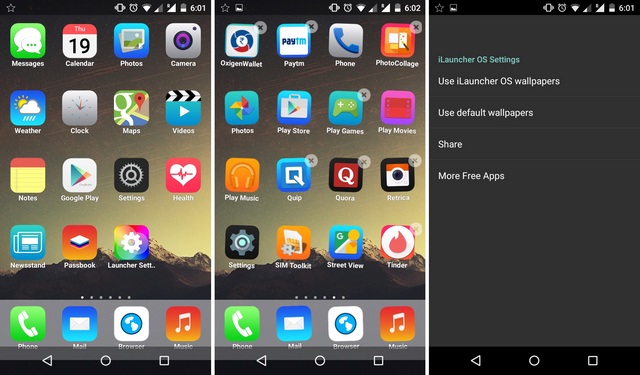 The only problem we found is that if you have a smartphone with on-screen navigation buttons (which we have), the buttons will overlap on the launcher. They have full-page ads that show up only in the "Launcher Settings" screen but it is still can be an annoyance nonetheless.
Install i Launcher OS: (Free), Install Launcher 8 Pretty (Free)
Compatibility: Android 4.0.3 and up.
Another iOS launcher that doesn't bring much apart from the iOS-like homescreen. The iLauncher matches the iOS homescreen pretty well and we also appreciate the fact that it supports icon packs. Other than that, the app leaves a lot to be desired, as it brings a slow, clunky experience.
Install: (Paid, $2.56)
Compatibility: Android 2.3 and up.
Control Panel – Smart Toggle
Control Center is a pretty handy feature, which was introduced in iOS 7. It brings shortcut toggles to various tasks like WiFi, torch, Airdrop and more and lets users control their music, increase or decrease brightness and more. If you have always wanted a Control Center for Android, Control Panel – Smart Toggle brings exactly that. The app brings a number of toggles like data, WiFi, silent mode, screen timeout, Bluetooth, GPS and more. It's certainly not an iOS launcher but it does bring a part of the iOS experience, plus it works fine unlike most iPhone launchers, so give it a try.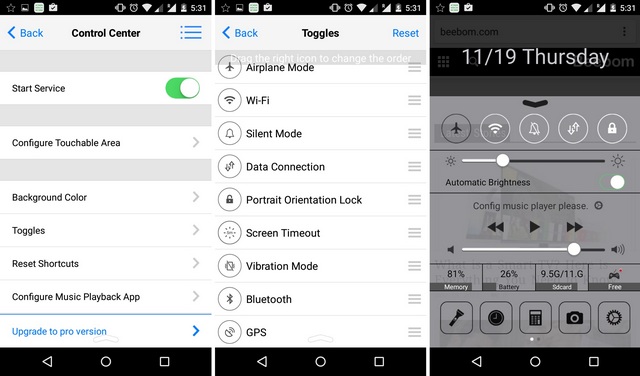 Install: (Free)
Compatibility: Android 2.2 and up.
If you want the best icon pack that not only brings iOS icons but even betters them, then Flui Icon Pack should be your choice. Flui Icon Pack brings more than 800 icons that are inspired by iOS' design and some of them even look better than the iOS implementation. Moreover, Flui Icon Pack is available for most launchers including popular ones like Nova, ADW, Themer, Aviate, Go, Next and more.
Install: (Paid $1.48)
Compatibility: Android 4.0.3 and up.
SEE ALSO: 10 Best Customizable Keyboard Apps for Android
There are a number of other launchers like i6 Plus Launcher, 6 Plus Launcher and more that do bring the iOS homescreen but their usage of ads on the homescreen along with inclusion of faux apps ruins the experience. So, according to us these are best iPhone launchers for Android and we have also included apps that duplicate an iOS feature to Android. So, give them a try and let us know how they worked for you in the comments section below.