WhatsApp is the world's most popular instant messaging service that people across the world use, to stay in touch with family, friends and relatives. There are plenty of features that this messaging platform has to offer, like the ability to send pictures, videos, GIFs, audio files, contacts and even voice notes. However, there's one department where WhatsApp has been receiving criticism over the years, and that's image compression. That's right, WhatsApp has always been known to compress the image files that are sent over the instant messaging platform, thereby reducing the image quality by a significant margin. Although we do realize that its done to fasten up the file transfer, not everyone prefers speed over quality. So, are you interested in sending the full image file without any compression and sacrifice on image quality? Well, without further ado, let's take a look at how to send pictures without compression on WhatsApp:
Send Full Resolution Photos on WhatsApp in Android and iPhone
Note: I've tried this method on the Xiaomi Mi Mix, as well as the iPhone 7 Plus. Although we've only demonstrated the steps for an Android device, the procedure is pretty much identical for an iPhone, and it works flawlessly on both these devices.
Usually when we're in the middle of a WhatsApp conversation and want to send a picture, we simply try to attach the photo. However, that's not quite the case here. Simply follow the steps below to get this done within seconds:
Firstly, open up WhatsApp on your phone and tap on the "paperclip" icon to attach the picture that you want to send. Well, we're not going to use the gallery to attach the photo. Instead, we'll be attaching it as a document. So, simply tap on "Document" and then select the option to "Browse other docs…".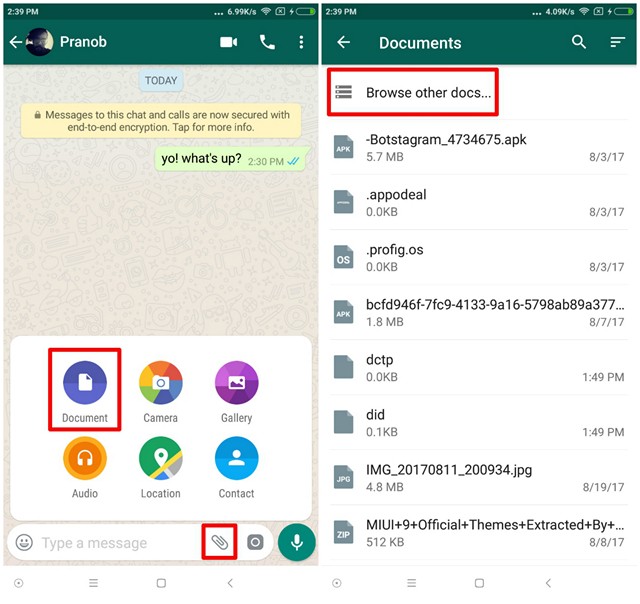 Now, since the pictures that you're going to send are usually located in the Gallery, you'll have to browse the folder where you have your photos and select the specific photo. Once you've found it, tap "OK".
You'll now be prompted to send the picture to the specific contact. Once you've sent it, you can check if the image has been compressed or not by checking the file's detailed info, as shown in the picture below.
Well, that's pretty much the whole process. Instead of sending it as a photo, we're sending the image file as a document, in order to prevent WhatsApp from compressing it. You'll notice that if you send the picture as a document, you won't get the image preview like you normally would, when you try to send a photo over WhatsApp.
             SEE ALSO: 15 Cool WhatsApp Tricks You Should Be Using
Use This Nifty Trick To Send WhatsApp Pictures Without Compressing
Although we do like to admit the fact that WhatsApp's image compression feature is actually useful in sending the pictures quickly, not everyone will prefer sacrificing quality for speed. It would've been great if WhatsApp had an option to enable or disable image compression. Nevertheless, this nifty trick can help a lot by letting you send full resolution pictures without any compromise on image quality. So, have you guys tried this out and checked it for yourselves? Do let us know, in the comments section down below.