As humans, there's no denying that we all make mistakes. While most of the mistakes we make in our lives are irreversible and comes with consequences, accidentally hitting the Send button in Gmail is fortunately not one of them. If you often find yourself spotting typo errors immediately after sending an important email, here's how you can use the "Undo Send" feature to recall an email in Gmail. We have included the steps to recall an email in Gmail on the web and using mobile apps on Android and iOS.
Recall an Email in Gmail in 2021
You can use Gmail's popular "Undo Send" feature to quickly recall an email before it reaches the recipient. What Gmail has implemented here is a buffer period that gives users the choice to recall a message, much like how Twitter's new Undo Tweet feature works.
Set up Email Cancellation Period in Gmail
Gmail gives you 5 seconds to recall an email by default. However, you can customize the cancellation period and set it to 5, 10, 20, or 30 seconds. Unfortunately, this setting is limited to Gmail for the web, and you can't customize the "undo send" period in the mobile apps on iOS and Android. With that said, here's how to customize the recall time period for Gmail emails on the web:
1. Open Gmail and click on the gear icon at the top right corner. You will now see a pop-up menu with some quick settings. Click on "See all settings" to expand it and view all Gmail settings.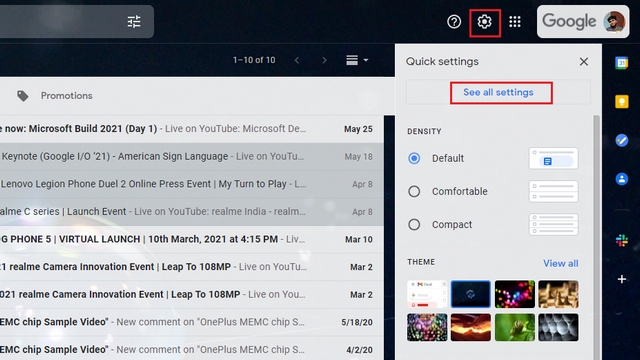 2. Under the General section, you will see an option titled "Undo Send". Click on the dropdown menu and set your desired cancellation period. As mentioned earlier, the available options are:
5 seconds
10 seconds
20 seconds
30 seconds
Note: Google only gives you a brief window to recall an email in Gmail. You don't have an hour or two to 'undo send' emails in Gmail, so you will have to be quick on your feet while using this feature.
3. Next up, scroll down to the bottom of the page and click on "Save Changes". Gmail will automatically redirect you to your inbox after saving the changes made in settings.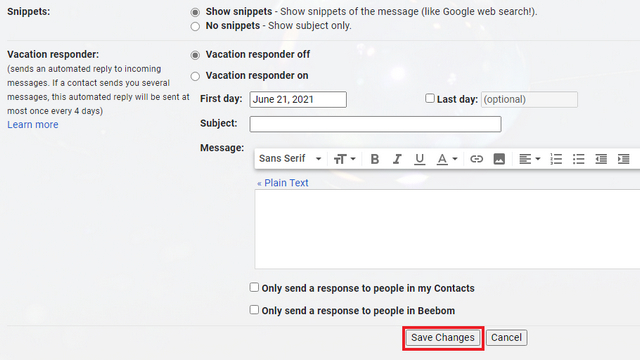 Recall Email in Gmail for Web (Windows, Mac, and Linux)
After setting your optimal cancellation period, you are all set to recall emails in Gmail that you have already sent. Here's how to do it:
1. Compose the email as you would normally do and hit the "Send" button.
2. Soon after you send an email, you will see an option to undo the mail at the bottom left corner of the screen. Click on the "Undo" button to recall the email in Gmail. Yeah, it's really that easy.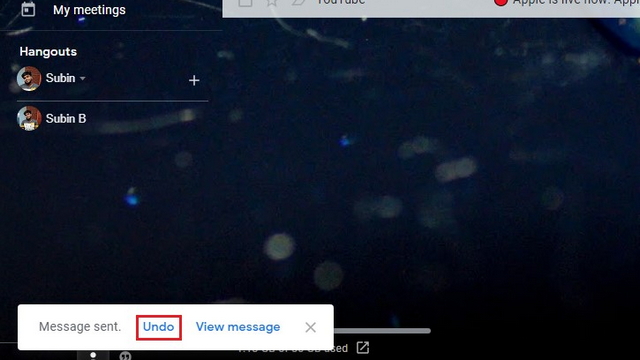 Recall Email in Gmail Using Mobile Apps (Android and iOS)
Similarly, you can revoke emails in Gmail's mobile apps on Android and iOS as well. While I will show you the steps using an Android device, the process to recall an email remains the same on Gmail's iOS app too. Here's how to recall an email in Gmail for Android or iOS:
1. Compose your email and send it using the Gmail app for Android or iOS.
2. You will now see the Undo option in a floating bar above the bottom navigation bar. Tap on it to revoke the email and go back to the editing screen. You can now edit the email and send it again or choose to delete it.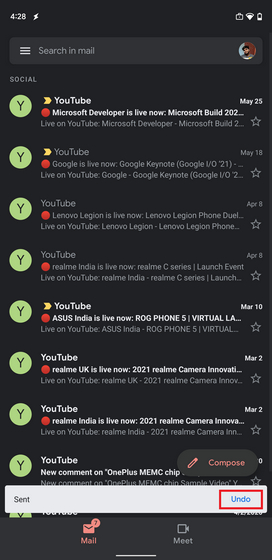 Unsend Emails in Gmail in Easy Steps
So, that was our quick guide to recall emails in Gmail. Whether it is for unsending an email you instantly regret or making corrections to an email before sending it out again, Gmail's "Undo Send" feature will come in handy to help avoid potentially embarrassing situations. For more such tips, go through our article on sending emails as attachments in Gmail and the best Gmail tips and tricks. Also, do you use the official method detailed above to recall emails or rely on third-party tools for the task? Let us know your thoughts in the comments below.