Most of us are already aware of the fact that Valve's Steam is the world's largest digital distribution platform for video games. It's pretty much as important as Amazon to almost all the gamers who purchase games digitally. Well, there has always been one major problem surrounding digital game purchases especially in a country like India, where most of the gamers are teenagers who don't really have a credit/debit card. However. it looks like Steam had taken this problem into account as they've introduced a Cash on Delivery payment option just for Indian customers. Although this new payment option has been available for the past several months, most of the people are still not even aware of it due to the low-key roll-out. So, if you have been using your parent's credit/debit cards for making Steam purchases so far, you might be interested in taking advantage of Cash on Delivery. Without further ado, let's take a look at how to purchase games on Steam without credit card:
Purchasing Steam Games Without Credit Card
Steam's new Cash on Delivery payment option has been made possible with the help of Novaplay, Valve's partner in India. Therefore, even if you're making the purchase on Steam, Novaplay's employees will be handling the rest of the transaction. So, simply follow the steps below to purchase Steam games using cash on delivery:
First of all, simply log on to your Steam account and head over to the "Store" section on the desktop client. Now, find the game that you want to purchase and click on "Add to Cart".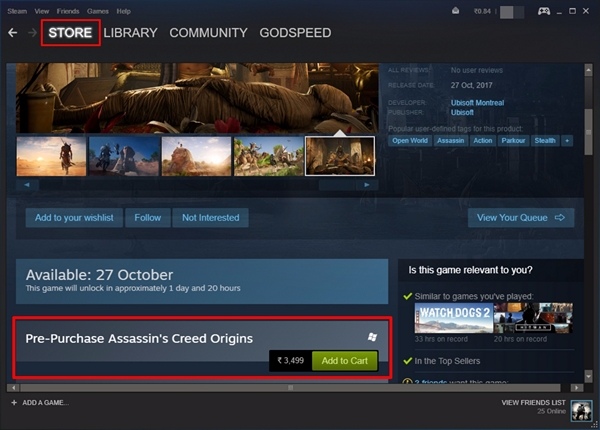 Here, you can choose to purchase the game either for yourself or as a gift for your friend. Regardless of the option you're choosing, you'll be able to purchase the game using Cash on Delivery.
In the next menu, you'll be able to choose your desired payment option. From the dropdown, choose "Cash on Delivery" as the payment option and click "Continue". If you already have any other credit/debit card information stored in your Steam account, you can simply change it within seconds.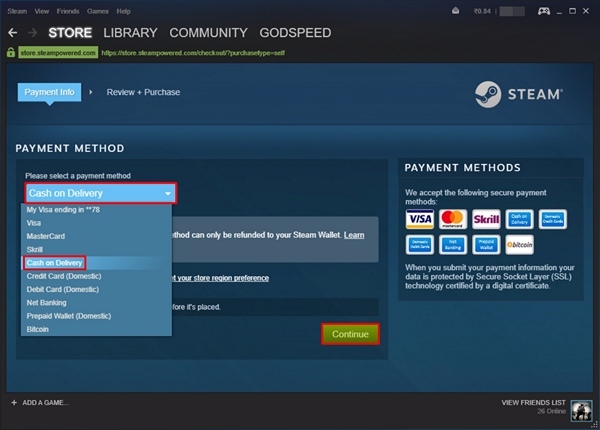 Now, you'll be able to preview the purchase, but in order to complete the transaction, you'll have to head over to Novaplay website. Click on "Continue to Novaplay".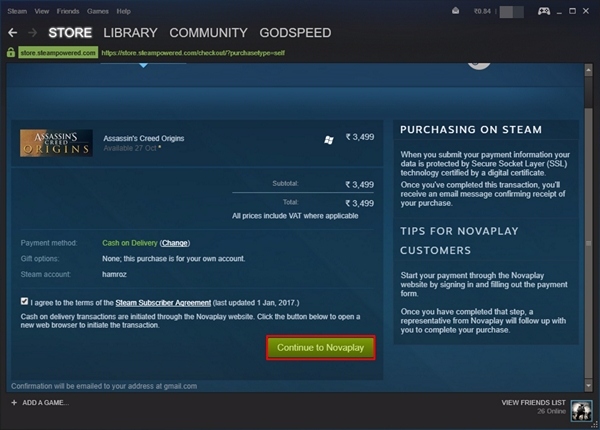 Here, just fill in your accurate shipping information so that Novaplay executives can contact you to collect the cash as early as possible. Once done, click on "Continue".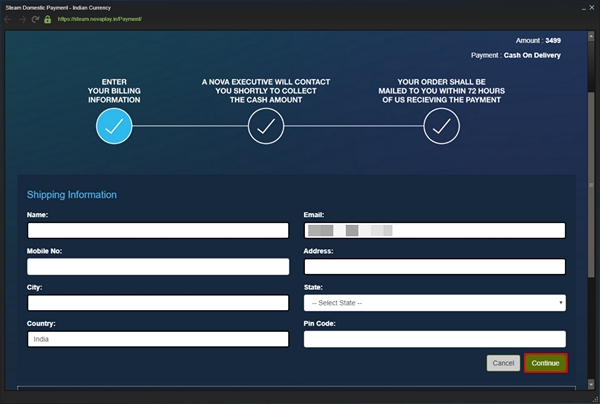 Well, that's pretty much all you got to do to purchase games on Steam using Cash on Delivery. However, this payment method has its fair share of downsides that I'd like to address. Firstly, even after the Novaplay execute visits your place to collect the cash, you'll have to wait up to a maximum of 72 hours for the game to be added to your Steam library. That being said, it usually doesn't take that long, as I've received the games I purchased on the same day after making the payment. Apart from this, if you want to refund one of the games you purchased using this method, the amount you paid will be added to the Steam wallet, which is a major disadvantage because it cannot be used anywhere else.
Purchasing Steam Games Using Gift Cards
Another way to make purchases on Steam without requiring a credit/debit card is by making use of physical gift cards. These physical cards have digital codes that can be redeemed online on the store. Once redeemed, the funds will be added to the user's Steam wallet. These gift cards are available globally and if you have no idea where to get them, do check the official support website for all the details. So, if you've just purchased a Steam gift card, simply follow the steps to quickly redeem it online:
Log on to Steam and click on "Games" located in the top menu, Now, click on "Redeem a Steam Wallet Code".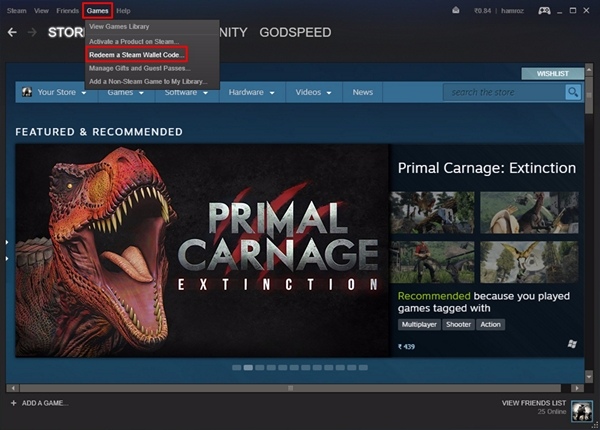 Now, you'll be asked to enter the code that's found in your physical gift card. Simply type in all the digits accurately and click on "Continue" to confirm the transaction. You'll immediately notice that the funds have been added to your Steam wallet which can be used to purchase games.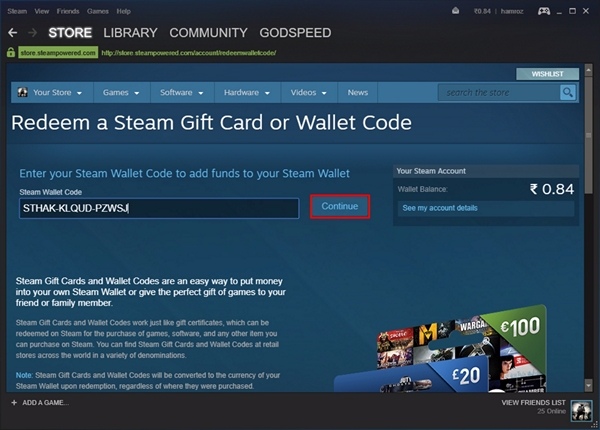 SEE ALSO: How to Share Steam Games Using Steam Family Sharing
Ready to Pay Cash on Delivery for Steam Games?
Valve's Cash on Delivery payment option is certainly a valuable addition to the world's biggest online game store, as most of the teenagers in India don't own a credit/debit card at such a young age. From now on, you don't have to be worried about bothering your parents by asking their credit cards every time when you want to purchase a game. However, if you already have a credit card, we suggest you stick to the online transaction as you don't really have to wait for the game to be added to your Steam Library. So, which one of the available payment methods are you going to use for your next purchase on Steam? Do let us know, by dropping your valuable opinions in the comments section down below.