Everyone loves music stars and we would be lying if we say that we have never thought of becoming a rockstar. However, most of us don't have that musical talent to make it but what if we tell you that there's a way to create your very own music video. Yes, that's right, the cool Triller app lets you do exactly that. The app lets you create your very own music videos and we are pretty sure you are going to love it. First, let us introduce you to Triller:
What is Triller?
Triller is a popular music video creating app, that you might feel is similar to Dubsmash but there's a lot more to it. The app has been developed by David Leiberman in collaboration with music director, Colin Tilley, who has directed various popular videos of Justin Bieber, Kendrick Lamar and Nicki Minaj, to name a few. The app lets you choose your favorite songs and then take various takes of you, dubbing that song. Then, Triller uses a cool algorithm (which is said to match a professional editor) to automatically edit the various takes into one.
The results are pretty amazing and if you don't believe us, check out Triller's Instagram page. Looks very impressive, right? So, without further ado, here's how you can create your very own music videos using Triller:
How to create your very own music video:
1. Firstly, you will have to install the Triller app from the Google Play Store or iTunes. Once done, open the app and you will be presented with a cool-looking interface and "plus" buttons". Tap on the plus button to create a new music video project.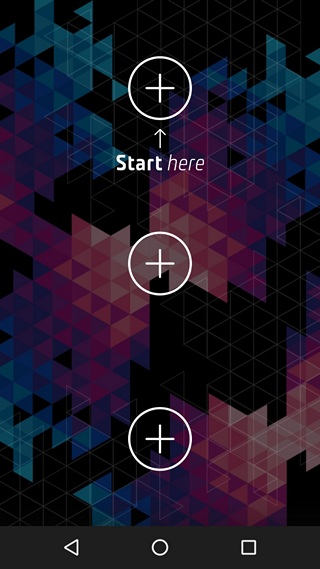 2. Then, choose the music you want in your video. The app features a ton of songs, with the latest ones shown up front. It even lists regional songs, which is highly appreciable. Moreover, you can search for a song or choose a song from your device too.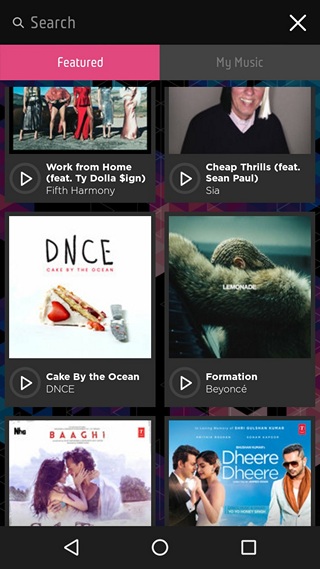 3. Once you have selected the music track, you will have to select the portion of the song you want in the music video. To get a preview of a song in the app, hit the play button in the center. After you have chosen the portion of the track to feature in the music video, tap the tick button.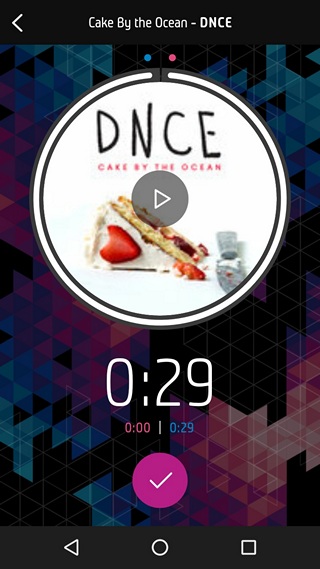 Note: The songs available in the app are limited to 29-seconds but your own music isn't, so if you want a full length proper music video to show off your rockstar skills, you can choose a song from your device.
4. You will then be presented with the camera viewfinder, where you can select the front or the rear camera. Choose different filters and record in normal, fast or slow motion. Hit the capture button and the video should start capturing. When capturing, you can use the bar below to zoom in and out.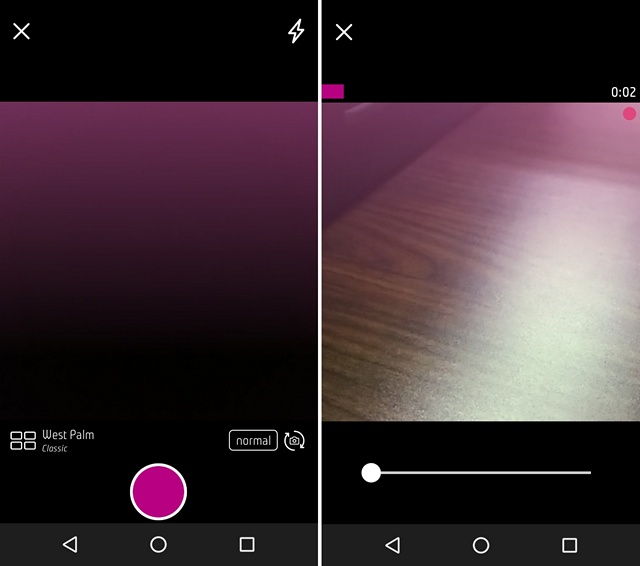 5. Don't worry if the first take isn't that great, as the app's skill lies in using multiple takes and then editing them together for best results. After a take is done, hit the plus button to capture another take.
6. After you have taken enough takes, hit the "Make Triller video" button on the bottom right and you will be presented a full video using your takes. The Triller edited video looks amazingly cool but if you want changes, you can use the "Re Edit" option available in the Share menu. You can then upload the video to Facebook, Instagram, YouTube or share it through Twitter, WhatsApp or SMS. There's also an option to save it to your phone. When you select an option, the app renders the video to make it available for sharing.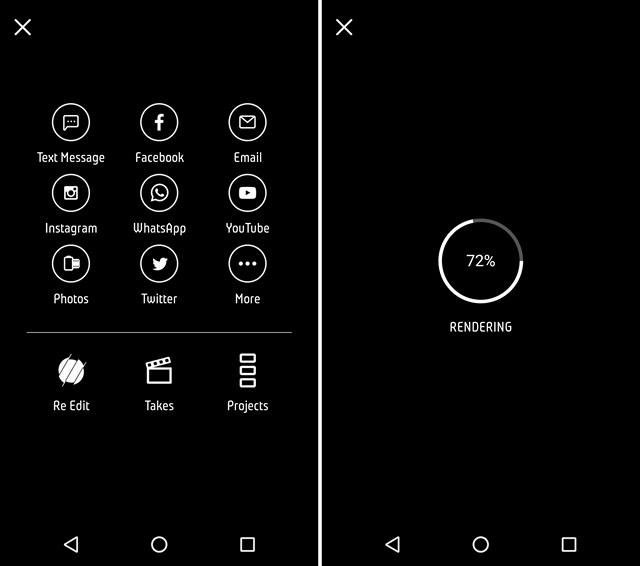 Once you have various video projects, you can swipe left on a project in the homepage to get the "delete" option and swipe right to get the "play" and "share" option. You can also check out Triller's Settings by swiping down from the top in app's homepage.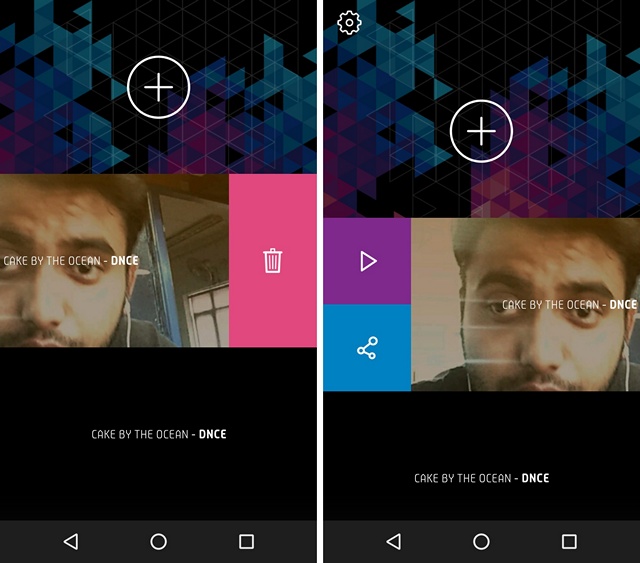 Triller Notable Features
The ability to choose from tons of songs available in the app along with your own music catalog.
The option to take as many takes as you want, for the best results.
Automatic editing of videos, which works like a charm.
Tons of cool filters and video modes like fast and slow motion.
Sharing options to almost all social networks and email or SMS etc.
Video resolution up to 720p.
Processing options and ability to synchronize audio.
SEE ALSO: Tribe: A Walkie-Talkie App to Send Disappearing Messages
Ready to star in your own music video created by Triller?
After using the Triller app for quite a while, we can confidently say that we are huge fans of the app. The app works like a charm and the video editing & rendering is a breeze. Also, brownie points to the developers for the intuitive interface. To sum things up, if you want to create a fun music video of yourself without having to go through the fuss of editing, Triller is the app to install. So, try out and the app and you can thank us later!
---
Load More