Driving yourself can be a lot of fun, however, it's almost always annoying when you have to remember your parking location, especially when you're in a hurry. While Google Maps does this automatically for you, if you're like me, you don't always use a navigation app to get you around your own city. Enter 'Find My Parked Car' (free) — a lightweight, straightforward app that does one thing, and does it well.
Saving Your Car's Location
As the name suggests, this app is meant to do one thing, and one thing only. And that is to remember your parking location so you can get back to your car easily. When you open the app, you directly get the option to save parking location.
Tap on this button, and the app will get your location and save it for you. You can add a name here if you want, and you're done. There's no need to look around for landmarks, or try and remember exactly where you've parked.
The app does take a couple of seconds while it tries to get a more precise location of your car, but it's not too much of a hindrance.
Finding Your Car's Location
When you're coming back to your car, and wondering where exactly you parked it, you can simply tap on the 'Find Car' option. This will show up your current location, along with the saved location of your car. It also shows how far your car is from you.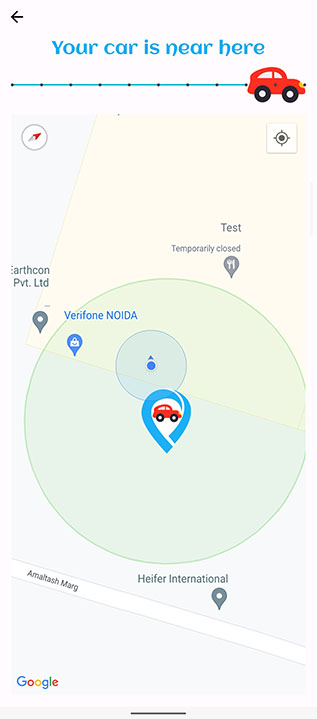 There's a bar on the top that shows how near you are to your parked car, and it updates automatically as you walk towards the saved location of your car. You obviously get a map view as well, so you can easily navigate your way to your car, along with a measure of the approximate distance between you and your parked car.
Multiple Themes
As simple as this app is, there are some customization options here anyway. By default, you get the 'New Style' UI, which is what's been shown in the screenshots above. However, if you want, you can choose from one of three other themes:
Wooden Dashboard
Leather Dashboard
Black Dashboard
The dashboard themes are better, in my opinion, because they make the app look simpler. There are two big buttons for saving location and finding your car, and nothing else.
Home Screen Widget
Now, for me, personally, the premise of this app was to save my car's parking location quickly. However, opening an app, tapping a button, and then saving the location isn't the most time-efficient method of doing such a task.
Fortunately, the app comes with a home screen widget. Once you've added this widget to your Android phone's home screen, saving your parking location becomes much easier. The widget comes with buttons to save or find your car's location, and it works quite well.
True, tapping on the widget does open the app, and it takes a couple of seconds while the app loads up, but apart from that, it does ensure that you can quickly get to the save location screen and mark your car's parking spot within the app.
Memory Game
Apart from the actual usefulness of the app, you also get a 'memory game' built right in here. It is rather on the nose, to have a memory game in an app that's meant to ensure you don't need to remember where you parked your car, but it's always fun to play games.
This is a simple match the tile kind of game, and it gets progressively more difficult as you pass the levels. It's a decent enough way to spend some time, and if you enjoy memory games, this is definitely a bonus for you.
Easily Find Your Parked Car with 'Find My Parked Car' App
All things said and done, Find My Parked Car is a useful little app that does one thing, and does it well enough. You get to save your parking location without too much of a hassle. And then, you can just as easily find your parked car by navigating your way back to the saved location. You can download the app (Free) from the Play Store, and you'll never have to worry about remembering your car's parking location.