If your work requires sitting too much, you have probably noticed how you end up with a stiff neck or terrible back pain. That is where the urgency to get creative comes in. For this reason, standing desks have become incredibly popular over the years. Not only do they prevent you from sitting at all times, but they take your productivity to the next level too. So, if you have been planning on getting a standing desk, there's no time better than now.
Fezibo, a leading international manufacturer of ergonomic furniture, is offering heavy discounts of up to 60% on standing desks as part of its 2023 Black Friday Mega Sale event. Although the sale will last through the entirety of November, it will be at its peak from November 24 to November 27, 2023.
In addition, the brand is also providing 80 free desk orders, up to $100 off on top of flash sale prices, and much more. However, since they have a massive catalog, choosing a desk can be like finding a needle in a haystack. There's nothing to worry though, as the brand has dedicated 10 years to innovation with over 200 authorized patents and more than 10 aesthetic design choices, giving you a whole lot of variety. That understandably makes things harder. So, to make the process easier, we have listed the best Fezibo standing desks for you to grab this sale season.
1. Fezibo Standing Desk Basic
Let's admit it, standing desks are not exactly cheap. Hence, finding one that is both affordable and sturdy is not easy. That is why Fezibo's Basic standing desk "stands" out from the crowd. It combines versatility and durability with affordability like a pro, making sure you don't miss out on anything.
Plus, you'll get a good selection of buttons to adjust the sitting height and standing height, alongside an anti-collision design and anti-slip mat so that it doesn't move easily. In addition, you also get to see dual hooks on the desk, which double as a headset or bag hanger. All of this sounds convenient, right? Definitely one of the best standing desks by Fezibo that you can get during the sale.
Regular Price: $259.99 | Final Offer Price: $94.99 (with code: Welcome to save 5%)
2. Fezibo Standing Desk Brasa
In case you are tired of your existing work-from-home setup, bite the bullet and get the Fezibo Brasa standing desk. What makes it a great option for those working from home is the fact that there is a dedicated monitor stand of sorts. This uplifted section allows you to place your monitor comfortably, preventing neck strain. The lifting process is quiet, and there won't be wobbling so you can type as aggressively as you can on your keyboard as you want to.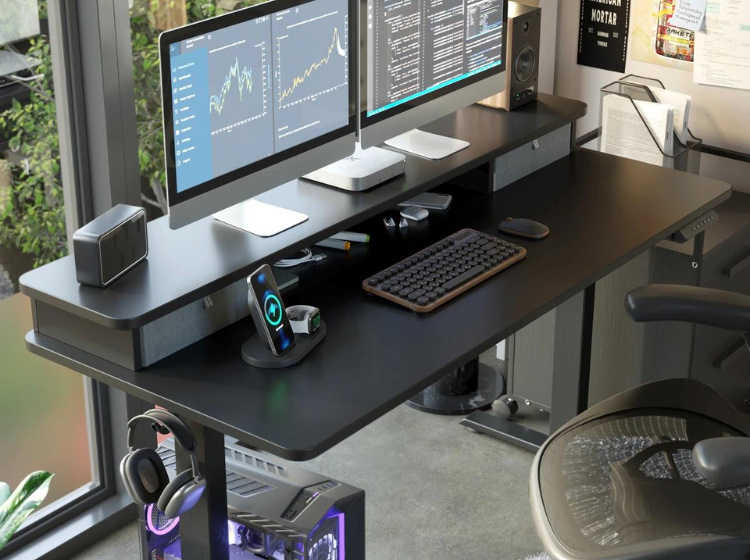 There are also a lot of customization options available for it. For starters, you get a dual drawer setup on the desk already. On top of that, you can choose to add a keyboard tray, fabric drawers, or even wooden drawers to it for additional storage.
There are a lot of color options available as well, which allow you to choose the one that compliments your room aesthetics the best. All-in-all, this is one Fezibo desk with drawers that you just shouldn't miss out on.
Regular Price: $339.99 | Final Offer Price: $170.99 (with code: Welcome to save 5%)
3. Fezibo Standing Desk Eufaula
The Fezibo Eufaula immediately stands out in the brand's catalog as one of the more premium-looking options. The tempered glass top helps deliver an elegant look. Moreover, the build and look of this standing desk is such that you can place it in any environment to elevate the aesthetics.
If you're a Monica, you will love this desk, as the detachable dual desk drawers alongside three detachable trays allow you to organize your things in the best way possible.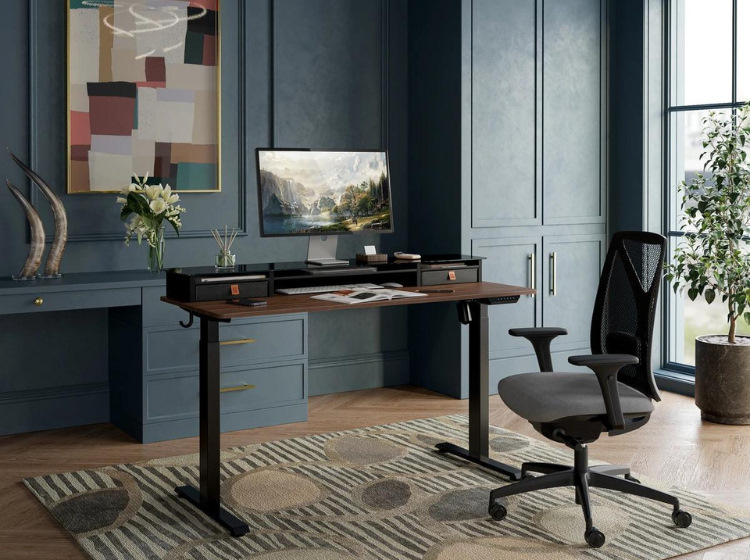 Additionally, there is also an open storage cubicle that allows you to store anything, from your tablet or laptop to charging adapters. The open storage cubicle also features a cable hole for you to step up your cable management game as well. Overall, this is another one of Fezibo's versatile standing desks that you should consider buying during the Black Friday sale.
Regular Price: $339.99 | Final Offer Price: $239.99 (with BF100 coupon code to save $100)
4. Fezibo Standing Desk Provence
Now, let's consider that you are not looking for a normal run-off-the-mill desk, but something that will take the aesthetics of your room to the next level. That is where the Fezibo Provence comes in. What makes it stand out in the catalog is its French Countryside design. From the desktop texture to the drawer design, it screams subtle yet elegant. In case you are into the vintage vibe, nothing beats this, truly.
If you are someone who needs a drawer that can fulfill your basic requirements and look good while doing so, this is it. Moreover, it seems a lot more practical than other options that overwhelm you with way too many features. If you are an artist and need a standing desk to fulfill your professional requirements, this is more than what you need.
Regular Price: $379.99 | Final Offer Price: $229.99 (with BF100 coupon code to save $100)
5. Fezibo Standing Desk L-shaped
If you are someone who has a beautiful and unused corner in their room, look no further. That is exactly what L-shaped desks are meant for. They are the best for elevating your workspace by utilizing those corner spaces in your room. The Fezibo L-shaped standing desk is an excellent option to go for in that case.
Moreover, what makes it all the more versatile is the fact that it is very flexible for both left-handed and right-handed folks, allowing you to set it accordingly.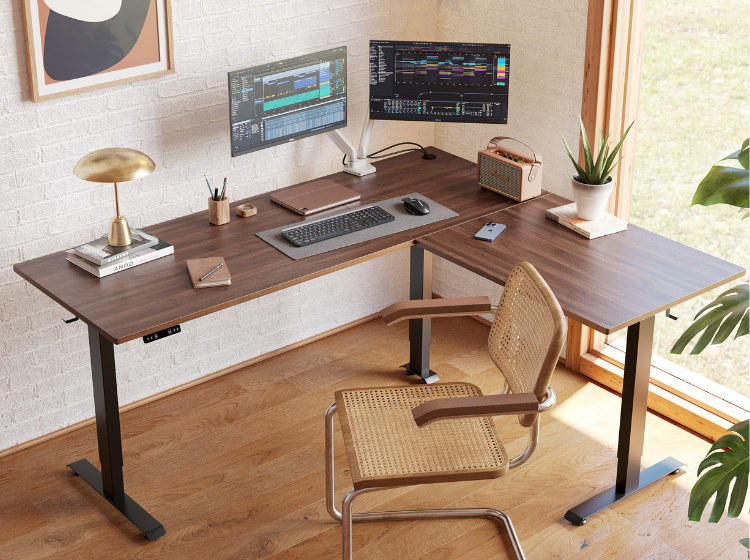 Most importantly, the desk allows you to customize it as you wish, offering you multiple options to customize the desktop and frame. You also get to choose from three different motor options – a single motor, triple motor, and reversible triple motor option. However, note that this is not the desk you would want for a small room. It will take up way too much space. So, if you have a big enough room, you are gold.
Regular Price: $469.99 | Final Offer Price: $329.99
In addition, the brand is also offering 20% off on combo orders as well as 8% off on subscriptions. You can pick any desk from this list without having to worry about anything, as Fezibo ensures top-notch quality control. All their standing desks go through a minimum of 10,000 up-down tests to ensure durability. However, it does not end there.
The desk parts are also tested in salt spray environments to check for corrosion resistance. Now, if you're concerned about the environment like you should be, don't worry. Fezibo's standing desks are made out of 100% eco-friendly material as well.
Now, although getting a good product is important, good after-sales service is what makes the experience more rewarding. And that is also an area where Fezibo has you covered, thanks to their extensive warranty coverage. The brand offers a 2-year warranty on the motor(s) and electronics, including the controller, power adapter, and cords. For the rest of the desk components, Fezibo offers a 5-year warranty. This is what has led to 1000+ merchants having Fezibo desks in their offices and over 1,000,000 satisfied customers.
As for shipping, the brand offers free shipping via UPS, USPS, and FedEx to the United States for most products. According to the brand, in-stock orders typically take around four business days to ship. Meanwhile, the delivery takes anywhere from 5 to 8 days within the United States. What's more is that the brand ships directly from their factories to cut down on a whole of fees, including middlemen fees, platform fees, dealership fees, and more to bring competitive pricing to the table and save you money.
So, which of these standing desks are you going to buy? Let us know in the comments below.
---
Load More