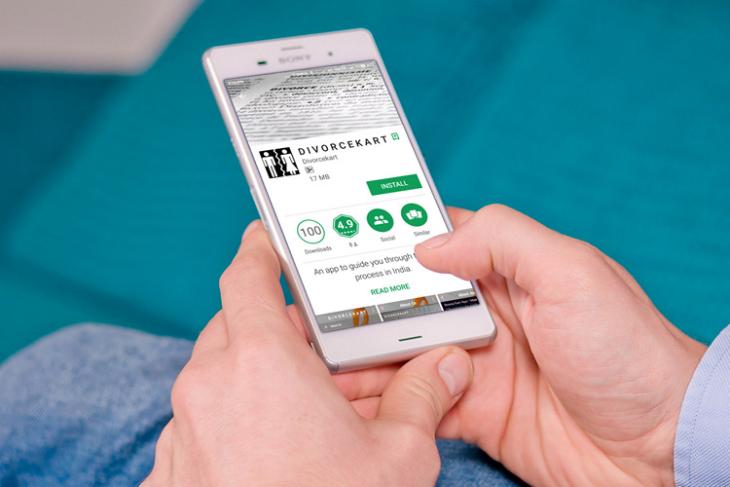 While there are a number of forums, message boards and chatrooms that people going through a divorce can visit to discuss their issues and get emotional and legal help, most of the advise comes from individuals who lack the professional knowhow to counsel others regarding such highly complex matters. That is exactly where a new app, called 'DivorceKart' comes in. Launched this week by celebrity divorce lawyer, author and media columnist, Vandana Shah, the software is being promoted as India's "first legal app" that focuses on answering legal queries about divorce. The app is available for free on Android and iOS.
Available only in English to start off with, the app looks to preempt potential right-wing protests by proclaiming that it will "only be a help platform to understand one's legal rights and would not recommend or advise any person to end a marriage or continue with it".
The app was launched this week in the presence of actor and former Chanel [V] VJ Ranvir Shoray, who is currently going through a messy divorce from his wife, actress Konkona Sen Sharma. Also present was National Award-winning filmmaker Aruna Raje Patil, who herself went through a divorce back in the eighties.
With stress, diversions and the lack of willingness to compromise taking a massive toll on relationships, divorces are on the rise across the world, and India, unfortunately, isn't insulated from the trend either. However, unlike many other parts of the world, the societal stigma attached with the ending of a marriage is a huge hurdle for couples looking to go their separate ways. Instead of getting physiological counseling and legal advise that are so necessary at this stage, most individuals who are separated from their spouses find it hard to approach people with the know-how to help them at these emotionally and financially stressful time.