Google, as you might be aware, maintains four channels of its popular Chrome browser namely Stable, Beta, Dev, and Canary, based on their stability and features offered. The software giant has been testing media controls as a Chrome flag since a few months in Canary builds. Now, the feature is stable enough that it is enabled by default in Dev and Canary builds of Google Chrome.
In case you're wondering, Chrome media controls is a useful feature that will let you control media playback of any open tab right from your current tab. This way, you need not go through the hassle of finding the tab from which media is being played if you have a lot of open tabs. This will also be helpful in pausing video ads that autoplay with sound, one of the most annoying aspects of browsing the internet.
Take a look at the below image to view the feature in action. As you can see, I've played several videos in multiple tabs and I can control all of them without switching to the respective tab by clicking on the Play button that appears in the top right corner of the browser.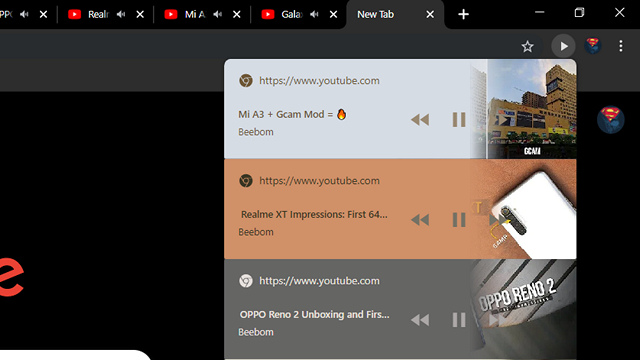 In case you're not a fan of the feature, you can turn it off by going to Chrome flags and disabling "Global Media Controls". After a restart, you can use your browser as you used to before.
Now that the feature is stable enough to be enabled by default in Chrome Canary and Chrome Dev, we can safely expect the feature to be packed in the next big release of Google Chrome.
At the time of writing this article, the Chrome flag was present in every update channel of Chrome except the stable version. So, are you excited about this new feature? Let us know in the comments.