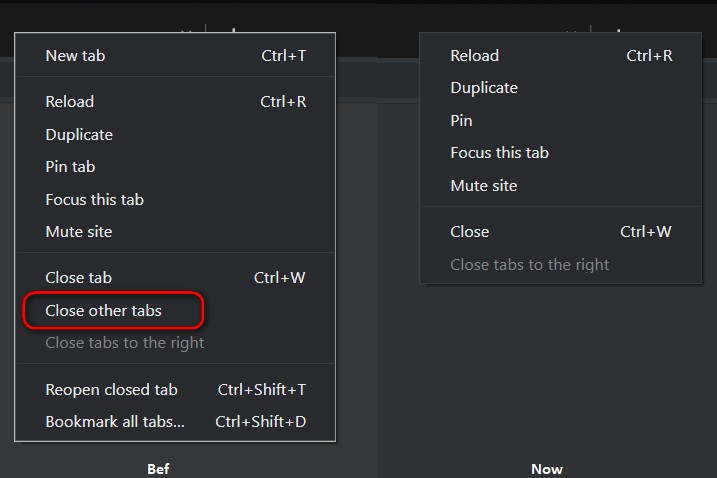 The latest Canary Preview build of Google Chrome has removed at least four items from the tab options as part of the company's plans to de-clutter the context menus on its popular web-browser. As explained in this official commit on the Chromium Gerrit, the latest Chrome Canary now does not offer the following options when one right-clicks on a tab:
New tab
Close other tabs
Reopen closed window
Bookmarks all tabs
Believed to have been first spotted by Redditor u/Leopeva, that last option can still be found in the tab frame menu (see image below), so it doesn't seem to have been done away for good just yet. While most general users may not even notice the missing features, some power users might miss at least the 'Close Other Tabs' option which helps them greatly while working with multiple tabs.
It's worth noting that Google had earlier tried to get rid of these features as well, but had to backtrack after a mass revolt from power-users, so it will be interesting to see if that will happen this time around as well, or if the company will remain firm on its decision to implement the changes in the beta and stable versions as well.
In case you use 'Close Other Tabs', which seems to be the most-used feature among the four removed options, Chrome engineer Peter Kasting suggests using the following option instead: "To flush your excess tabs, click the first tab you want to close, shift-click the last tab to select the whole range, then hit ctrl-w".
However, given that it requires so much extra work than clicking on a simple right-click context menu, one would hope that Google would have a rethink before removing this option.
---