Chrome has been working on a feature that lets you send web pages across your devices with ease. It has been available as a flag for months now, but the new 'send this page' is finally rolling out to every user via the stable Chrome 77 browser update. It brings along a number of visual changes, along with a refreshed Downloads page design as well.
The highlight of this update is the web page sending feature. Once you have updated to Chrome 77, you can right-click on any tab in the browser to see a 'Send to your Devices' option. You will see a list of your devices (you will need to be logged in to Chrome using the same Google account across all your devices) upon hovering over this option. You'll simply need to select the device, which can be a smartphone, tablet, or another PC, and Chrome will send a link to that device.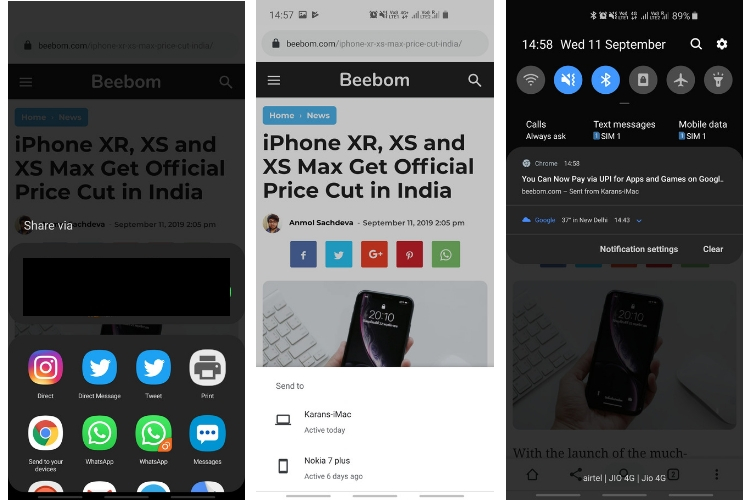 The functionality is pretty much the same on mobile, but you will need to jump into the 'Share' menu and then select the 'Send to your devices' option. Select the device you're going to send the link to and voila, you're done. You will see a Chrome notification upon sending a link. Simply tap on it and the shared page will start loading.
Chrome 77 also introduces a new Downloads page design that is reminiscent of the new Files app on Android 10. Google has done away with the expandable menu and now offers content filters, which you can easily tap to select, at the top. You now also have a new sit loading indicator that shows favicons only when the page has been loaded. Until then, you will see a globe icon with a loading icon around it. The Contact Picker API goes live with the Chrome 77 update as well.
The web page sending feature is already live for Windows, Android, and Linux users, with support for Mac coming soon. You can head to Help > About Google Chrome to see if the update is waiting for you or has it already been applied.