As smartphones are getting thinner, lighter and sexier everyday, they are getting more prone to drops, scuffs and scratches. So, it's absolutely necessary to protect your precious smartphone that you've spent hundreds of dollars on. Redmi Note 4 is no exception on this regard. In spite of being a budget smartphone, the Redmi Note 4 is made of mostly metal, which can be easily scratched and that's exactly why we've decided to help you guys decide on a good case to protect your shiny new Redmi Note 4. So, without further ado, let's take a look at the 10 best Redmi Note 4 cases you can buy:
1. Xiaomi Smart View Flip Case for Redmi Note 4
If you're into flip cases, you'll probably be interested in this one as well. In addition to smart features like flip cover to wake and close to sleep, users will also be able to interact with the touchscreen using the window in order to pick up calls and view the notifications. The official Redmi Note 4 case doesn't disappoint in terms of build quality either, as it's made of soft leather-like material that feels really good in hand. The company claims the exterior of the case is resistant to scratches, spills and should be good enough to protect your Redmi Note 4 from scuffs resulting due to minor drops.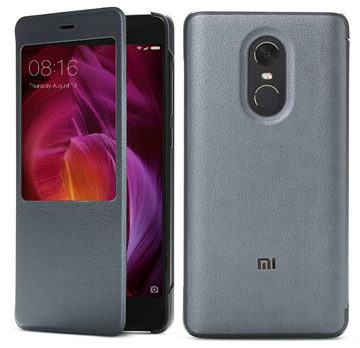 Buy from Mi Store: (Rs. 599)
2. Wow Matte Hard Redmi Note 4 Case
Some people prefer sleek cases that doesn't make their phone look chunky at all, and this one's for you guys. This matte black hard case for the Redmi Note 4 covers all the edges of your phone without adding any bulk. From a distance, it pretty much looks like a matte black skin from Slickwraps or dbrand. The material used in this case is high density polycarbonate and the hard case itself is rubberized to provide a smooth feel to it. According to the company's bold claims, the case is sweat and fingerprint proof, anti-dust, washable & tear-resistant. For an asking price of just Rs. 269, the Wow Imagine Matte Hard case is a serious bargain.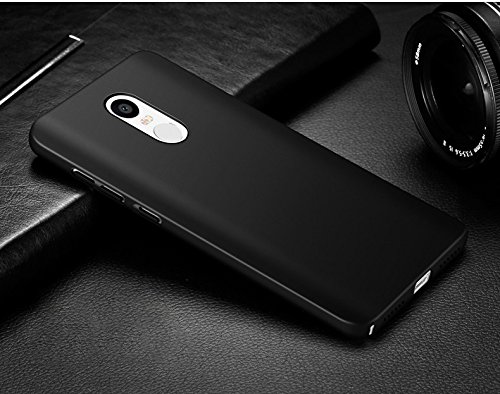 Buy from Amazon: (Rs. 269)
3. AUDOS Ultra Thin Matte Soft TPU Redmi Note 4 Case
Not everyone likes hard cases and it's usually due to the fact that it might scratch your device while snapping it in or removing it from the device. Similarly, the dusts that accumulate in between these hard cases can probably scratch your device fairly easily. This is where TPU cases kick in, which easily lets you insert or remove the case without causing any scratches over time due to the usage of soft material.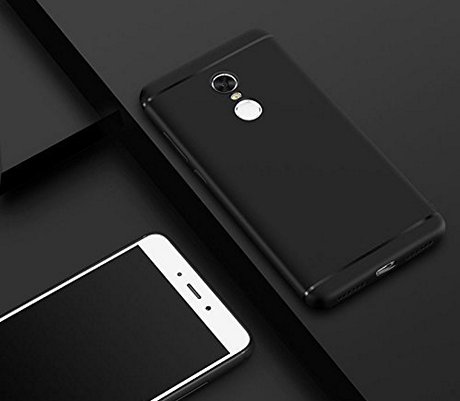 Since it's a TPU case, it will be good enough to absorb some of the impact, just in case the device is accidentally dropped. It's incredibly sleek and thin, just like the Wow Imagine case, but if you don't really want to take the hard case route, you cannot go wrong with this one.
Buy from Amazon: (Rs. 295)
4. Bracevor Flexible Shockproof Redmi Note 4 Case
This unique case can very well be considered as a hybrid case due to the usage of hard shell for the back and TPU bumper for the edges. The case absorbs shock upon impact due to the usage of a TPU bumper, so you don't have to worry about accidentally dropping your shiny new phone anymore. The case has a raised lip which ensures that your screen does not touch the surface if it's placed upside down.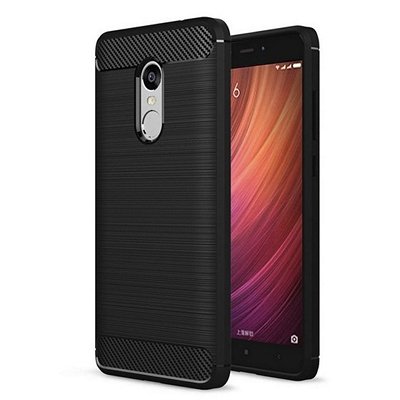 The hard back has a high quality brushed design that provides you with enough grip while holding the smartphone, in addition to enhancing the look of the device. From the looks of the case, you might think it's going to be expensive, but you cannot be more wrong as it carries a price tag of just Rs. 325.
Buy from Amazon: (Rs. 325)
5. Xiaomi Soft Clear Redmi Note 4 Case
Some people prefer showing off their shiny new phone in all its glory, so they prefer using clear cases or skins on their devices. If you're one of them, you've probably got your wallet ready for this one. This soft clear case comes from Xiaomi themselves, so that their loyal fans can showcase the Redmi Note 4's original color and design, without compromising on protection. The TPU material that's used is slim, durable, splash and dust resistant. It covers all the edges of your Redmi Note 4, so accidental drop shouldn't really be a big problem.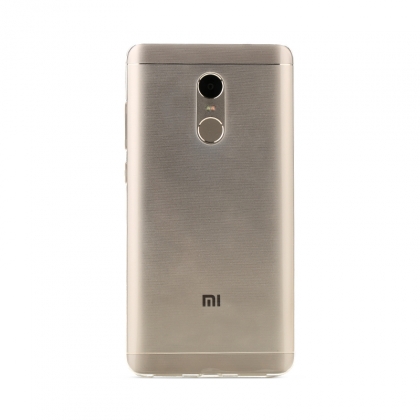 Buy from Mi Store: (Rs. 349)
6. Designerz Hub Back Cover with Kickstand for Redmi Note 4
This case might be bulkier than the rest in this list, but it's got something which the others completely lack. It might be appealing only to a few users, but we certainly cannot leave them behind. The back cover is basically a soft silicone case, on which a hard shell snaps right into place. This hard shell has a kickstand, so if you're a movie lover who prefers watching all the content on your smartphone's screen, then this case with a kickstand is clearly the one you should be going for. In terms of weight, it barely adds any weight. The case is not even expensive either, as it costs just under 280 bucks.
Buy from Amazon: (Rs. 279)
7. 
3D Dragon Style Soft Silicon TPU Shockproof Armor Redmi Note 4 Case
If you're like one of those guys who like to rock unique designs on your cases, you might be interested in this one. Featuring a unique artwork of a dragon on the back of the case, this might be appealing to some of you. Looks aside, the surface of this case is dustproof, anti-fingerprint and easy to clean. The case is designed in a way to protect your phone from drops, due to added cushion at the corners of the case. It barely adds any bulk to your device and since it's made of soft material instead of a hard shell, it's easier to insert and remove.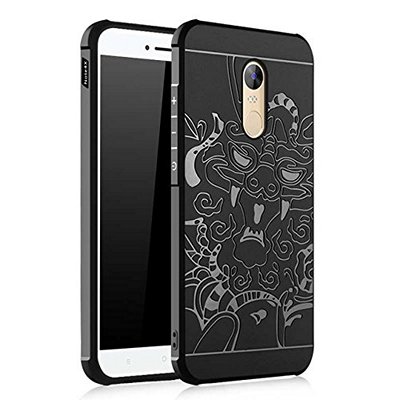 Buy from Amazon: (Rs. 479)
8. Armaguard Ultra Thin Transparent Soft Gel TPU Case
This case can be considered as a less expensive alternative to the Xiaomi's soft clear case, which costs well above Rs. 300. It pretty much looks like Xiaomi's case, except for the fact that this one has a glossy finish instead of a matte finish. Well, some prefer a glossy finish, whereas others may prefer a matte finish. So, if you're looking for a glossy option, this case is the one you should be going for. That being said, the all-round protection offered by the case is quite the same as the soft clear case made by Xiaomi, so don't worry that you're missing out on something by choosing a case that's less expensive. For an asking price of Rs. 129, this case is nothing, but a steal.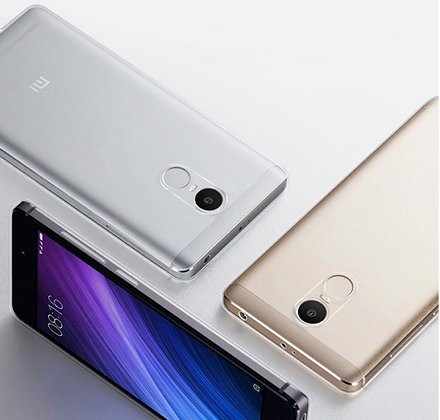 Buy from Amazon: (Rs. 129)
9. Kapaver Rugged Shockproof Slim Armor Case for Redmi Note 4
Arguably the most versatile case on the list, as it provides good protection despite having a low profile in terms of thickness. Design is eye-catching, thanks to the carbon fiber textures on the back of the case. It covers all the edges and corners of the device, so consider your Redmi Note 4 to be safe even after accidental drops. The anti-shock cushion pattern on the inside of the case makes it nearly shockproof. As far as pricing is concerned, this case is clearly the most expensive case in this list, costing nearly 600 bucks, but for everything that this case has to offer, it might be worth the money to some people.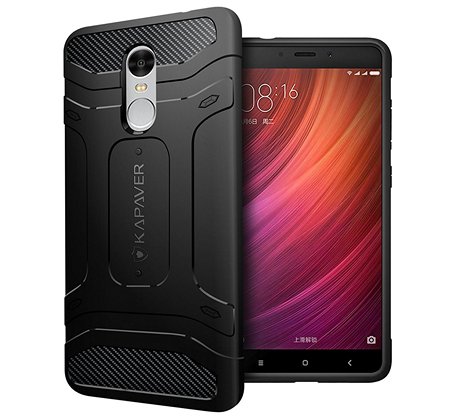 Buy from Amazon: (Rs. 599)
10. Tech Sense Lab Slim Armor Redmi Note 4 Case
If you were wondering if this case looks just like the Bracevor flexible shockproof TPU case that we discussed above, you're not wrong at all. This Slim Armor case from Tech Sense has a hard back shell and a TPU bumper for easy insertion and removal without causing any scratches. The carbon fiber and brushed aluminium design on the back of the case certainly enhances the look of your device without compromising on protection. As per the company's bold claims, the case is protected against drops, falls and tumbles.
Due to complete coverage across the edges, you can be certain that your screen will be untouched, if you accidentally drop your phone on a flat surface. You cannot go wrong with this one as it's priced at just under 300 bucks.
Buy from Amazon: (Rs. 299)
SEE ALSO: 18 Essential Smartphone Accessories You Can Buy
The Best Redmi Note 4 Cases and Covers You Can Buy
Redmi Note 4 is surely a great device for the price, but accidental damage might really cost you atleast half of the phone's cost, especially if you've cracked the screen. This is exactly why you should be utmost cautious while using the device. However, if you're careless like me, just get one of these cases and use your phone with a peace of mind. So, if you recently purchased a new Redmi Note 4, which case you going for and why? Do let us know by dropping a few words in the comments section down below.