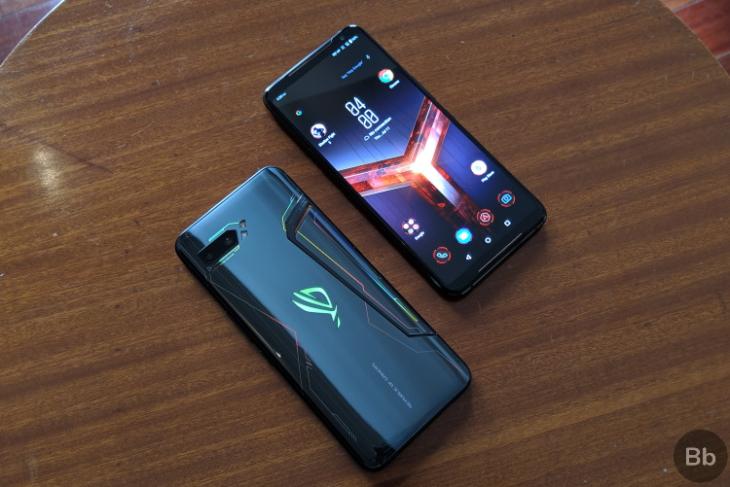 No one would have imagined that the mobile gaming industry would take off like it did, making gaming phones a fledgling niche in 2019. It's all thanks to PUBG Mobile that we now are seeing phones with higher refresh rates, a physical cooling fan, and certainly a dash of RGB lighting. The original ROG Phone set a benchmark for what a true gaming phone should look like. However, the market has since been swamped with contenders, such as the Nubia Red Magic 3 and Black Shark 2, offering more features for less.
Well, Asus has today step foot back into the ring with an upgrade over its original ROG Phone and it's even more feature-packed and awesome. Called the ROG Phone 2, this gaming phone brings a ton of firsts and features we've never seen before. So, without further ado, let's talk about my first impressions of the ROG Phone 2:
ROG Phone 2: Specs
| | |
| --- | --- |
| Dimensions | 170.99 x 77.6 x 9.78 mm |
| Weight | 240 grams |
| Display | 6.59-inch Full-HD+ AMOLED, 19.5:9 aspect ratio, 120Hz refresh rate |
| Processor | Snapdragon 855 Plus |
| GPU | 675Hz Adreno 640 (overclocked) |
| RAM | up to 12GB |
| Storage | up to 256GB UFS 3.0 |
| Rear Camera | 48MP (f/1.8) +13MP (f/2.4) |
| Selfie Camera | 24MP/4C (Quad Bayer-supported) |
| Software | Android 9 Pie-based ZenUI 6 |
| Fingerprint Scanner | Yes, in-display FS |
| Connectivity | Wi-Fi 802.11ax (Wi-Fi 6), Bluetooth 5.0, USB Type-C |
| Battery | 6,000mAh with 30W HyperCharge adapter |
ROG Phone 2: Design and Build
One look at the second-generation ROG Phone and you will be able to tell that the core design of this device isn't much different from the original ROG Phone. Asus hasn't changed a whole lot here and is not chasing trendy builds or minimalism for its gaming smartphone. Starting off with the rear, ROG Phone 2 still has that bold aesthetic we've already seen on its predecessor but Asus has subtly toned it down – removing all of the asymmetrical and sharp elements, making the device easier to hold when you game.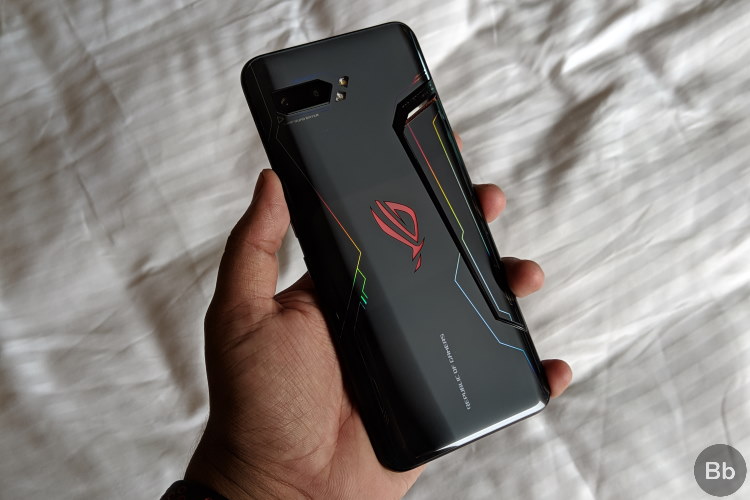 The glass real panel, which is protected by Gorilla Glass 3, is still oddly shaped and now houses only the dual rear cameras. The physical fingerprint scanner has been moved to under the display on the ROG Phone 2, which is a decision I'm completely in favor of. I wasn't actually a fan of the distinct and oddly-placed fingerprint scanner on the original ROG Phone. There's a light-up ROG insignia on the rear here as well.
Asus told us that it has upgraded the design of the ROG Phone 2, achieving an optimal width of 7.8cm and height of 17.1cm for comfortable use of its gaming phone. Asus is looking to offer you a better grip while using the phone on the daily and a huge 19.5:9 screen for immersive gameplay experience. Overall, in my brief time with the phone, I found the ROG Phone 2 to be considerably taller but feature a much better build and in-hand grip than its predecessor.
Moving to the sides, Asus is introducing Air Triggers 2 on the ROG Phone 2 and say they are way better than its predecessor. The Air Triggers have now been shifted closer to the edges for a comfortable gaming experience, along with software tweaks that allow you to keep both the fingers pressed on triggers when you are not firing or slide and shoot. The vibration latency has also improved three-fold, going from 63ms to 20ms.
There's also a dual vibration motor, five magnet speaker with a 2.5x increase in volume, quad-microphone (one even placed on the side) for enhanced noise cancellation, and a 4 Wi-Fi antenna setup for lower latency and uninterrupted gameplay experience.
On the front, you will see that the ROG Phone 2 doesn't really look a whole lot different from its predecessor – except for its taller size. It has, however, bagged an eye-popping and world-first upgrade, which we're going to talk about next. Otherwise, the dual-USB Type-C charging ports (with QC 4.0 support), 3.5mm headphone jack (with DTS X Ultra support), and the usual tactile buttons.
ROG Phone 2: Display
The original ROG Phone included a 90Hz display, which is pretty good for smartphones as not a whole lot of mobile games support higher refresh rates. However, Asus is taking the leap and has baked a 120Hz AMOLED display into the ROG Phone 2. Yeah, a 120Hz AMOLED display. Not an LCD display. No other smartphone in the market currently has a similar display on board. Even Razer Phone 2, which has a 120Hz refresh rate, houses an IPS LCD screen instead of an AMOLED one.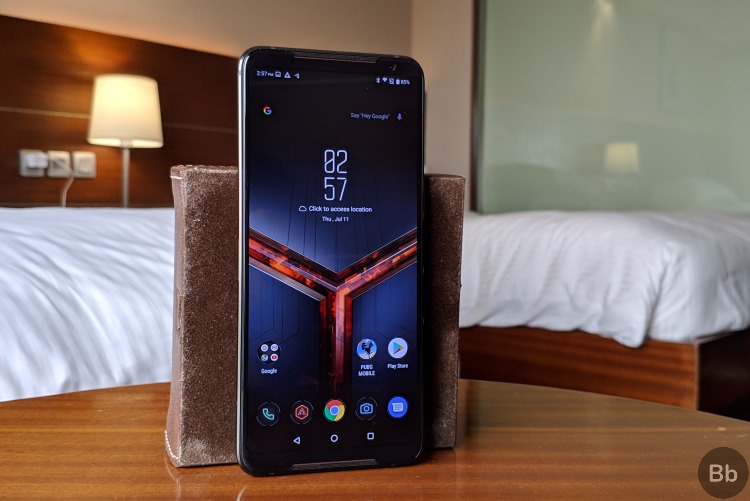 ROG Phone 2 features a massive 6.59-inch Full-HD+ AMOLED screen, with a number of add-on features to round up the kitty. It is a 19.5:9 panel, which we've already talked about, to not only offer you a larger screen real-estate (so that your thumbs don't collide when you're in the middle of an intense fight) but also to reach that optimal comfortable in-hand feel. Asus has slightly trimmed the bezels but they're still pretty huge and house dual front-firing speakers – similar to its predecessor, which is great.
This AMOLED panel not only offers you a 120Hz refresh rate with a 1ms response time, along with a 240HZ touch response – which we've already seen on Black Shark 2, but it even supports SDR2HDR conversion, with true HDR 10 and DCI-P3 color gamut support. You will get the latest Gorilla Glass 6 protection on top, which is good, with an in-display fingerprint scanner, and more.
ROG Phone 2: Performance
Well, I bet you'll already know this but here's a quick recap. ROG Phone 2 is the first smartphone to be powered by the recently launched Snapdragon 855 Plus chipset. It includes an overclocked primary core, which can be clocked up to 2.96GHz. You could check out the deets on this mobile platform right here, but another upgrade that it is packing is the overclocked GPU.
Yes, the Adreno 640 GPU aboard the Snapdragon 855 Plus runs at 675MHz, offering the users a 15% performance uptick. In my brief usage, the 120Hz display made a ton of difference and the experience was really breezy. Though it was just a quick hands-on session, I was able to sneak in a couple Asphalt 9 races and Team Deathmatch mode matches for funsies.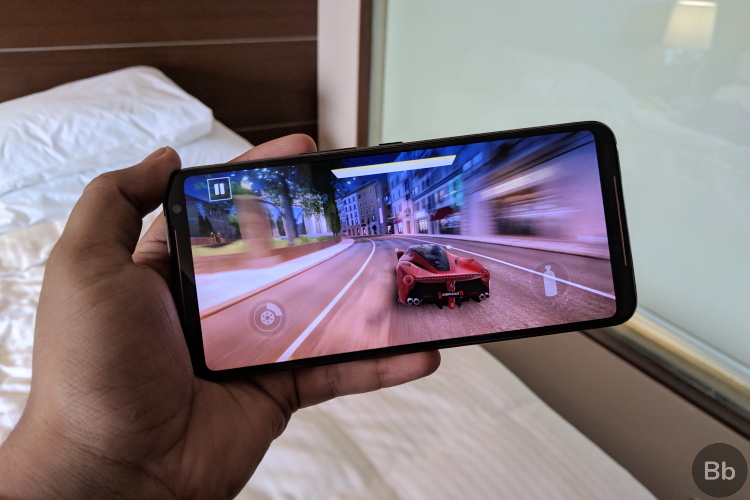 While neither of the two games support higher 120Hz refresh rates, the gameplay still looked pretty good and smooth. There were no stutters or frame drop in either of the games and I was easily able to secure an 8-kill streak in PUBG Mobile.
I will have to spend more time with Asus ROG Phone 2 when it lands in India to better check out the gaming and thermal performance of the device as its predecessor faced some issues with the latter. So, let's take a moment to talk about thermals.
ROG Phone 2: Thermals
Not much has changed on the thermal front. Asus is still using a 3-pronged strategy for cooling down the ROG Phone 2. The most vital component of the thermal setup here is obviously the vapor chamber, which is paired with a copper heat spreader and graphite pads to further improve heat dissipation. This is a setup similar to previous year's ROG Phone, so I don't expect much improvement here, but the third component could sure make a difference.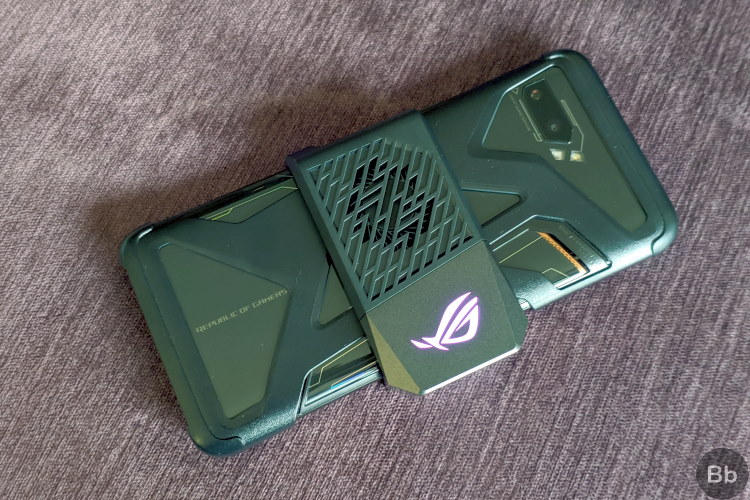 Apart from this, you will be able to get your hands on the second-gen Aeroactive cooler which Asus has redesigned to make it 4x quieter (the sound output is 24 dBA) and improve heat dissipation. The airflow from the clip-on fan is now directed towards the phone's rear vent to help keep its temperature from rising. Asus told us that the vent on the original ROG Phone did heat up pretty quickly, so this is a nifty addition to avoid the same.
ROG Phone 2: Software
The original ROG Phone ran a skinned version of the company's Zen UI with the ROG UI on-top for an added gaming flare. Well, Asus has introduced a stripped-down version of ZenUI, called ZenUI 6, with Asus 6z. It's closer to stock Android and packs features for added functionality, akin to OxygenOS. ROG Phone 2 is backed by the same ZenUI 6 experience, based on Android 9 Pie, but with the ROG UI skin in tow. However, you could also pick the Zen UI Classic theme if you want to keep your setup minimal.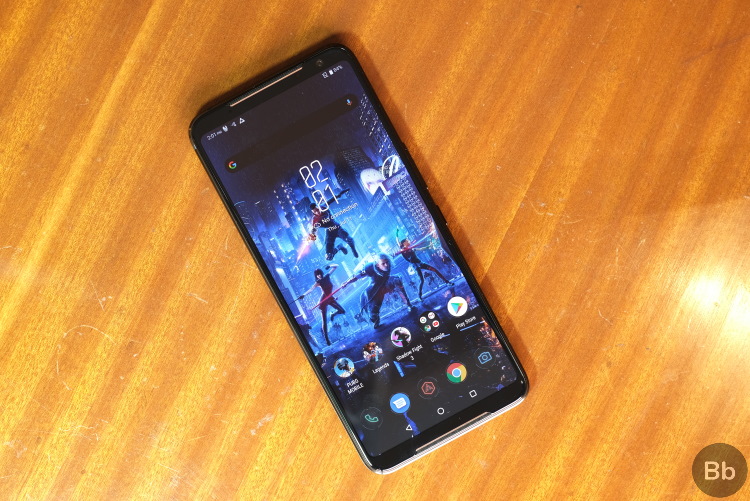 In line with its gaming laptop lineup, the Game Center has been rebranded to "Armory Crate" on the ROG Phone 2. The basic functionality of the Armory Crate remains pretty much the same as its predecessor. It shows you all the stats, such as the temperature, CPU and GPU usage, RAM consumption and storage on the home page.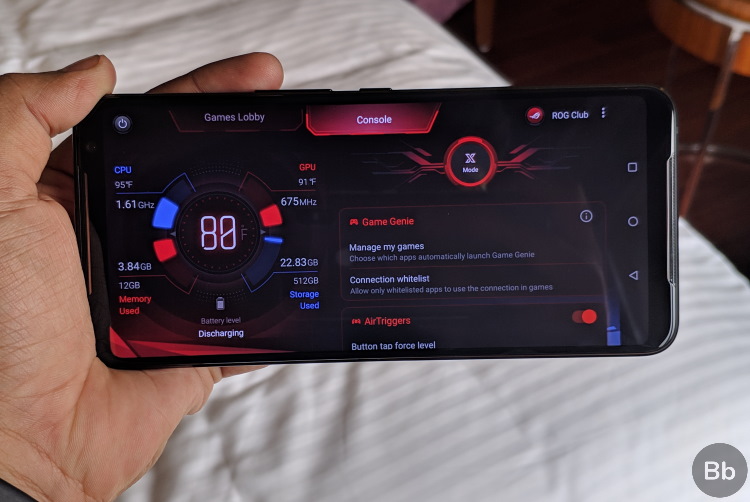 The Armory Crate shows you the list of games installed on your device, which you could optimize by running them from inside this dedicated app. You can still adjust the ROG logo's Aura lighting effect, the cooler attachment, or go into overdrive with "X Mode."
ROG Phone 2: Camera
Since the ROG Phone is synonymous to raw mobile gaming power, the cameras won't necessarily be the focal point for users when deciding to get this phone. The Taiwanese giant, however, thinks the opposite and is offering a flagship camera setup onboard. Asus ROG Phone 2 comes equipped with the same dual-camera setup we've already seen on the Asus 6z, which was launched in India earlier last month.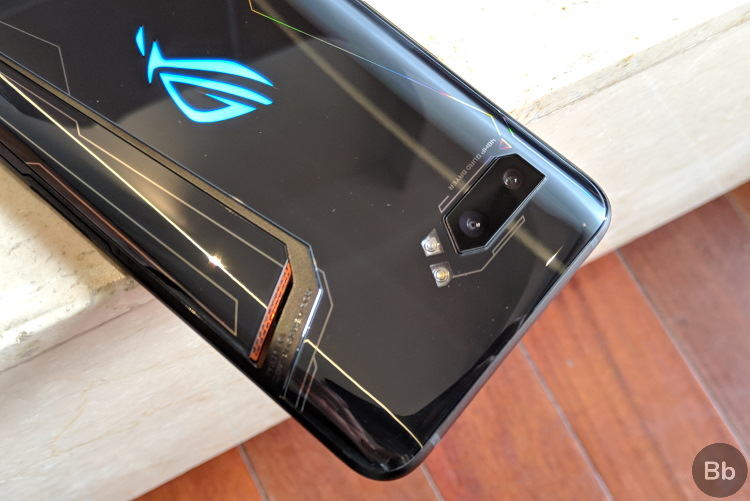 Keeping its slick and edgy design intact, ROG Phone 2 features a primary 48MP (f/1.8) Sony IMX586 sensor and a secondary 13MP (f/2.4) ultra-wide-angle lens on the rear. I believe cameras are essential even if you are mostly going to play PUBG Mobile on this device. You will also find a 24MP selfie sensor onboard and it sits right above the rear camera module here. Why?
ROG Phone 2 lets you livestream mobile games directly from your smartphone and the placement of the selfie camera is defined by the same. Phone makers usually pack the selfie and rear sensors on opposite sides to better utilize internal space but that would skew the streaming video angle for gamers. Thus, the selfie camera (which should be pretty tiny) sits on the right of the earpiece instead of the left, above the rear camera module. We will bring you the camera samples, if you're interested in them, in our full review.
ROG Phone 2: Battery
Are you ready for your jaws to hit the floor? Well, the rumors were indeed true and the ROG Phone 2 comes equipped with a whopping 6,000mAh battery in comparison to your 4,000mAh battery pack on the original ROG Phone. Yes, this certainly makes ROG Phone 2 the world's first gaming phone with such a massive battery pack and you can enjoy a PUBG Mobile session for hours-on-end on this device.
You can juice up a whopping 4,000mAh (the size of the original ROG Phone battery) in just 58 minutes, which is just mind-boggling.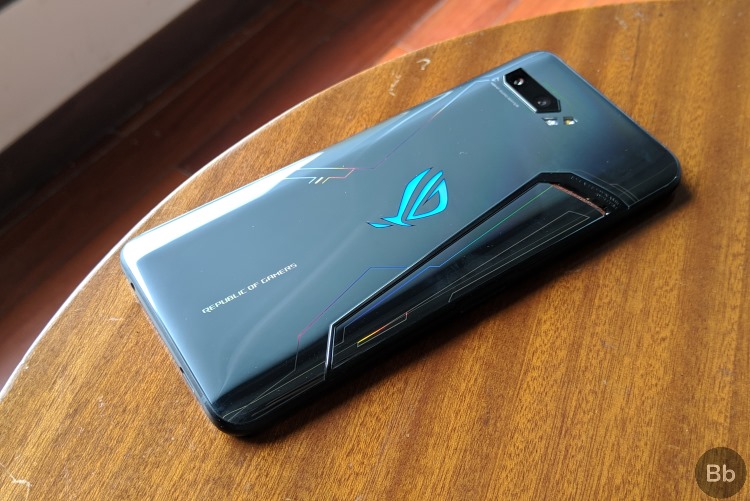 Asus boasts that ROG Phone 2 can run PUBG Mobile for up to 10 hours straight and this has me excited to test out this claim. Asus bundles its 30W power adapter with the ASUS HyperCharge technology to help quickly top-up the device. The same was offered with the original ROG gaming phone as well.
ROG Phone 2 seems like the perfect pick for mobile game streamers who do not want to deal with the charger wires while gaming. Asus retains the secondary USB-C port on the side, so you can continue to play without any interruption.
ROG Phone 2: Accessories
Finally, the ROG Phone 2 will be incomplete without the accessories that Asus launches to complement your gaming experience. Most of the accessories that you see below are the same ones from last year, but with upgrades that make them future-proof and compatible with any upcoming ROG Phones.
First up, Asus has updated the Twin Dock such that the ROG Phone 2 docks at the bottom and you get a secondary 120Hz/1ms screen up-top. This makes it possible for you to use the Air Triggers 2 or the new Kunai Gamepad controllers (similar to Nintendo's Joy-Cons) even when your phone is docked. The Twin Dock 2 also houses a 5,000mAh battery that should make gaming sessions last all day. The new Gamepad can be used independently, wired to your phone or even wirelessly.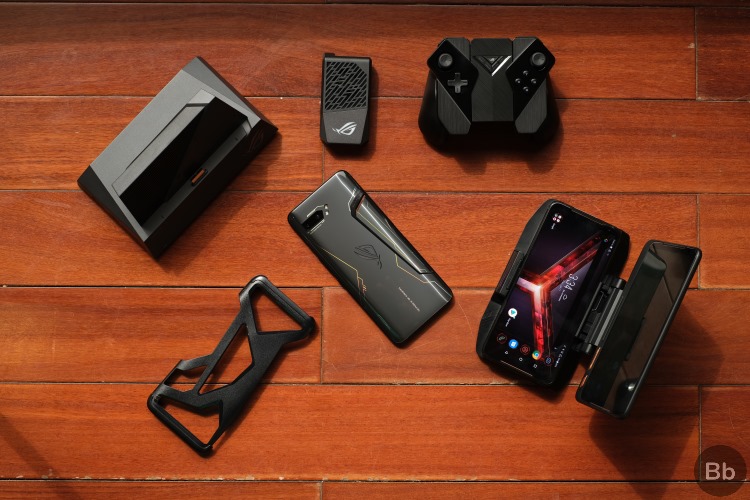 Asus has also redesigned its smartphone case, now known as Aero Case, to now allow its users to attach the clip-on fan attachment without removing the cover, which was a huge problem with its predecessor. The gaming desktop dock and professional dock witness no changes and extend you the ability to connect a monitor, keyboard, mouse and other ad-hoc accessories to your ROG Phone 2.
SEE ALSO: Black Shark 2's Master Touch Makes PUBG Mobile a Lot More Fun
ROG Phone 2 First Impressions: The Gaming Beast Finds its Footing
The first wave of gaming smartphones was truly experimental and we did see various different approaches adopted by phone makers. Asus went all-in with a game-centric vision, only to realize that gamers spending heavily on a smartphone also expect the flagship experience as other premium devices.
I believe the "ROG Phone 2 is a more refined product" that not only improves on overall gaming experience but also offers mobile gamers most of the flagship features. Apart from that, you cannot miss out on the higher refresh rate display, a humongous battery, and cameras that could rival OnePlus' camera performance. What do you think Asus ROG Phone 2? Let us know down in the comments section.