In its latest smartphone brand loyalty study, electronics buy-back site, BankMyCell, has claimed that Apple and Samsung stand out as the two manufacturers with the highest brand retention among US residents. According to the report, Apple had 74.6 percent iPhone trade-in brand loyalty, while Samsung's trade-in loyalty was only a tad lower, at 63.9 percent. While 12.8 percent of iPhone users switched over to Samsung, as much as 17 percent of Samsung users picked up an iPhone, the report said.
The data further indicated that while Google only had a 51 percent trade-in loyalty, just 10.1 percent of Pixel users were trading in their devices for iPhones, meaning most of them stayed on with Android, as expected. The study, based on 64,273 unique users between Jan 15 and July 15 this year, also looked at LG, Motorola and HTC, all of whose brand loyalty fell below 41 percent at trade-in. "Only 10.8 percent of HTC respondents stayed loyal, with 32.1 percent heading to Samsung, 17.1 percent to Apple", said the report.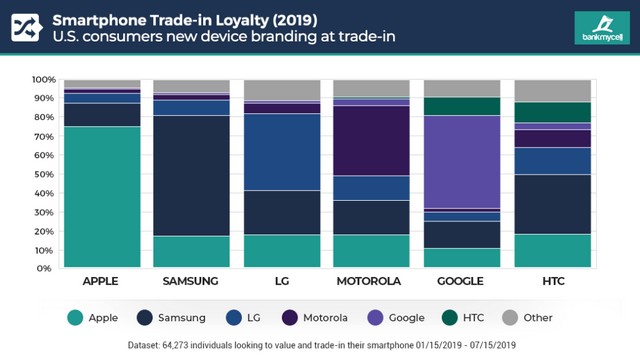 Another interesting thing to have come out of the study is that Android users seem to be more loyal to their platform than iOS users. While 25.6 percent iPhone owners moved to Android devices, an overwhelming majority of Android users chose to remain with the platform. According to the report, between 82-90 percent of all Android users surveyed upgraded to another Android device, whether from the same brand or otherwise.
US is the only major market where iPhones outsell Android devices, which is why it is interesting to see so many more Android users seemingly sticking with the platform instead of jumping ship to what is arguably the more popular platform in the country.