Wrapping up the June game launch cycle, it's time to talk about AEW Fight Forever, Yuke's return to wrestling video games. After all, I only recently finished watching a bombastic PvP named Forbidden Door, and Kenny Omega vs Will Osprey reignited my love for the sport. Over the years, the only major wrestling game, WWE 2K, has shifted gears to elevated visuals and a simulated gaming experience. That leaves us with McDickie's Wrestling Empire for a more arcade experience. Fortunately, AEW Fight Forever aims to fill that gap in the fighting game segment. Thanks to THQ Nordic, we spent most of our time last week playing AEW Fight Forever. So, read on to know our thoughts on this wrestling extravaganza.
Game Modes in AEW Fight Forever
AEW Fight Forever features the staple match types you'd typically find in Wednesday or Friday night tapings of Dynamite or Rampage. The usual 1 vs 1, tag-team matches, triple-threat, and four-way matches. The 1-on-1 match can be a typical routine with rules or have two special conditions. Lights Out mode and falls-count-anywhere make it a no-holds-barred hardcore match, the only difference being that falls-count allows you to pin the opponent anywhere in the ring.
You also have the AEW matches, such as the touted exploding barbed-wire death match, casino battle royale, and ladder match. Exploding barbed-wire death match throws you and your opponent inside an exploding barbed-wire-covered ring with a timer ticking. The ring explodes when the timer clicks to zero, damaging you and your opponent. It was fun recreating the Jon Moxley vs Kenny Omega match in-game. And if you remember that match, there is a sweet easter-egg in this match type. However, it is randomized and rare to trigger.
Casino Battle-Royale is the Royal Rumble of AEW but with a casino theme. Four players start the match, and a new player will enter after each elimination. It features twenty randomized players outside of the first four you choose. Finally, the Ladder match type involves two players attempting to get the casino chip hanging on the top of the ceiling using a ladder.
The exhibition match types offered in the game are good enough. However, my gripe with them is the lack of complexity in the matches. For example, ladder matches are fixed to only two players. There is no option to add an extra player or make it a four-way match. Similarly, only two teams battle in tag matches, and you cannot turn it into a hardcore match. Having these options certainly would have made these match types more fun and compelling to play with friends.
Outside of that, there is not much to complain about. Of course, I wanted to play a dog collar match, but I'm sure programming a rope tied to two wrestlers is a nightmare to code. However, having a Steel Cage match as a playable option would've made my childhood memories come true. Remember the match between Cody Rhodes and Wardlow? Imagine if you could recreate that in AEW Fight Forever.
These matches can be played online with Epic Game Store and Steam crossplay. However, we couldn't test the online environment as we only had access to a single copy for review. Furthermore, the servers weren't populated. We will update this review post-launch with our thoughts on the online experience.
A Whole Slate of AEW Stars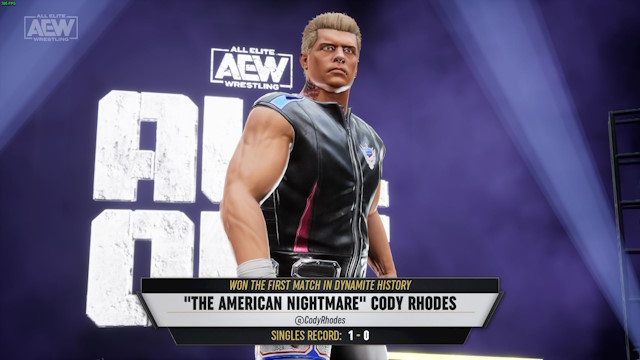 To play AEW matches, you need professional wrestling talents. AEW Fight Forever features a total cast of fifty wrestlers, mixed between men and women professional wrestlers. Out of this, 37 of them are men pro-wrestlers, while 13 of them are female. The roster includes wrestlers from the first and second years of the company, alongside some of the prominent newcomers.
Furthermore, you can have intergender matches at any time in any of the above game modes. The game has zero restrictions in those cases. So, if you ever wanted to make Britt Baker fight Jon Moxley for any reason, you can.
There are tons of wrestlers to choose from. Yes, Cody Rhodes is a playable wrestler in the game, albeit currently a WWE talent. Similarly, the real-life spat between AEW's Elite and CM Punk has hardly affected the Chicago-hailed wrestler's appearance in-game. One major thing to note here is that the current roster diverges from the real-life AEW roster. Many wrestlers with a notable past in the company are not included in our build.
For example, Mr. Brodie Lee, a wrestler even the official AEW social channels have marketed as a playable character, was unavailable at the time of writing this review. Similarly, previous and current AEW Women's Champions Jamie Hayter and Toni Storm are not playable in-game. Swerve Strickland, the half of Blackpool Combat Club, Santana, Ortiz, Jake Hager, Brodie Clay, Buddy Matthews, and several others are unavailable on the men's side. Maybe the publisher plans to remedy this problem by releasing DLCs later in the game's cycle.
Create Your Own AEW Pro Wrestler and Ring
AEW Fight Forever features a wrestling ring creator and a wrestler creator for those who love to make their wrestlers and rings for custom matches in-game.
The Ring Creator allows you to change all the essential aspects of the rings, including the turnbuckles, individual colors of the ropes, aprons, mats, etc. While the actual ring customization is good, the stage customization is barebones and leaves to be desired. You can make yourself an NJPW-inspired ring, but the overall stage will be barebones.
Similarly, the character creator contains everything we have already seen in past wrestling titles. You can customize your name, country, height, individual moves, poses, and entrance. However, the thing which disappointed me was the appearance customization. It is rather barebones, with limited preset options for faces and apparel. While WWE 2K allows you to customize even the minute details of your character's face, AEW Fight Forever doesn't.
Furthermore, another thing that turned me off is the inability to import custom decals. This feature changed the custom character creation possibilities in the recently released WWE 2K. But, THQ Nordic or Yuke are working with a rather tight budget, so reprimanding them for skipping on this will be a disservice to the title. For now, the game's good enough in its current form. However, a few more customization options, especially the custom wrestler option, will be highly appreciated by players.
The Road to Elite Status in AEW Fight Forever
Wrestling games always feature a story mode. The older Smackdown vs Raw included Road to Wrestlemania, the newer WWE2K has the showcase mode, and Day of Reckoning on Gamecube had a wholly original storyline. AEW Fight Forever also has a storyline, dubbed the Road To Elite. This mode allows you to choose one of the existing or custom wrestlers and play through the first year of AEW.
It starts from the Double or Nothing PPV and goes on for one whole year in-game. While most storylines in wrestling games follow a linear storyline, where you have to fulfill conditions to progress, The Road To Elite doesn't. Whether you win or lose a match, the story progresses and changes its outcome accordingly. So, if you lose against one of the wrestlers, chances are you will form some unlikely alliances.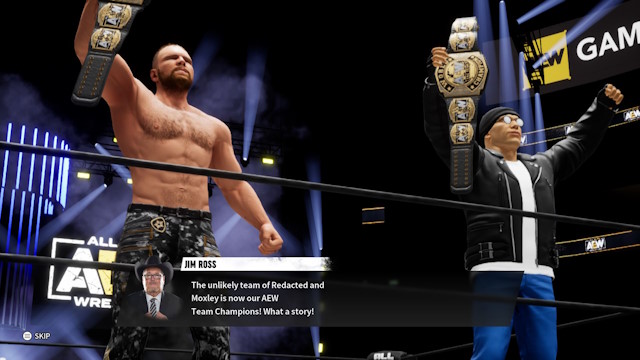 Between the main matches, you can perform extra shows, train yourself to keep your energy levels and skill points high, go out, and enjoy some time off in between. There are four things to remember before and after a match. The energy meter ensures whether your wrestler will take injuries or not. The skill point evaluates your wrestler's performance and the outcomes of storylines throughout the game mode, career money allows you to purchase enhancements during the game, and morale determines your performance during the shows.
The Road To Elite is a great story mode to invest time in, especially if the exhibition match bores you. The storyline has old-school Yuke's written all over it, reminding me vividly of Smackdown vs Raw's Road to Wrestlemania. Road To Elite is a stellar addition to the game and players will find it equally enjoyable.
AEW Fight Forever: Gameplay Experience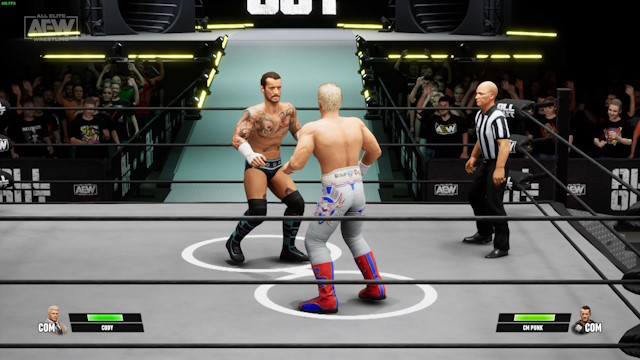 AEW Fight Forever uses an arcade-style gameplay reminiscent of the N64 title WWF No Mercy. As such, the game never takes into account things like wrestler weight. They ditched that in favor of uncomplicated gameplay. Keep in mind that we played the entirety of the game on a controller and Steam Deck. While we did try the game on a keyboard, and it plays well, we will suggest using a controller to play the game.
You can use Square/X on your controller for punches and Triangle/Y for kicks. Holding either of the buttons down will make the wrestler perform a powerful strike or kick, and moving the left stick during the punch will make them perform a variant of the strike.
Try mixing both of these attacks simultaneously to chain and create an attack combo. Press X/ A during an attack to grapple the opponent, allowing you to either do a variant of punch/ kick by pressing the respective button. Or, you can press the grapple button again to perform a special move. To perform a different variant of specials, move your left stick in different directions and some added variety to your attacks.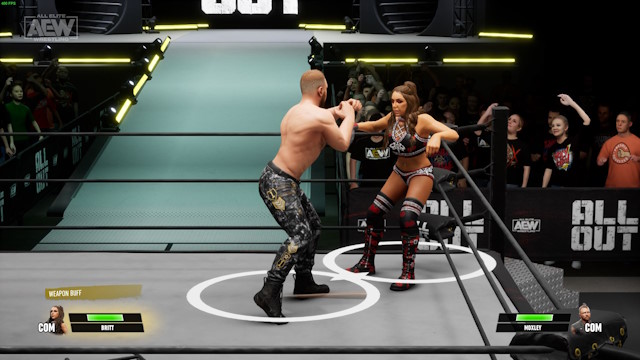 However, your opponent can do the same thing, and you have the counters to prevent that. Pressing RB during a punch/kick at the right time will counter that attack, allowing you to dish out some beating. Similarly, tapping LB at the right time will counter-grapple, giving you an opening to do your specials. This gameplay loop is incredibly satisfying when the counter hits at the correct time.
Outside of these things, you can use weapons during the no DQ ruling, and boy-oh-boy, AEW has tons of them. The game features possibly everything during a wrestling show. Chairs, tables, ladders, thumbtacks, bats with barbed wire, and much more. Combining all of these contribute to the momentum meter of your character.
Located at the bottom corner, this meter not only ensures the stamina of your wrestler but also determines whether you can perform your finisher. Successfully countering, hitting opponents, and even performing taunts contribute to the meter. Sometimes, your character also gains buffs from specific actions, which speeds up the momentum meter build-up.
Once the momentum meter reaches its maximum limit, your wrestler performs their signature move or finisher. These are the match-enders, and successfully pulling them off will ensure a victory over your opponent. There are a lot of other advanced movements available in the game, such as running jumps from the ring to the outside, chain wrestling, and more. Sir William Regal teaches the game mechanics through an on-screen tutorial when you first boot the game and play a match.
At the end of every match, the game rewards you with AEW Cash depending on your match performance. Using this cash, you can unlock parts for the creator modes. There are no microtransactions in-game, which is a welcome change, and everything is unlockable by playing and earning the AEW Cash. There are daily and weekly challenges for you to complete. Successfully finishing them provides further AEW Cash.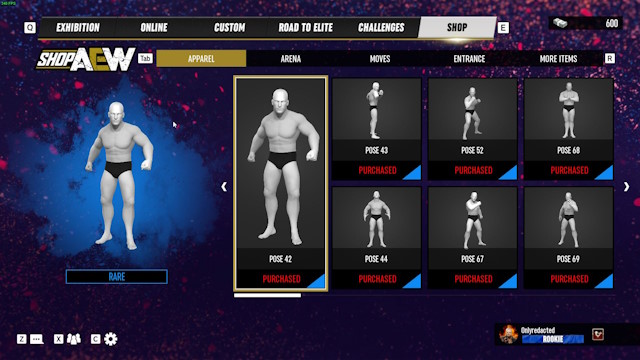 While the core gameplay is a solid experience, the supporting features are what AEW Fight Forever lacks. The wrestlers do not come with complete entrances and are very brief. The actual match also does not have a play-by-play commentary by Excalibur, Tony Shivani, Tazz, and Jim Ross. Instead, it plays the soundtrack of the game. Again, we presume these are the decisions that the developers had to make to meet their budget limits.
If you purchase AEW Fight Forever, you get it for the gameplay experience. While the animations look stiff and janky at times, even then, the game is a fun experience. I am sick and tired of complex gameplay in wrestling games, and AEW Fight Forever easily fits the niche of arcade-style wrestling games that take us back in time. Ah, the good times, sweating and smashing buttons with friends to hit the perfect combo!
AEW Fight Forever: Graphics & Performance
For performance testing, I played AEW Fight Forever on two systems – my gaming PC that I usually use for reviews, and my Steam Deck. You can find the specifications of the test system right here.
PC Gameplay Performance
CPU: AMD Ryzen 5600
GPU: Nvidia RTX 4070ti
Ram: 16GB (8*2), running at 3000 mHz
Running on an SSD
On the highest graphics settings, AEW Fight Forever consistently ran at 400 frames and maintained that number throughout our testing. And this is more than plenty to play the game without any hiccups if you have a decently-specced PC. The number went up to 500+ FPS (frames per second) in the main menu.
There's a peculiar thing I noticed about the performance, though. The game never went above 400 frames during a fight, but it also never went below it. As for load times, on SSD, the game loaded instantaneously within 4 seconds. The pre-release version on our system had no problems experienced in modern PC ports. No texture pop-ins, no stutters. This game might have a proper release on PC if we judge it by the current build.
Steam Deck Performance
We installed the game on a 512GB SanDisk Extreme microSD card on Steam Deck. On Steam Deck, we first tested the game on an unlocked frame rate. The game managed to deliver full 60FPS on high settings throughout the gameplay. But the battery life suffered, running for just around 1 hour and 50 minutes.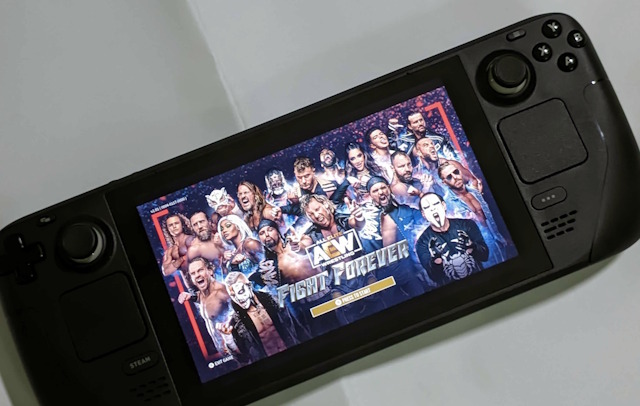 We then dropped the quality of the game, the shadows, anti-aliasing, and bumped the post-processing down to medium. However, we kept the textures on high. This extended the battery life on my Steam Deck, increasing it to roughly 2 hours and 15 minutes. The battery life improved further when we locked the frame rate to 40 FPS. If you drop the frame rate to 40FPS and play with the above settings, AEW Fight Forever will give you around 3 hours of battery life on Steam Deck, which is great for some wrestling fun on the go.
As for the artifacting problems, we did notice that during the Road To Elite mode, sometimes the wrestlers would flicker on the screen for a second or two. This might be because the title does not have Proton optimization. On the latest version of Proton, the game ran just like its Windows counterpart.
Graphically, AEW Fight Forever is nothing to write home about. It has gone for comical aesthetics, seen in older Smackdown VS Raw titles. However, this time around, the textures have been improved, and the characters have this ugly shine on them, which makes it look like they lathered themselves with oil. And I'm not the biggest fan of it.
If you want ultra-realistic graphics, this is not that game. The game has a definite aesthetic that the developers followed, and well, it has its own unique charm. However, the character models need a tiny bit of work to make them look better. The character models sometimes look deadpan and have this uncanny valley feel to them.
AEW Fight Forever: Should You Get It?
The lack of a considerable budget is evident in AEW Fight Forever's gameplay. It does not deliver a AAA experience, be it anything from its character models to cost-cutting in entrances, omission of commentary, and the barebones wrestler customization. Still, the gameplay and Road to Elite story mode in this game shine through, making it a worthy successor to No Mercy. It has been a few years since I've enjoyed any wrestling game. Even WWE 2K21 barely made it fun.
However, AEW Fight Forever's pick-and-play system is intuitive and straightforward, and I cannot help but sink hours into it on my Steam Deck. I will say that the gameplay carries this title, making it a great debut title for the wrestling company and a solid comeback for Yuke's. What I want to see is the longevity of the title. AEW Fight Forever successfully fulfills my itch for wrestling games and is recommended by Beebom. What are your thoughts on AEW Fight Forever? Let us know in the comments below.
Check out AEW Fight Forever on Steam ($59.99)
REVIEW OVERVIEW

AEW Fight Forever

SUMMARY

Despite mediocre graphics and stiff animation, AEW Fight Forever outshines through its robust gameplay. Featuring prominent AEW Wrestlers, a good bouquet of exhibition matches, and a story mode, AEW Fight Forever is certainly a game worth spending some time in, and if you are a fan of the old arcade wrestling games, you are in for a treat.