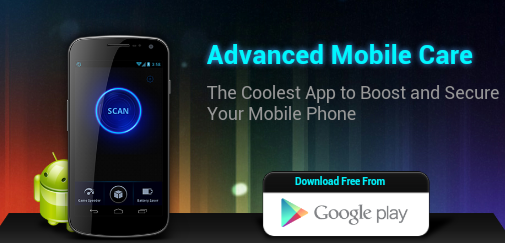 The Advanced system care by IOBIT has arrived on android. If you had used advanced system care on PC, then you are already aware of what this app is going to provide. Android users are too much bothered about the battery life of their device thanks to multi-tasking support and back ground which has shortened the battery life of phones, and if some greedy app remains un-noticed, it will suck all the juice out of your phone, despite the Google's effort to optimize back ground processes and battery, still many things are out of their reach. The next major fact to consider is the attack of malwares, Trojans on world's most open and reachable smartphone operating system android. Smartphones are more vulnerable than our own pc or laptops. The amount of sensitive information like contacts, photos and messages etc. are one of the reason behind this. One more concern among users specially having phones capable of holding their whole personal life and related information is how to protect their privacy. That is photos and files which needs extra security from those who occasionally try to peep in other's personal life. And in the end if your phone carries too much load for you, you would love to keep it optimised and junk free.
If you feel that the problems mentioned as something to do with your droid. Then Advanced Mobile Care by IOBIT is one stop solution to all your problems.
IOBIT has been one of the most successful companies in making renowned maintenance and optimization softwares for PC( advanced system care, game booster, protected folder, malware fighter etc.) , now here they are, on android to make your life easy.
One app solves your problems of task manager, antivirus, app manager, cache cleaner, privacy manager and power saver and battery optimiser. One unique feature you will come across is game speeder, one of its kind optimizes the game launch.
Interface
This app comes with all the above features with one simple widget to tap and clean phone, app has been built with nice and smooth transition animations and clean dark and illuminative interface. At the first look the app impresses you and the features do work well. There are a few tweaks for information and the smooth animations will please you.
2.  Functionality
The app has improved a lot from its launch and user can expect new features to be integrated with each update. Since the app is just a couple of months old in play store, we are hoping for new features as well but for now many useful features are integrated with it.

     1. Antivirus
This app can scan the system and SD card for malwares, Trojans and other viruses. Moreover it provides you option for real-time protection and automatic update of database.
         2. Task killer
You can choose to add a task to ignore list, or have option of killing apps at regular intervals say when screen is off, half an hour, 1,2 or 3 hours your choice.
     3. App manager
You can choose from apps and list them by name, usage, size. Apart from this you can un-install an app, launch it or move it from internal storage to external storage or sd card.
       4. Cache and junk files cleaner
While scanning you can delete junk files and cache with just one tap.
       5. Privacy manager
Encrypt and password protect your personal photos, files and videos without giving any hint to others what you are storing in your device.
        6.  Battery Saver
The app has battery saver pre-sets which can be configured accordingly so that you get more stand by time and remain free from tension of carrying charger.
You can even monitor which apps are eating your battery. A notification icon can be enabled to show current battery level and the app even show you estimated time to charge while the phone is plugged in.
        7.  Game Speeder
Do you remember Game Booster, now you can optimize and speed up game launch using this app, unique feature that I have seen only in this app. You can even add a game if it is not listed in the app.
The app is giving you usability at no cost, absolutely free. Besides this, the app is constantly being updated and new features are being added with each update. What I liked most was that the app in background takes only 5 MB of memory and works well in background monitoring everything it is configured for. The app has eye catching and clean power saving dark back ground with super smooth animations (first use will give you an idea how well the app is developed). In our verdict finally for what you are paying not even a penny and you are getting good features, so it deserves thumbs up from us and all the credit to the IOBIT development team for this app.
Platform:
Android
App Size and game data:
4 MB
Developer:
iobit
Availability
Free on Google Play