If you have ever downloaded an absurdly large file over the internet, you must have wondered why you can only use one network at a time. Surely, using multiple connections at the same time will result in a faster connection. Well, this is exactly the problem that Speedify fixes.
Speedify is an app that allows you to connect to multiple networks at the same time. So, you'll always get the best of all the connections that you have access to. This sounds interesting, and the folks over at Speedify were kind enough to let us use their service. So, this is our review of Speedify 4.
Note: We used Speedify on a Mac, and an iPhone. The app is also available for Windows PCs, and Android Smartphones.
Speedify on the Mac
Speedify on the Mac is one good looking, well designed app. That's not all, though, the app works really well. Two good things about the way the app is designed, are that the app is extremely easy to get around, and use. Perfect for people who don't really know much about networks. You really don't need to have any knowledge of networks in order to get started. You just need two connections you can use. And speedify… you need that, as well.
Once you download the app, you'll see that you are already entitled to 1GB of optimised data. You don't even need to create an account with Speedify, to try it out. It's completely free. If you like living without limits, however, you will need a paid account with Speedify.
Speedify automatically sees all the networks that your Mac is connected to, and merges them into one large pipe that your data can flow through. You can use multiple WiFi networks with Speedify, if you want. However, Macs can't connect to multiple WiFi networks at the same time. You can either use a WiFi adapter for the second network, or you can use an ethernet connection instead.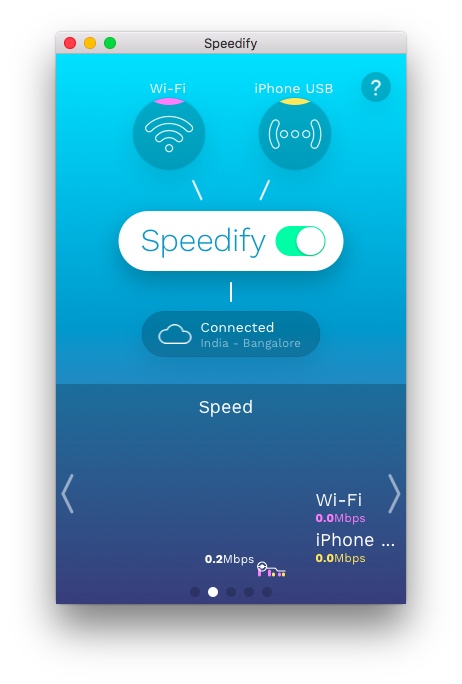 By default, Speedify automatically connects you to the nearest server that it can find. However, you can change the location of the server you want to use, essentially using Speedify as a VPN, as well.
Once you're connected using Speedify, it automatically manages your connections, such that when one of them fails, or gets too slow, the other one tries to pick up the slack. It gives you the option to assign priorities to the networks. The priorities are "Always", "Secondary", and "Backup".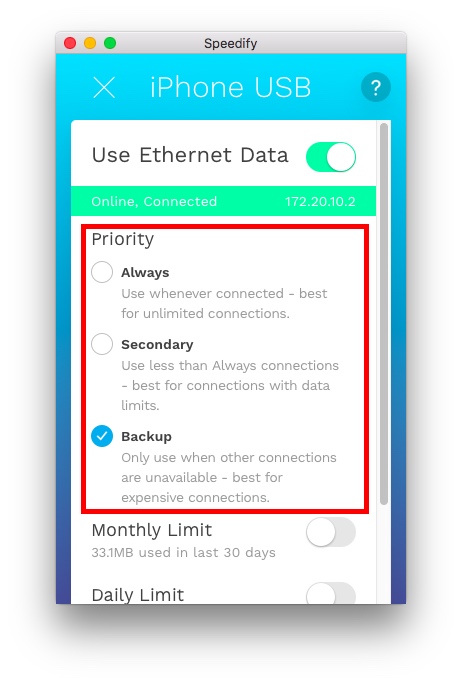 These priorities decide the way in which Speedify manages your connections. Networks set as "Always" are used by Speedify whenever they are connected. "Secondary" networks are used lesser than networks prioritised as "Always", whereas networks prioritised as "Backup", are only ever used if the other networks fail. This prioritisation makes it very easy to manage networks, and ensure that expensive, cellular data networks with data caps are not over-exploited.
I connected my Mac with the office WiFi, and my iPhone's Portable Hotspot. I then proceeded to run speedtests with the iPhone network set to "Always", "Secondary", and "Backup", and the results were exactly what I had expected them to look like.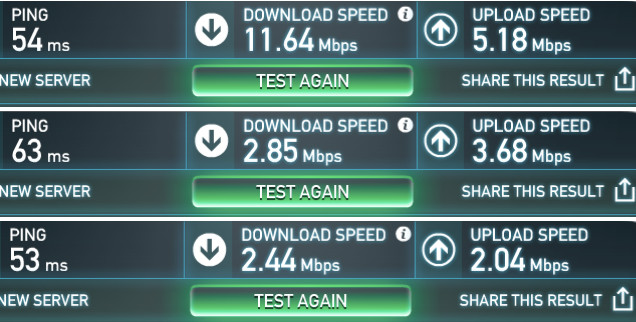 Overall, the app works perfectly as advertised, and it will definitely help you manage internet connectivity on your Mac. Speedify is also available for Windows.
Download Speedify.
Speedify on the iPhone
On the iPhone as well, Speedify is an absolutely amazing app. On first launch, the app asks for permissions to add a VPN profile to the iPhone, so it can route your data efficiently. You will also need to grant Location, and Notification permissions. The app automatically uses the WiFi network your phone is connected to, as well as the cellular data. Since most cellular data packs are not unlimited packs, the app automatically sets a 200 MB/day, and a 2 GB/month limit on using cellular data. You can customise it, if you want to.
If you want to, you can even set data caps on the amount of WiFi network data that Speedify can use on a daily, and monthly basis.
Since Speedify allows you to either stick with the server the app chooses according to your location, or pick a server that you want, you can even use it as a VPN service on your iPhone.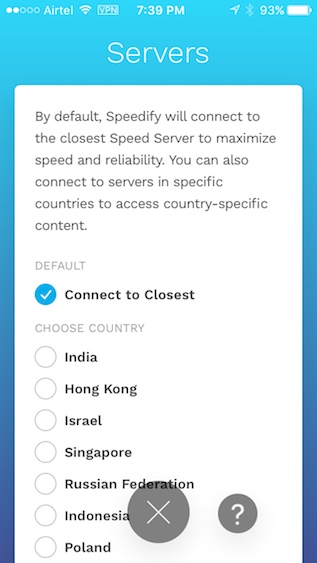 The iPhone app also allows you to set priorities to the networks you're using. The WiFi connection on your device is kept at "Always", and can't be changed. That makes sense, because why would you not use your WiFi, whenever you can? The cellular connection, on the other hand, can be switched between "Normal", and "Backup".
In the "Normal" priority, the cellular connection is used for speed boosts, and to maintain network reliability. This means that Speedify will use your mobile network to ensure that the packet loss over the network is minimised, and the speed is as good as is possible. The "Backup" priority ensures that Speedify only uses the mobile network, when the WiFi connection is failing, in order to ensure that the download, stream or other tasks that you might be doing on the internet remain uninterrupted.
Obviously, I ran speed-tests for each of the available priorities, and it turns out, the results were pretty much what I expected. The conditions I used for the speed test, were:
1. WiFi on Normal, and Cellular Data on Normal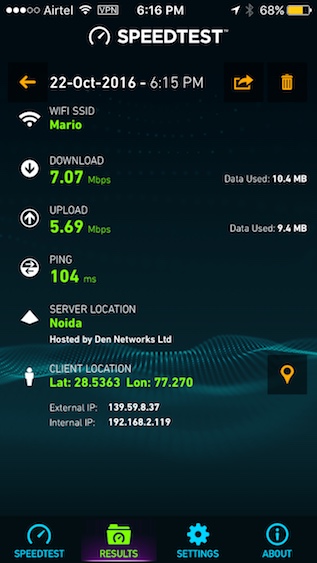 2. WiFi Off/On Occasionally, and Cellular Data on Backup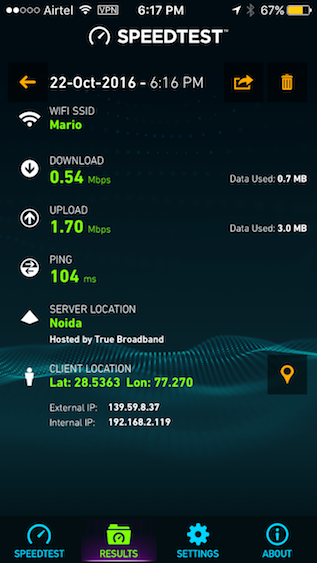 3. WiFi on Normal, and Cellular Data on Backup.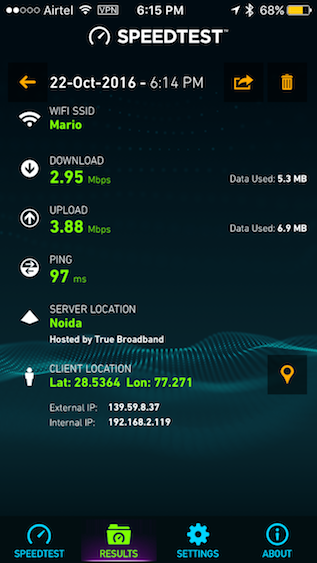 As is evident from the speed tests, Speedify tries its best to maintain a network connection, and to keep it as stable as possible. If you face network issues, then Speedify is definitely something you should look into. The app is also available for Android smartphones.
Download Speedify.
SEE ALSO: How to Reverse Tether Your Computer Internet to Android
Get a Stable and Fast Internet with Speedify
After using the Speedify apps, both on my Mac, and iPhone, I can tell you that the app works very well, and does its job. It is definitely a great app to have, especially when you're downloading large files, and don't have a very stable internet connection on your devices. Speedify can also come in handy for video calling, and VoIP, as it will try its best (and succeed) to keep your connection stable.
So, have you tried out Speedify, yet? If you haven't, I think you definitely should. It's free to try, and you've got nothing to lose with this app. It's amazing, and it completely works. Go try it out, and then let me know about your experience with the Speedify app, on your Mac, Apple iPhone, Windows PC, and Android smarthphones. As always, if you have any concerns, or thoughts that you'd like to share with us, don't hesitate to leave a line in the comments section down below.