Much like past years, Apple has announced some amazing new features for its software platforms at the WWDC 2018 keynote. Most intriguing of them will have to be the latest iteration of iOS. The iOS 12 update brings many new changes, including ARKit 2, tools to promote digital wellness, more Animoji (and Memoji, if you want an animated version of yourself), Siri Shortcuts, Group FaceTime and a whole lot more.
Post the keynote, Apple also dropped the iOS 12 beta primarily for developers, but also for those who live on the bleeding edge, at least in terms of software. If beta OS does not scare you, here are the steps you need to follow to get iOS 12 up and running on your iPhone or iPad.
Do note that all beta software has some bugs which may interfere with regular usage, so do keep that in mind before proceeding.
Devices Compatible with iOS 12
Here's the list of all the iOS devices that are compatible with the latest version of iOS:
iPhone 7, 7 Plus, 6s, 6s Plus, SE, 6, 6 Plus, 5s
iPad Pro 10.5-inch, iPad Pro 12.9-inch 2nd gen, iPad 9.7-inch, iPad mini 4, iPad Air 2, iPad mini 3, iPad pro 9.7-inch, iPad Pro 12.9-inch, iPad Air, iPad mini 2
iPod Touch 6th generation
Key Requirements For iOS 12 Installation
Before we dive into the installation process for the first iOS 12 developer beta, you need the following things handy:
First, an Apple developer account (available at $99 per year)
Any of the aforementioned iOS devices
Windows PC or Mac, with iTunes installed (will know why down below)
Note: Also, don't forget to backup your iOS device so that you can restore all your data if things so south. You can do this either using iTunes or by going to iOS Settings -> iCloud -> Back Up Now. We installed the beta on our iPhone X and iPhone 8 Plus.
Method 1: Install iOS 12 Developer Beta on iOS Device via Configuration File
I assume that you have already signed for an Apple Developer account, so the first thing that you now need to do is register your device(s) for the latest iOS 12 beta. Here are the steps you need to follow:
Register iOS Device For Beta
1. First, you need the UDID (Unique Device Identifier) of your iPhone/ iPad to register your device. You can get it by connecting your iOS device to your PC or Mac via iTunes. In iTunes, click on your iOS device's serial number and you should see the UDID of your device. Just copy it (or jot it down somewhere).
2. Then, head to the Apple's Developers website and login with your Apple ID (Developer Account). Once logged in, go to "Certificates, IDs, and Profiles" and then, go to the "Devices" section. Here, you need to select the iOS device you want to install the iOS 12 beta on.
3. After you've selected your device, you need to click on the "plus icon" and enter the details of your iOS device: the name of your device and the UDID you'd copied. Click on "Continue" button when you're done and voila, you're registered to download the iOS 12 beta on your device.
Download And Install iOS 12 Developer Beta
1. Now, you'll need to head to the download page on Apple's Developer website and scroll down to find the iOS 12 beta section. Then, tap the 'Download' button next to it to download the configuration file (.mobileconfig format).

2. Once it is downloaded, open it on your iOS device and install the beta software. You'll then need to restart the device to install the update and get it up and running.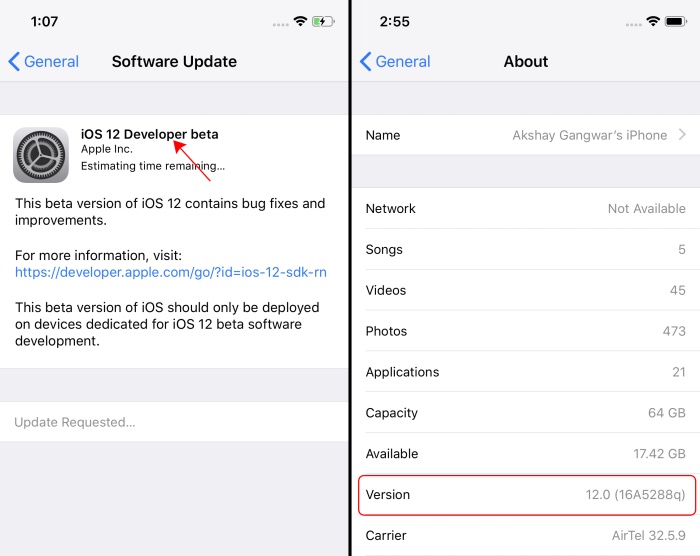 Method 2: Install iOS 12 Beta Through IPSW File
If you cannot get the OTA/config download to work for you, you can manually flash the iOS 12 beta on your iPhone or iPad. Here are the steps you need to follow:
1. You'll again need to navigate to the Download page on the Apple Developer website to get the iOS 12 restore images. The iOS 12 IPSW file for iPhone X is around 2.61 GB, and the file size for other iOS devices would in the same ballpark, so make sure you are connected to a Wi-Fi network.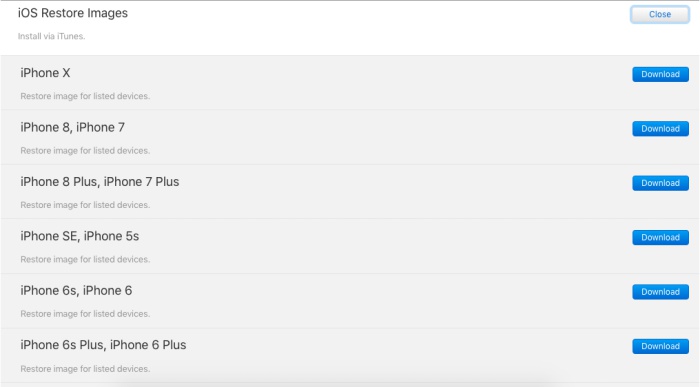 2. And now to install the iOS 12 IPSW file, you need iTunes. Connect your iPhone/ iPad to your PC or Mac and hold Option on a Mac and Shift on the Windows PC, followed by a click on "Check for Update" option in iTunes.
3. You'll then see a dialog box, where you can select the downloaded iOS 12 beta IPSW file and it will be flashed on your iOS device.
Get The Taste Of iOS 12 Developer Beta On Your iPhone or iPad
As we had all expected, the iOS 12 announcement didn't turn out to be too exciting and was full of optimizations. However, I'm happy that Apple has finally fixed its notification problem, improved ARKit, and made progress towards bringing Siri to the modern age. And if you give this latest iteration of iOS a try, do tell us what you think about it in the comments down below.