Freelancing, it's a world where most of us have dipped our feet in but left soon due to one reason or another. If you have not visited this world in quite some time, it might be the time for you to look at it again. Freelancing has evolved over the last couple of years and has become more vast and eye-catching than ever before. Now, there are a ton of platforms to choose from and if you have talent, it's easier to find work than ever before. It's common knowledge in the world of finance that everyone should have more than one source of income. Freelancing helps you create that secondary source of income.
Freelancing is a good tool for clients too, as now they have an opportunity to find talent from a global pool as they are no longer limited by their address. As a client, you can get the right talent for the right price and ensure that your projects are completed on time. However, since the world of freelancing has become bigger than ever before, it's hard to decide which platform to choose to post your jobs or start your freelancing journey. That's why we have created a list of the best freelancing websites to help you get started on this journey:
Best Freelancing Websites in 2019
Before we get into our list, there are somethings you know. I have divided the list into different categories. The platforms which are mentioned in the General category contains websites which offer opportunities for every profession. While other categories focus specifically on certain skills. You can either use the platforms mentioned in the general category or use the ones in the category which falls in your domain. So, let's get started, shall we?
The Best General Freelancing Websites
1. Upwork
Back in 2013, two of the most popular freelancing platforms, Elance and oDesk joined hands to create one of the world's best freelancing platform, and as a result, Upwork was born. Upwork is not only one of the best, but it's also one of the largest freelancing platforms out there. The service boasts of more than 1.5 millions clients which is increasing in number day by day. Needless to say, there's work for everyone here.

Upwork's massive clientele is supported by its ever increasing number of freelancers. The platform provides every kind of talent including and not limited to web developers, designers, writers, coders, sales, accountants, virtual assistants, audio and video producers, voice talents, tech support, and data science & analytics.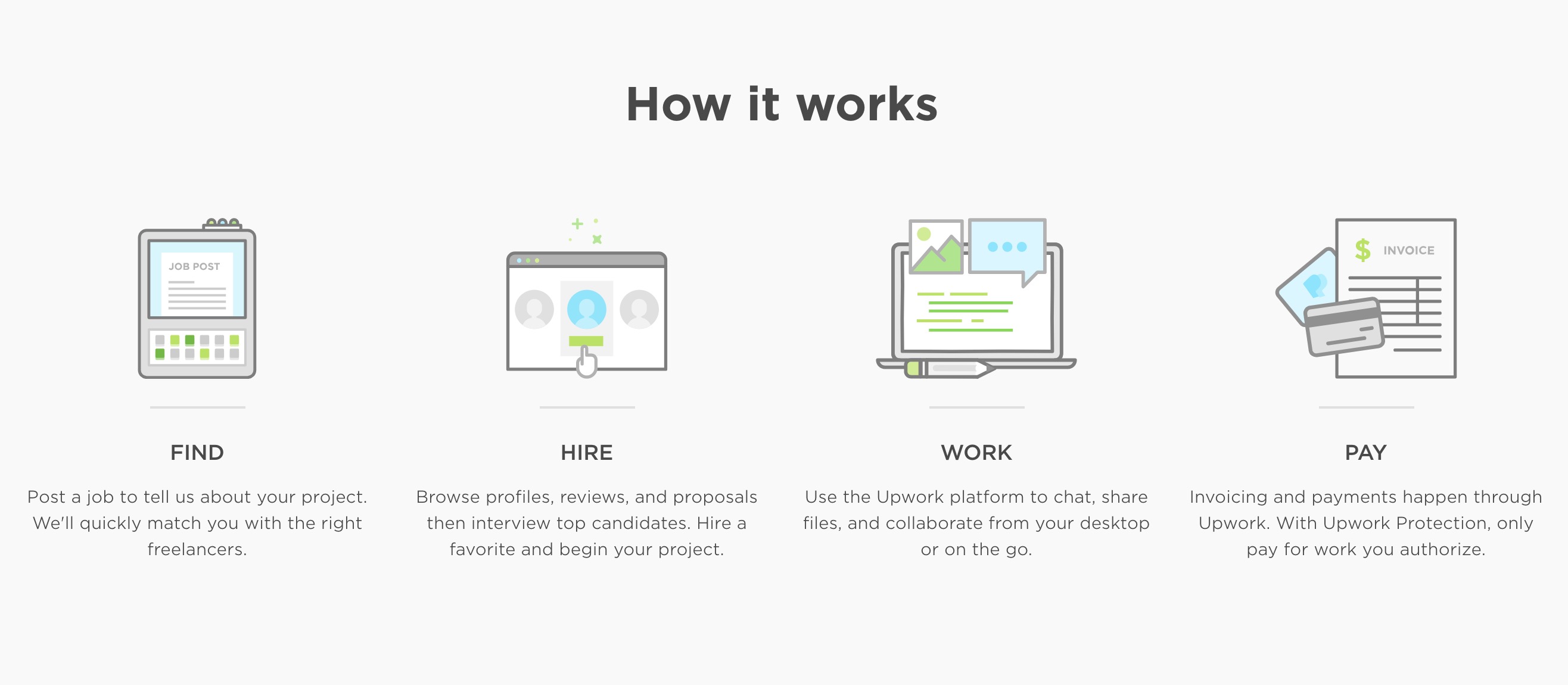 As a client, you post a project, receive proposals from freelancers around the globe and then choose the one which fits your requirements. Conversely, as a professional, you find jobs you like and apply on them. Once you are chosen for the project, you complete it and get paid. The service is available in more than 180 countries so no matter where you are living, you will be able to post jobs or get work on Upwork.
Visit: Upwork
2. Freelancer
Freelancer is one of the oldest and most popular freelancing platforms in the world. The platform launched back in 2009 and quickly became one of the hottest freelancing spaces in the world. The platform is loved by both professionals and clients alike. With over 15 million registered users, it's one of the best places to find talent and work alike. Just like Upwork, the platform offers a plethora of services including web development, SEO analytics, writing, mobile development, app development, accounting, graphics design, logo design, data entry and more.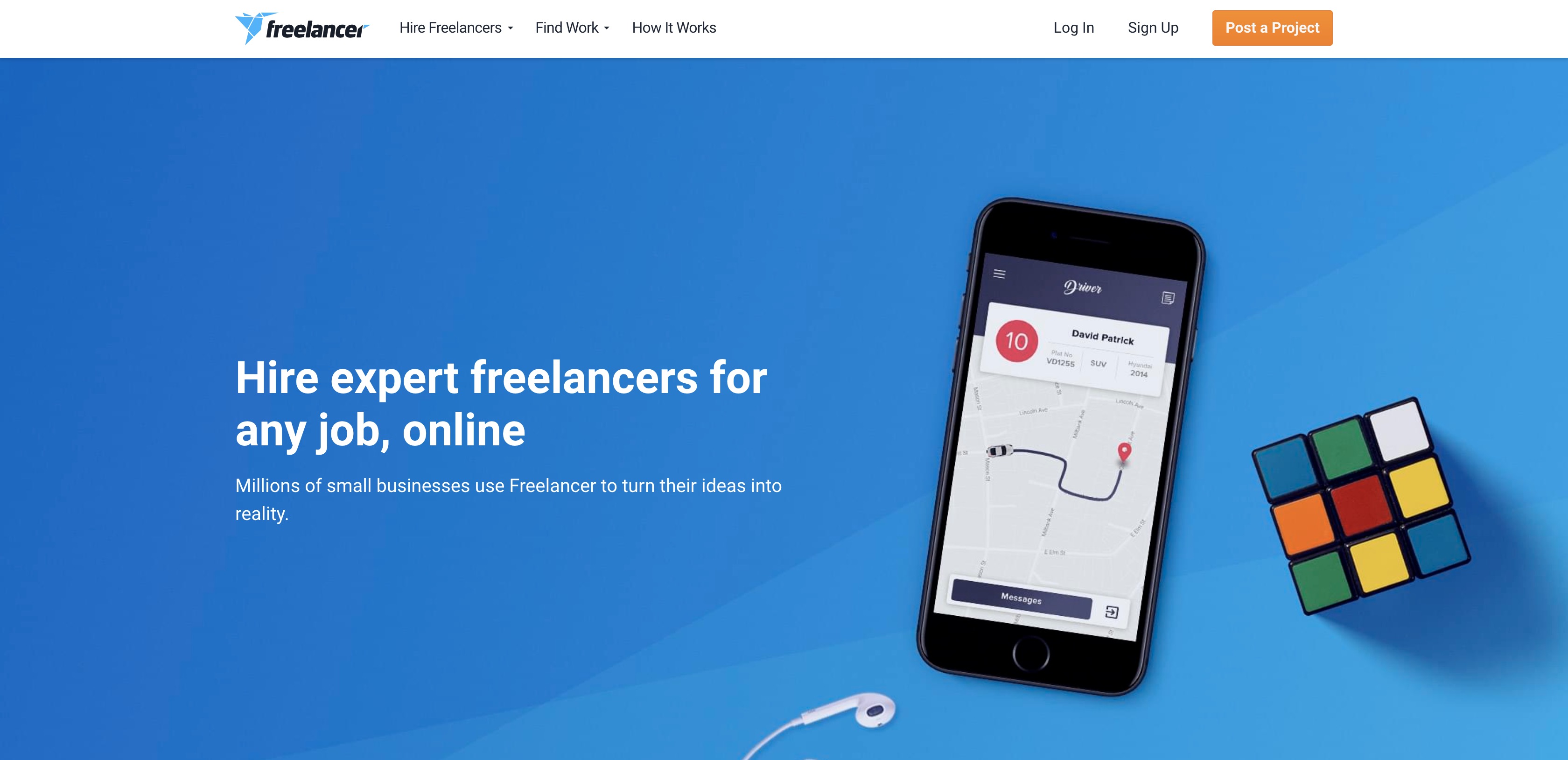 Whether you are a starting freelancer or a long-time one, you can easily get a job which matches your profile here. The same goes for the clients too. Whether you want a one-off project or form a long-lasting relationship with your favorite freelancer, this is the place to be. The platform charges 10% convenience fee from freelancers. The fees for clients vary depending on their project and membership plan.
Visit: Freelancer
3. Guru
Guru is yet another great freelancing platform which caters to a variety of professionals and clients. With over 1.5 million members worldwide, the platform boasts of more than 1 million completed jobs and $200 million being paid to its professionals which the platform refers to as Gurus. The platform offers various services including web, software & IT, design, art & multimedia, writing & translations, sales & marketing, admin support, management & finance, sales & marketing, and more.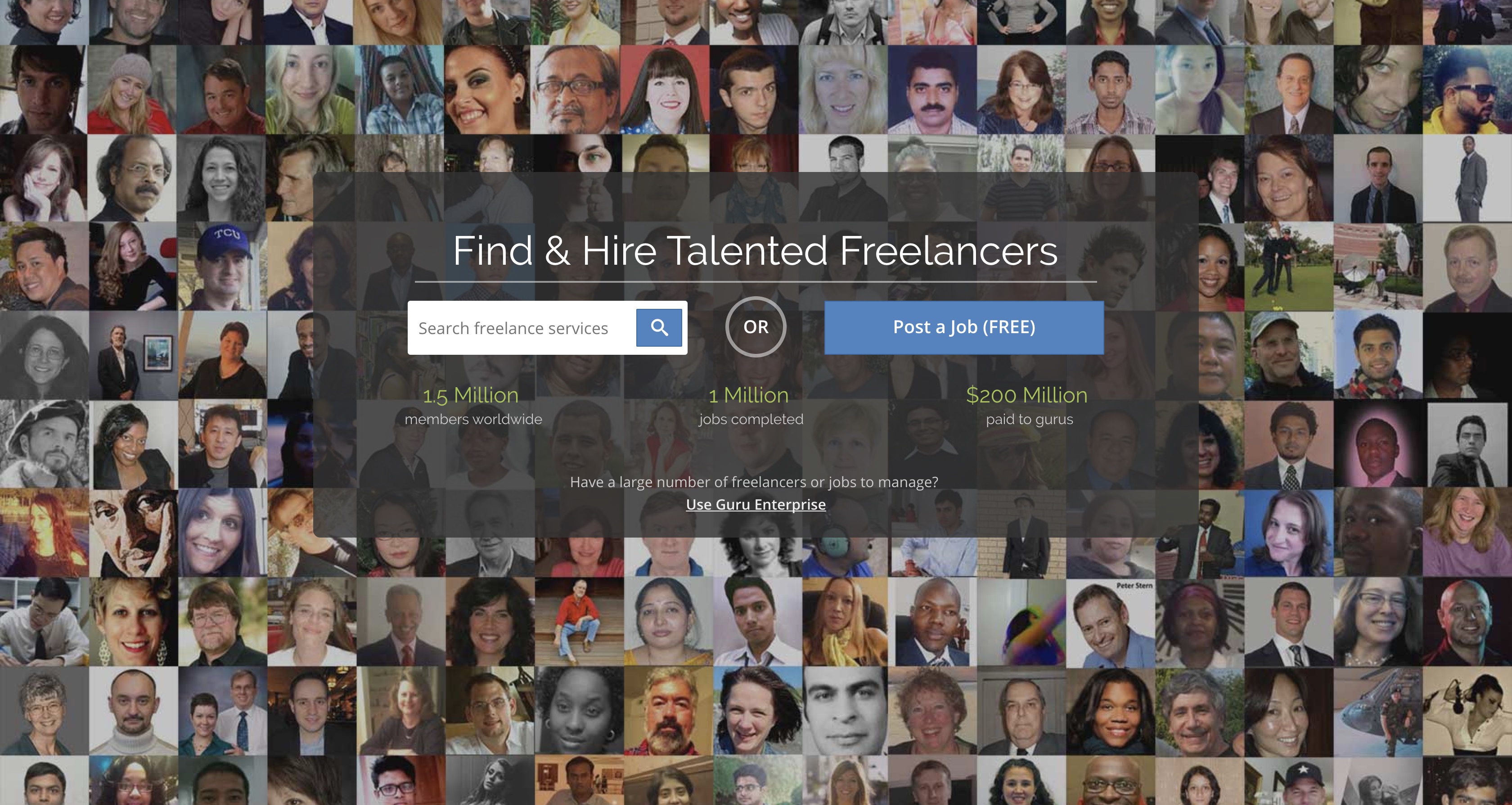 The service works exactly like Upwork or Freelancer. As a client, you post a job and receive applications from professionals/gurus. As a guru, you apply for jobs and get paid when you complete it. Guru provides both clients and gurus with all of the professional tools that they need to define milestones, set tasks, communicate with employers, share files, and agree upon payment schedules. The platform uses its SafePay system to disburse payments to freelancers making sure that the money exchanges the hands with the satisfaction of both the parties.
Visit: Guru
4. PeoplePerHour
PeoplePerHour is a freelancing platform which changes the way we hire freelancers. While other freelancing platforms such as Upwork, Freelancer, or Guru allow you to price your projects at your whim, PeoplePerHour, as the name suggests, allows freelancers or professionals to set their pricing on a per hour basis. That way, the platform is giving more control to freelancers when it comes to pricing.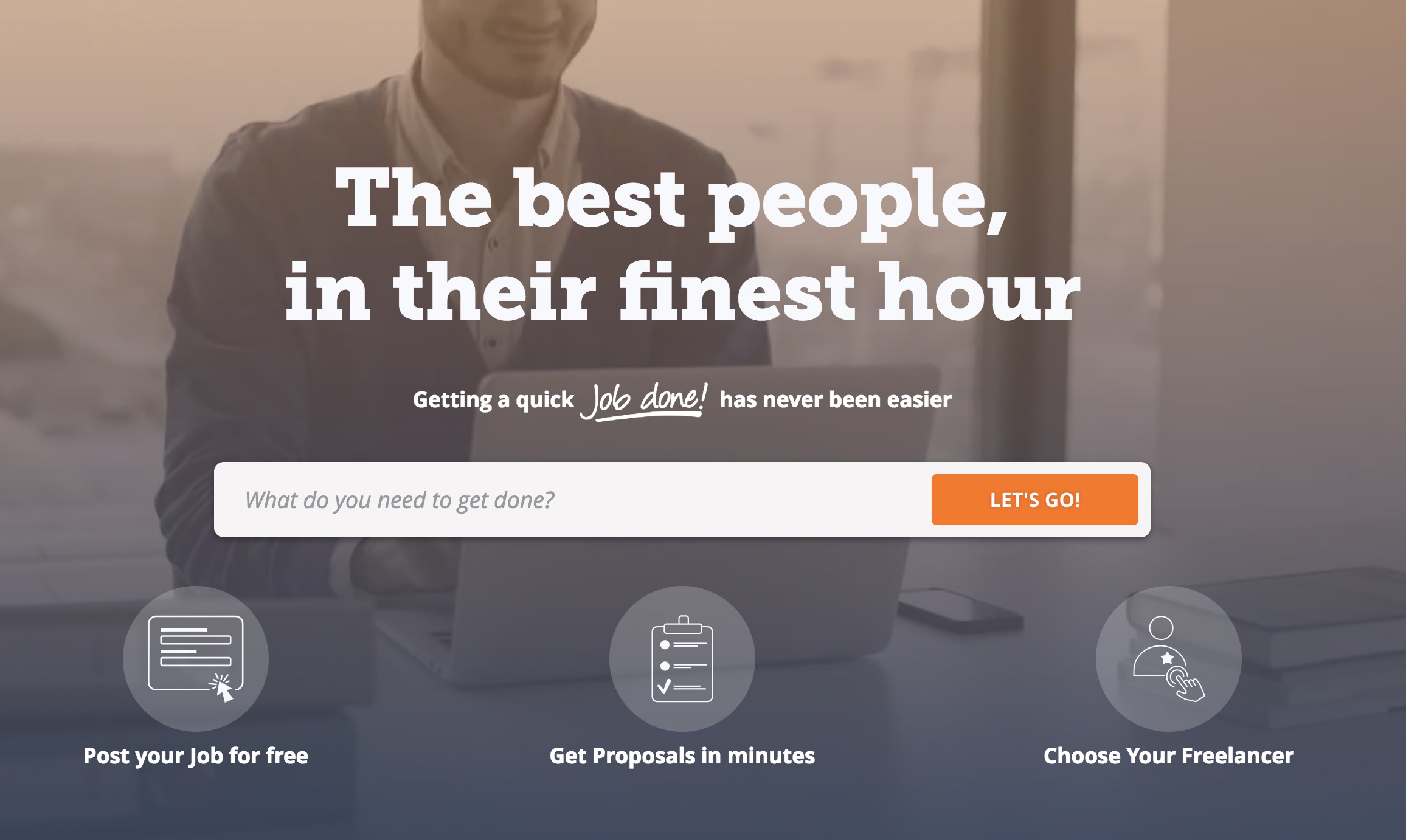 There are two ways to hire a professional here. First, you can choose from the time-tested professionals who have a fixed rate and hire them right then and there (depending on their availability), or you can post a job and let professionals bid on it just like on any other freelancing platform. This platform is best for clients who are looking for top professionals and don't want to go through the whole bidding process. On the professional's side, once they have made a name for themselves, they don't even need to bid for projects as clients will directly come for them. It's a win-win situation for both clients and professionals.
Visit: PeoplePerHour
5. Speedlancer
In a hurry to get work done and don't have time to post jobs, wait for the bids, and then decide on the freelancer? Well then, Speedlancer is the place for you. The platform provides a selection of pre-defined tasks such as social media graphic design, blog post, video design, illustrations, web research on topics and more and promises to deliver the task within four hours. Yes, you read that right, from posting a freelancing project to getting it done, all within four hours.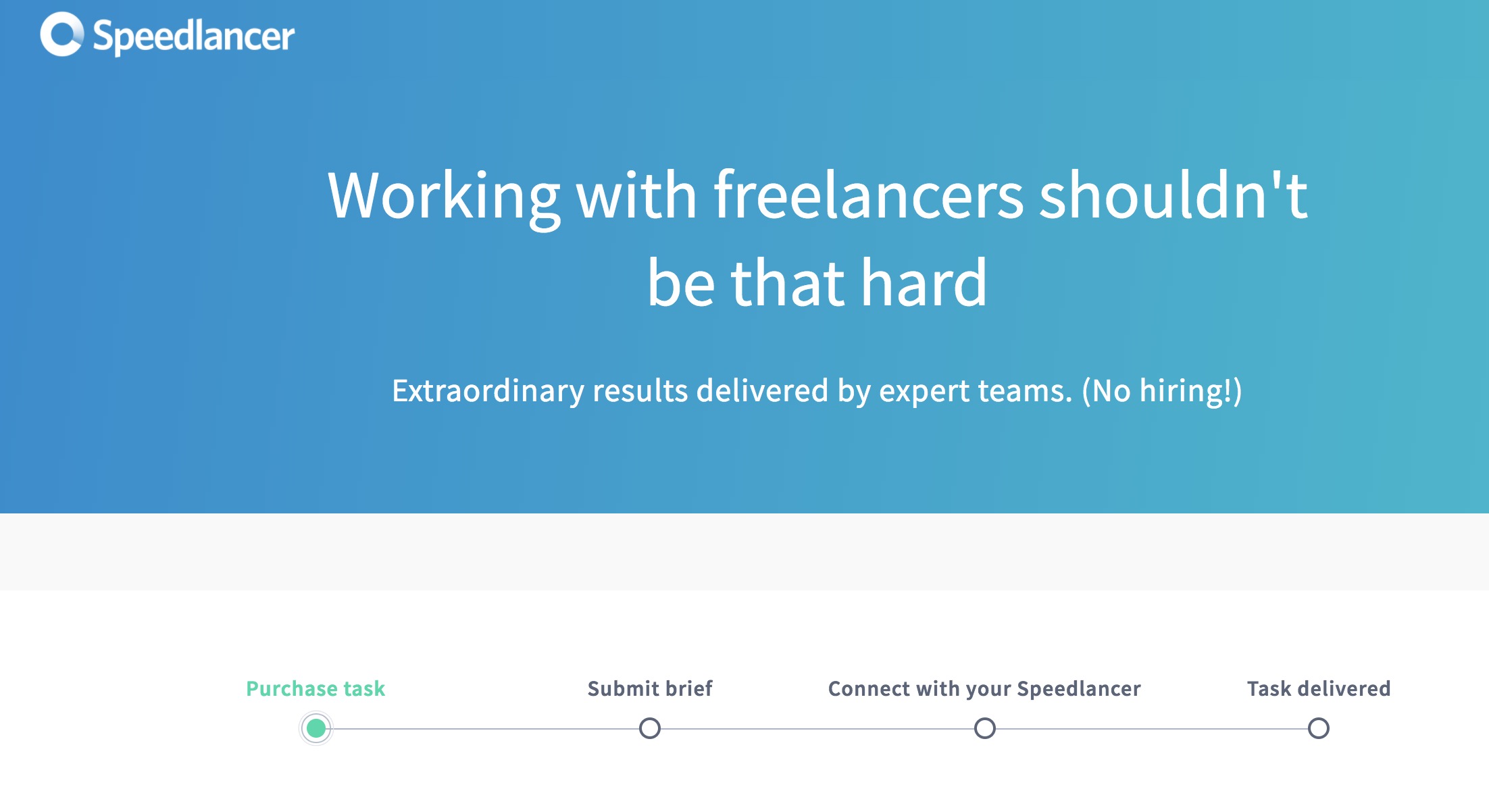 Of course, the platform charges a premium for its fast services. For example, a 600 words blog post will cost you around $69, which normally, roughly costs anywhere between $20-$30. But, you are paying a premium for a reason here. You are cutting all the shenanigans that happen between posting a job and getting it done on a freelancing website and getting the completed work in only four hours. If time means more to your, checkout Speedlancer.
Visit: Speedlancer
6. Fiverr
For a number of clients, posting jobs on a freelancing website is the best way to cut costs. Freelancing platforms allow you to get the best talent at your own price range. However, if you want to get your work done at the cheapest rates in the market, give Fiverr a try. As the name indicates, Fiverr started as a platform where every gig costed only $5. Although the platform has evolved a lot over the years and now sees projects being posted anywhere between $5 to $10,000, its DNA has not changed.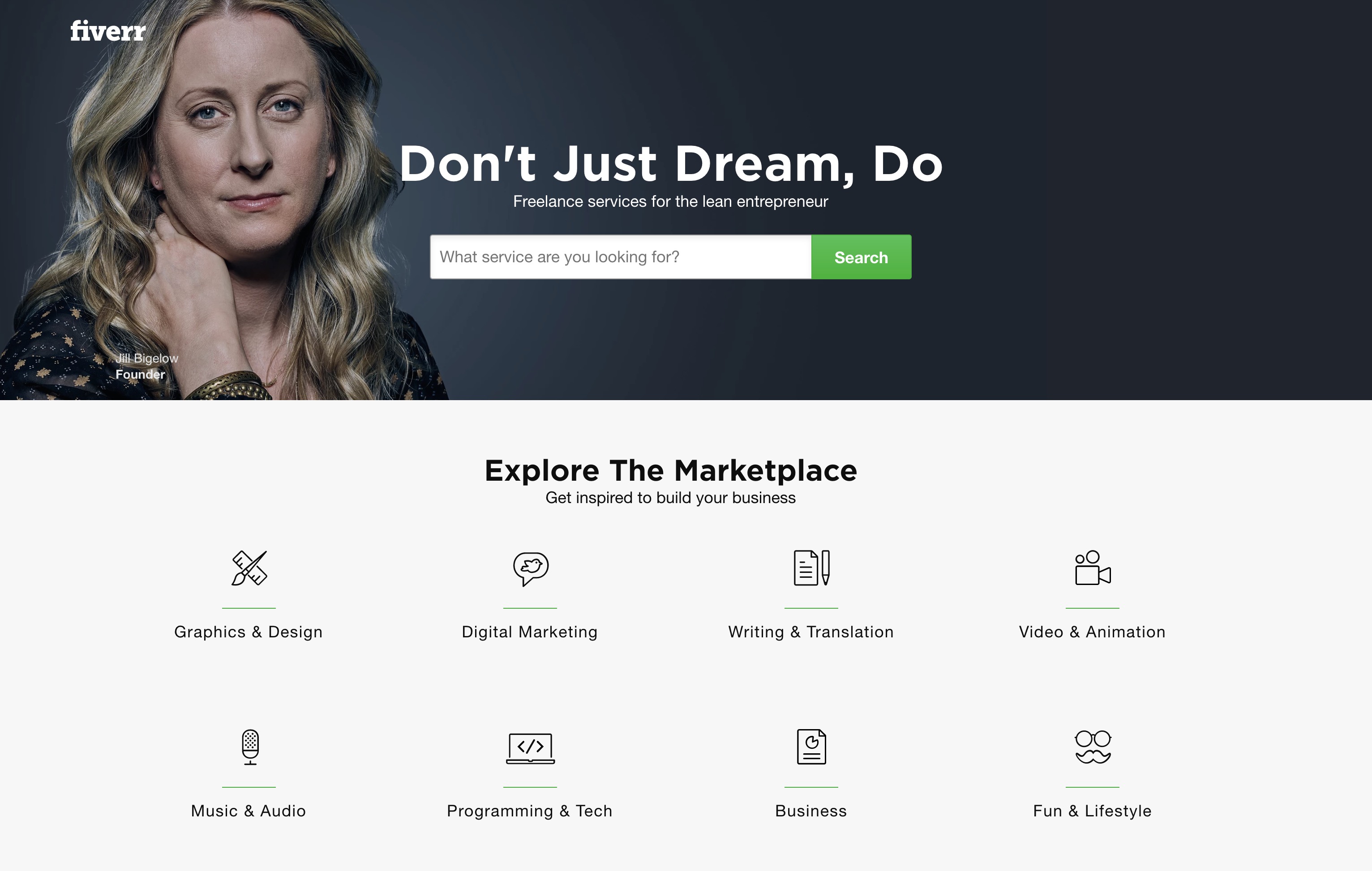 There are still a lot of professionals on Fiverr which are happy to do your work for $5. The service has been so successful that a new gig is being bought every 5-seconds with the total number of completed projects surpassing the 25 million mark. For clients it means jobs getting done at the cheapest price in the market and for professionals, it means an abundance of jobs.
Visit: Fiverr
Best Freelancing Websites For Developers
While all of the above platforms offer coding jobs, there are platforms which offer jobs specific to coders and developers. Here are some of the best of them:
1. TopCoder
TopCoder doesn't market itself as a freelancing website rather as a crowdsourced platform where your ideas become alive. The TopCoder community especially focuses on mobile development. The biggest difference between TopCoder and other freelancing platforms is the fact that as a client you will be guided through your whole project by a TopCoder employee which they call a co-pilot.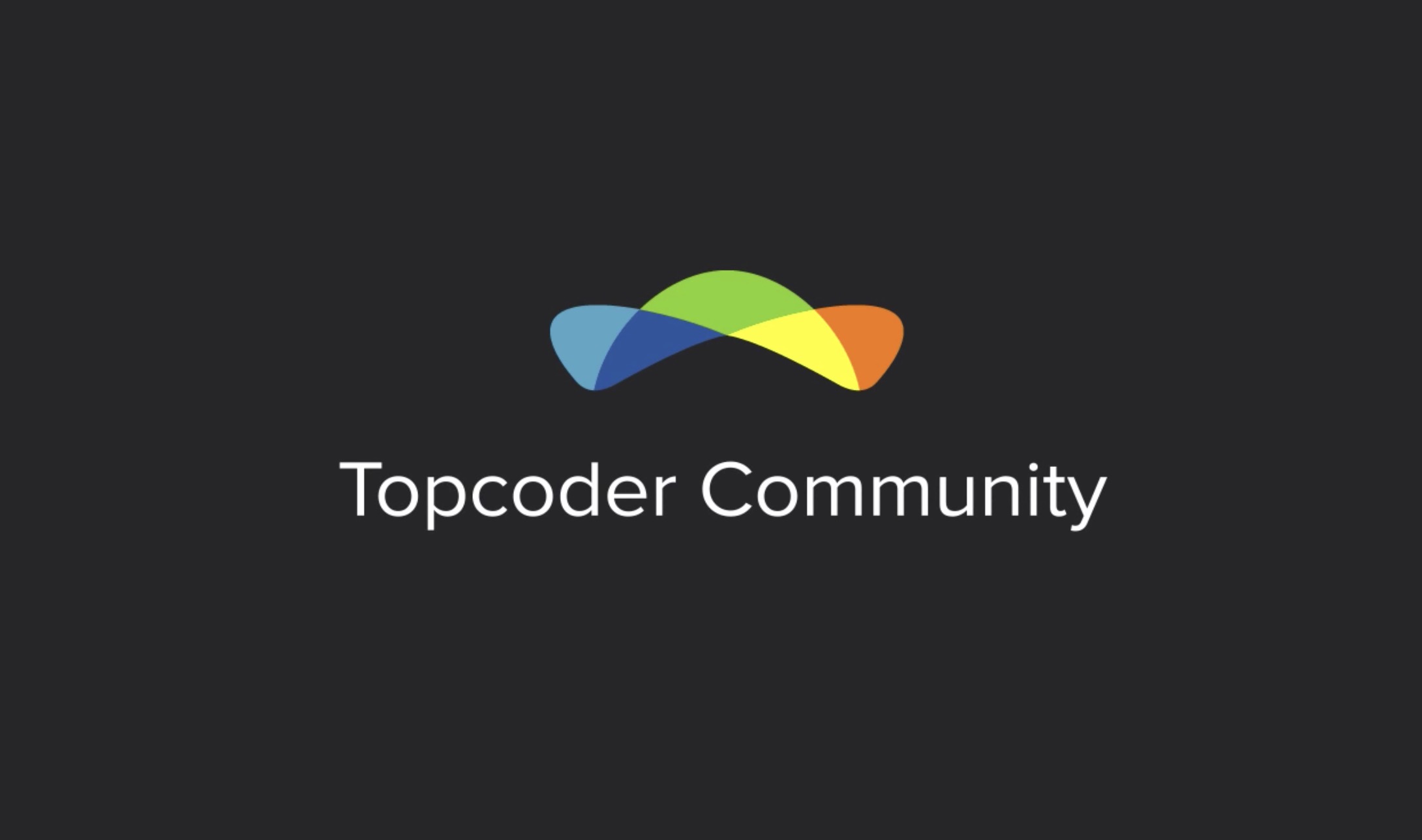 Once you put up a project on TopCoder, your co-pilot will convert the projects into a series of challenges. The best talents from the community for that specific challenge will take up the challenge and you can select only the results that you like. That means you are getting multiple submissions for the price of one. TopCoder provides all the solutions for your app development needs including app design & development, cognitive
solutions, algorithms & analytics, technical staff augmentation, and more.
Visit: TopCoder
2. Codeable
WordPress is world's most popular and trusted website building platform which is powering more than 25% of the internet today. With WordPress as your website's backbone, you can literally do anything with your website. However, the service has become too complex over the years and not at all suitable for beginners. Codeable wants to solve this problem by bringing all the talent you need to develop your WordPress website under a single banner.
Codeable is the place where WordPress developers hang out. Whatever your website's requirements are, you can fulfill at Codeable. Just post your job wait for the perfect WordPress developer who can get the job done. Conversely, if you are a good WordPress developer, you can get high-paying quality jobs here. Codeable is everything you will ever need for your WordPress website.
Visit: Codeable
3. Indiez
Indiez is a freelancing platform which boasts of building software for you as they done by the Silicon Valley companies. On the platform, you get a chance to work with fully-managed software teams of engineers, designers, and product managers from top companies like Google, Airbnb, Uber and more.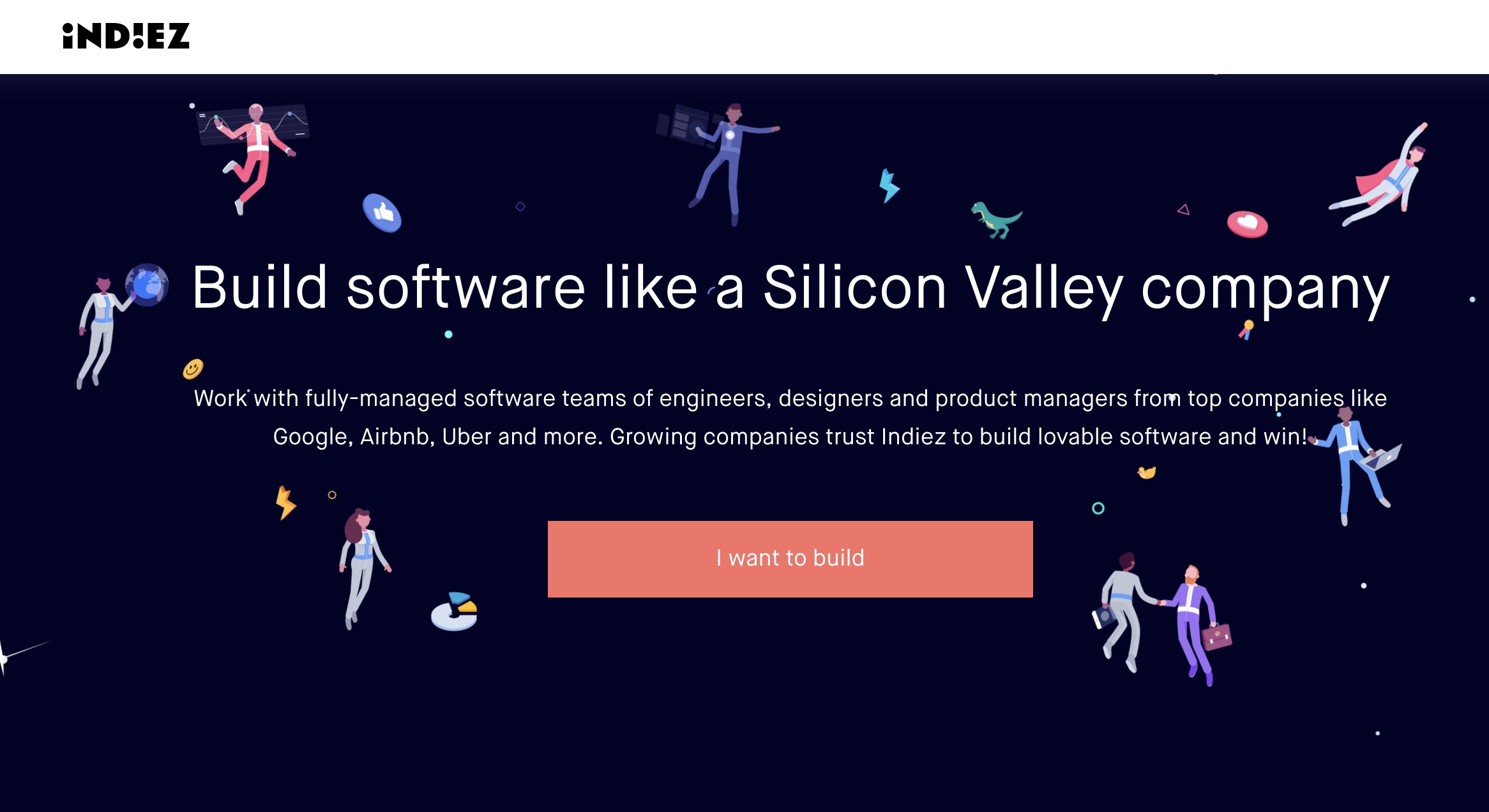 Indiez allows you to harvest from the top software development talents in the world. But that also means that you will have to pay top-dollars to get your project approved on the platform. However, if the price is not your concern, Indiez is the best place to fulfil all your software development needs.
Visit: Indiez
4. Yeeply
Yeeply is a freelancing platform which was launched by Luis Picurelli and Héctor Badal in 2013, to solve the problem of traditional freelancing platforms. Development is a time and talent-intensive job and it's hard to get a project done without the fear of getting bad-code from a freelancer. Since an app or website is not a onetime product and needs constant development, if the underlying code is bad, it can cost clients an absurd amount of money to to get it fixed in the future.
That's where Yeeply comes in. It helps you get your custom projects done with the help of some of the best talents in the industry. As a client, first you put up a detailed description of your project and then Yeeply finds you a team of dedicated developers who are ready to take up the job. You overview their proposal and approve it if you like the terms. There will also be a project manager who will be handling your project until its completion ensuring that everything happens on time. yeeply is best for businesses who are searching for freelancing talent to take on a big project.
Best Freelancing Websites For Designers
1. 99Designs
If you think of a design-specific freelancing platform, 99Designs is the one which will probably come to your mind. 99Designs provides a plethora of services including Brand and logo designing, Stationery designing, web and mobile app designing, book covers and magazine designing, graphic designing, and more. The platform offers four different levels of pricing for clients; Bronze, Silver, Gold, and Platinum. As the names suggest, the price increases from Bronze to Platinum and so does the quality of work.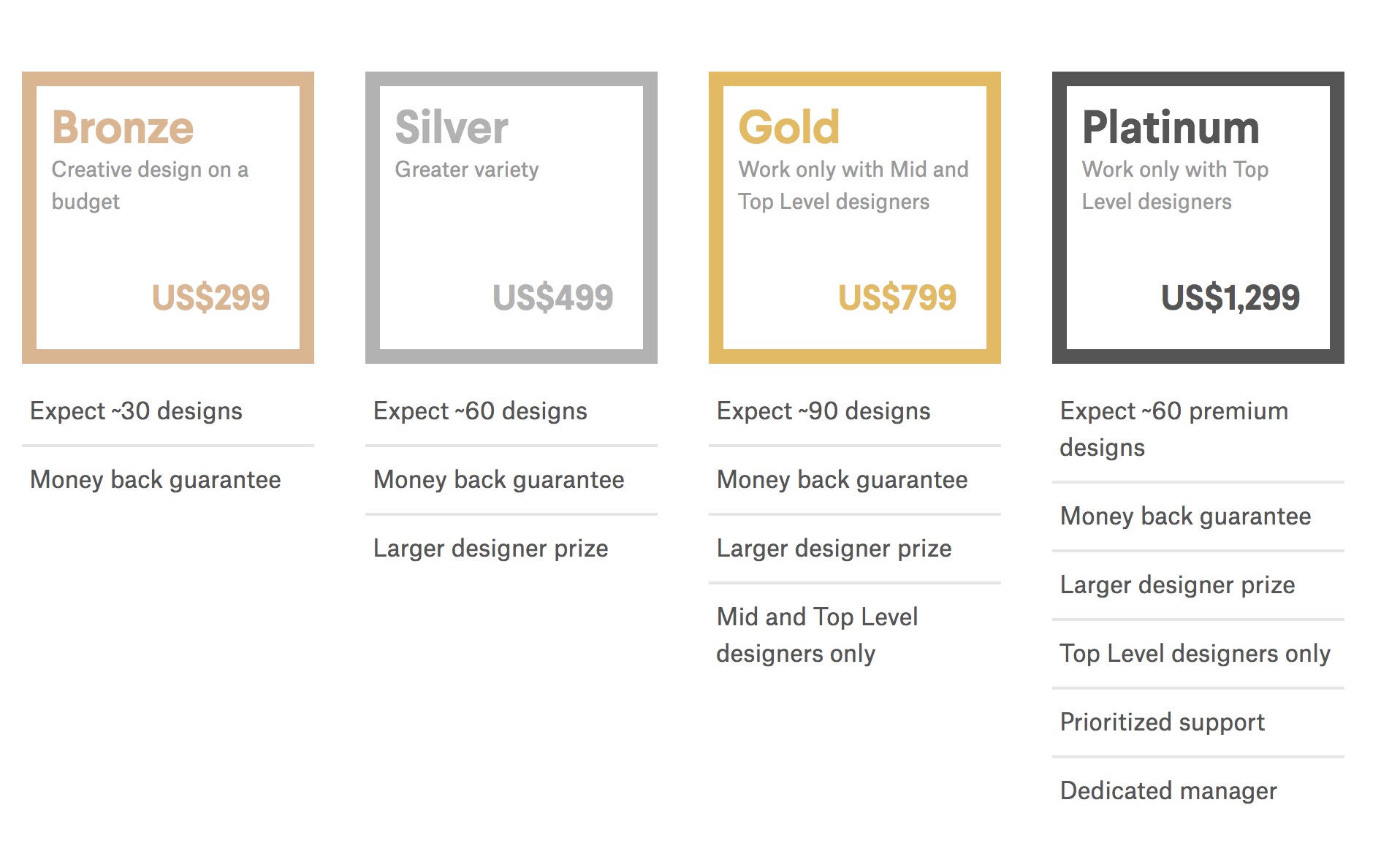 You first post your requirement and then choose one of the four aforementioned packages, and then you launch your contest. Different designers will submit their designs and you can choose the one that you like the most. Remember you are only paying for the design that you are accepting and not for all of them. It's the best way to get multiple work samples without costing you anything. For freelancers, there's a ton of work here and if you are good at what you do, you are certainly going to earn right money for your talent.
Visit: 99Designs
2. Evanto Studio
Evanto Studio calls itself as a community of designers, developers, and creatives, however, their major works revolve around design and graphics whether it's for apps, websites, logos, or videos and animations. As a client, you can compare prices, portfolios, community recommendations, and more to select the talent you are most excited to work with. Then you can submit your project brief to the professionals you would like to work with. Once the project is submitted you pay upfront, but the money is saved in the Evanto Studio account. The money is disbursed to professionals only when the project is completed and you are happy with the project.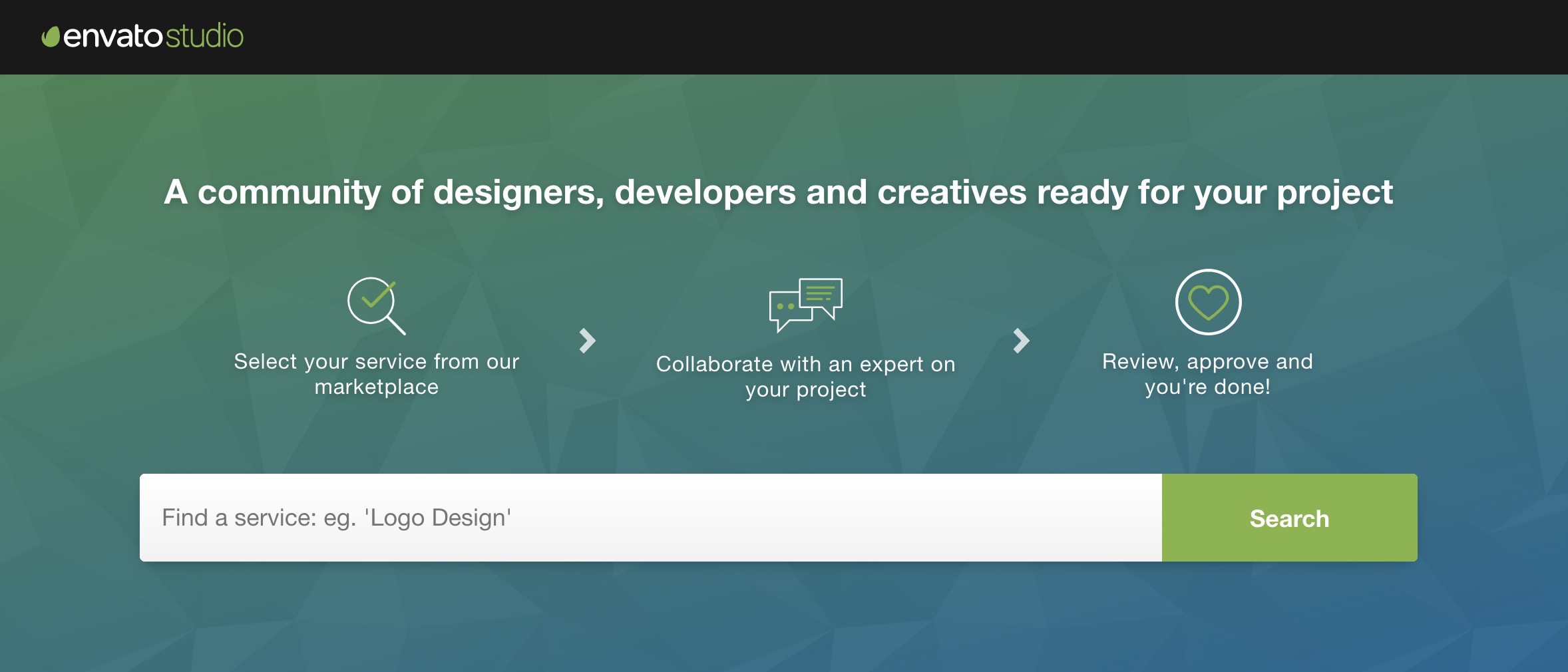 Visit: Evanto Studio
Best Freelancing Websites For Writers
1. ConstantContent
Although most of the freelancing platforms offer some type of writing services, if you are looking to get the best writing talent, or looking to get the paid the best rates in the market, ConstantContent is the place to be in. ConstantContent is a premium place for writers. They have a high bar of acceptance and as a professional, you will need to pass their tests if you want to be included as a writing partner.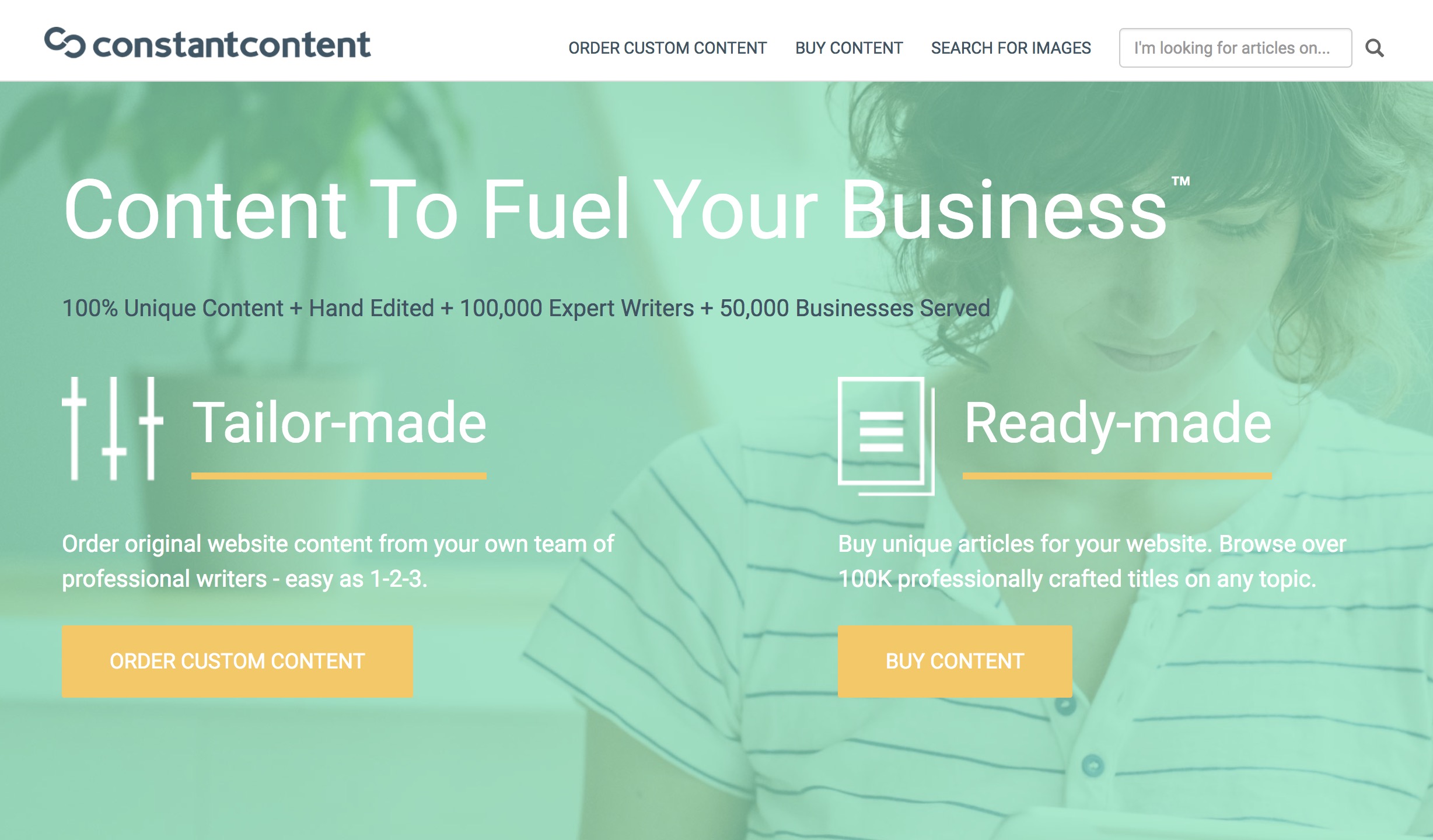 As a client, you can expect the highest quality of work. You can either choose to buy the ready-made content present on the website or you can order a custom project. If you buy a ready-made content piece, it will be made available to you within 30 seconds of making the purchase. It's one of the best places to get content on a urgent basis.
Visit: ConstantContent
2. Writer Access
Writer Access is another great place to find quality writing talent. The website boasts of hosting a small army of writers who are capable of delivering any kind of work. It is one of the fastest-growing content sourcing platforms that makes it easy to find writers, place orders, and manage the workflow. The website has fulfilled more than 1 million orders so far.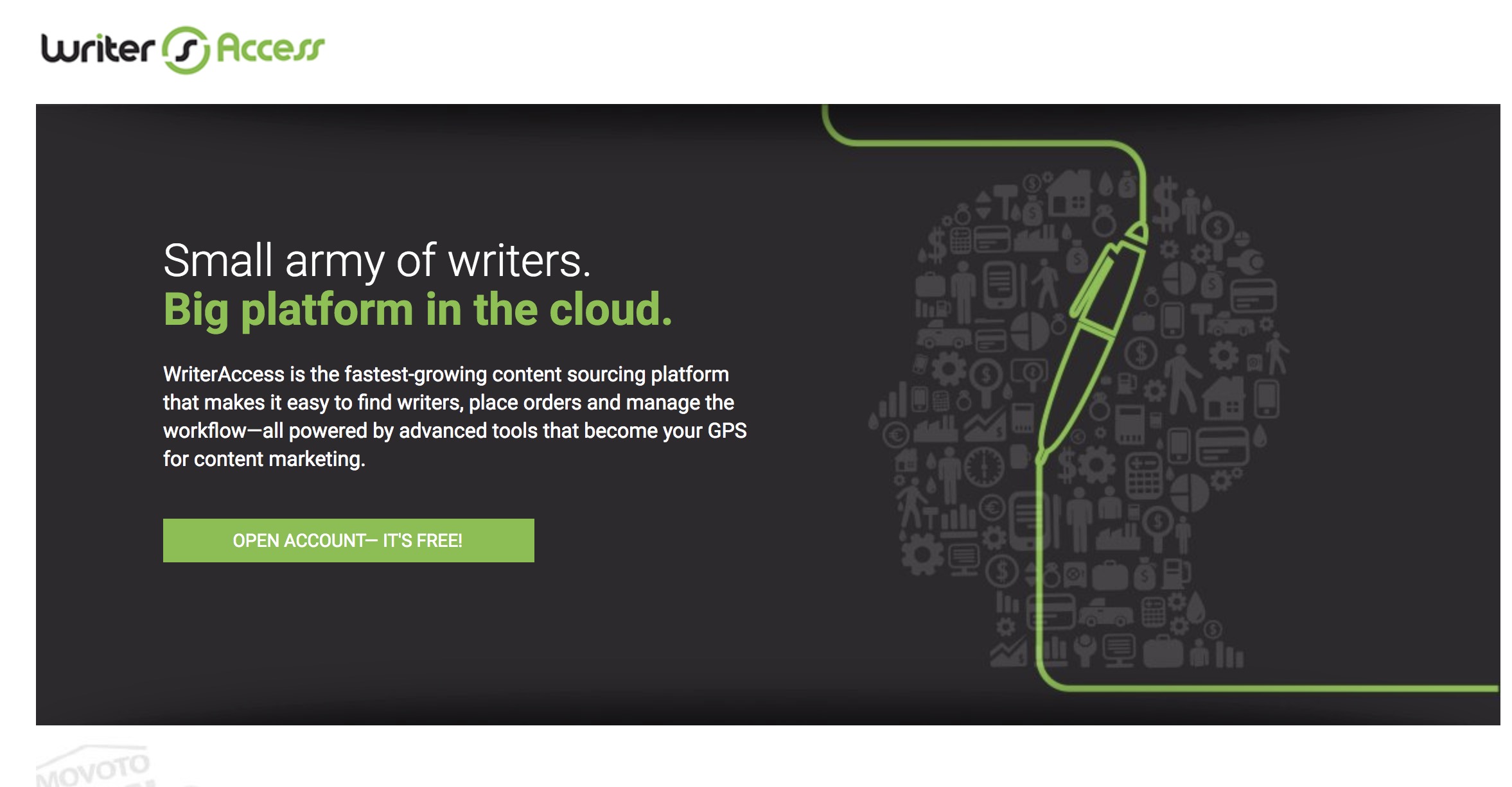 Clients can order anything including articles, blog posts, case studies, copywriting work, social posts, tech papers, white papers, and more. The platform also handles pricing a little differently from other freelancing websites. As a client, you need to buy a paid membership which gets you access to a predefined selection of tools. You can upgrade your plans depending on your requirement.
Visit: Writer Access
Other Best Freelancing Websites
1. Toptal
Toptal could not be put into any category as it is quite different from all the other freelancing platforms mentioned on this list. Toptal promises to bring the top 3% of freelance talent just for you. You don't need to bid or choose from a variety of developers. All you need to do is to tell Toptal what kind of freelance talent you are looking for and the service will handpick the talent which is a perfect match for you.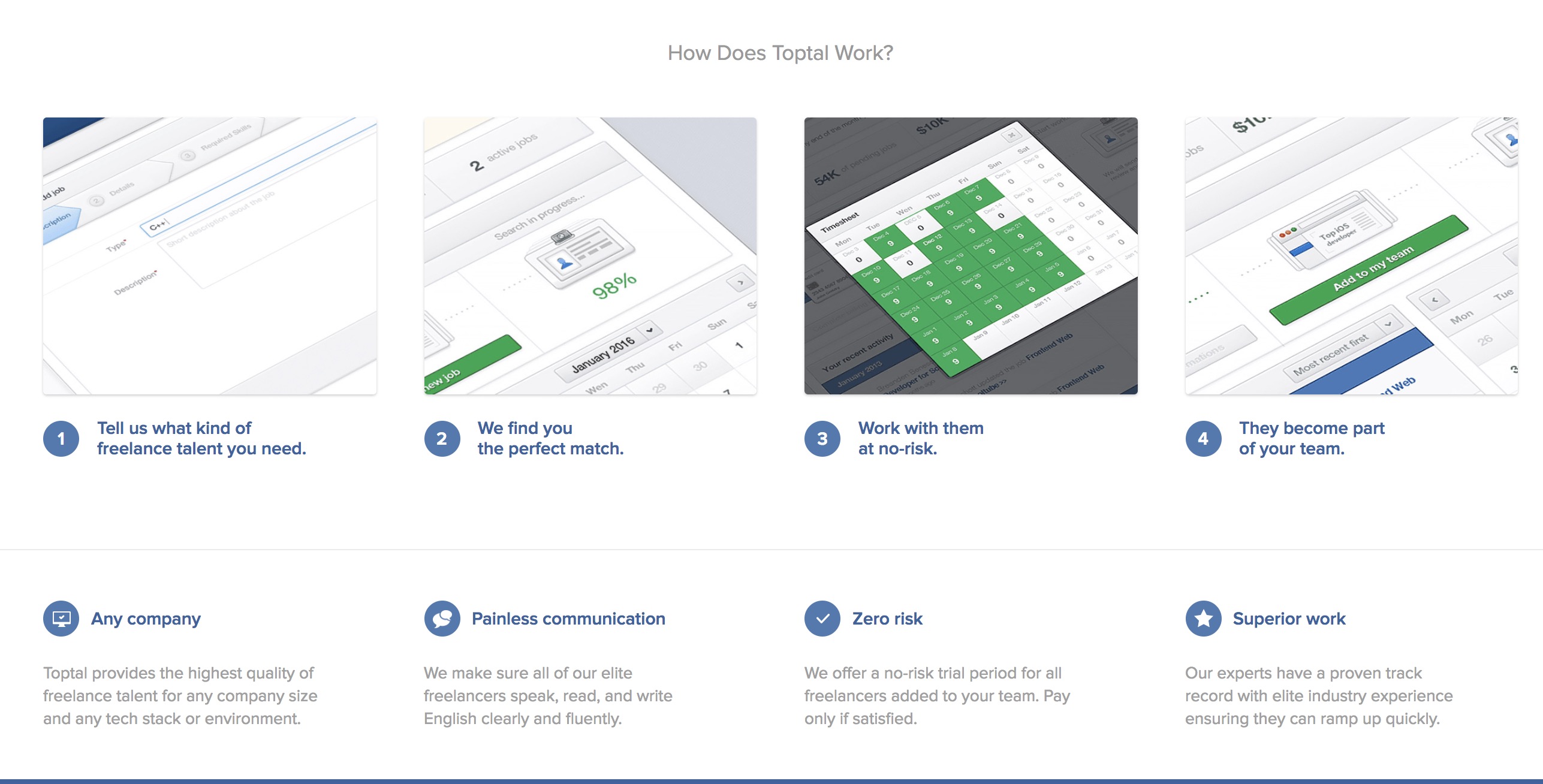 Toptal focuses on making the freelancer a part of your team and not someone who just does the one-off work for you. Since Toptal focuses on quality, it only offers a handful of services including software developers, designers, and finance experts. If you are ready to pay the price, Toptal is the best place to get your work done.
Visit: Toptal
SEE ALSO: 30 Best Online Portfolio Websites You Can Use
Best Freelancing Websites in 2019
That ends our list of the best freelancing websites you should look at in 2019. Whether you are a client or a freelancer, these websites will certainly be the best place for your needs. Freelancing is one of the best outcomes of the internet world and you should certainly enjoy its benefits. These websites will help you to harness those benefits in the best possible ways.