Editing Wikipedia is a complicated process. Hence, only 6% of Wikipedia readers have ever edited Wikipedia content, as per the survey conducted by Wikipedia itself.
But, Aniruddha Kumar from Paṭna, Bihar, in East India who is an Assistant Professor at Delhi University proved that it is not that difficult if you really want to contribute.
Though he is blind, he spends 2-3 hours editing Wikipedia articles on holidays, 1 hour during work days and sometimes he spends whole day if he finds the subject very interesting.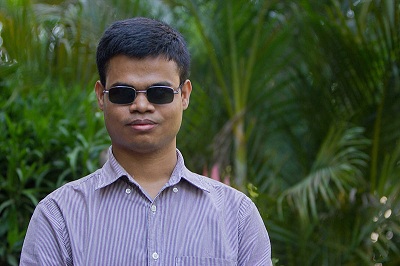 He is a very active editor on Hindi Wikipedia, making over 8,000 edits to articles on Hindi literature, music and history in just 3 years.
For contributing to Wikipedia, He uses open-source software NVDA (Non-visual Desktop Access) and  JAWS screen reader program, both provide feedback through synthetic speech and Braille.
For references and citations, He often uses recorded Digital Accessible Information System (DAISY) books.
Here's what he said in his conversation with Jordan Hu in Wikimedia's blog post,
"Wikipedia can be edited and read by anyone, unlike various things which are inaccessible for persons with disabilities," he said. "We still have image-related problems but we don't worry about that. We contribute as best we can. If I can't add images to an article, then another person will."
He said he sees himself like one of millions of editors. "I've seen some more devoted and capable editors. I just do my job and what I like."
He said he values the integrating nature of Wikipedia, where there is "something for all of us, including me. There is no barrier of nationality, ethnicity, religion, caste or gender. You don't have to pay for a subscription, or read ads — it's only about the right to information."
Wikipedia, he said, is "one of the most beautiful things in the world."
We respect the spirit of Aniruddha Kumar.
SEE ALSO: Today I Learned, 6 Most Interesting Facts About Wikipedia