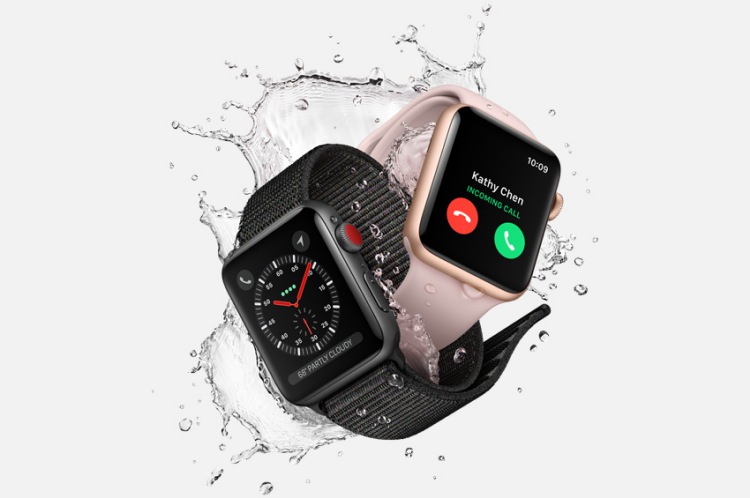 Launched alongside the iPhone 8 lineup last year, Apple today announced that it is finally bringing Apple Watch Series 3 with GPS and cellular connectivity to India. This variant of the Apple Watch is going to complement the GPS-only variant that has been available in the nation since last year.
Apple has partnered with Airtel and Reliance Jio to launch this new variant for India, with pre-registrations starting on May 4, and sales on May 11.
The USP of the Apple Watch Series 3 with cellular connectivity is that it allows you to stay connected, make calls, receive texts even without your iPhone. It comes with a built-in embedded SIM (eSIM) to offer cellular connectivity on the go, with the same mobile number as your iPhone.
This Apple Watch will be sold via Airtel and Jio's website, where you can pre-register for the sale till May 11. You'll also be able to visit the nearest Reliance Digital or Jio Store to directly get the watch on May 11, which is when it becomes widely available for purchase.
Apple has also listed this variant on its official website, but there's no word on the pricing as of yet. In India, Apple has two GPS-only SKUs, where the one with the Sport band costs ₹32,380, while the Nike+ band model is priced at ₹32,470.
Delivery and Tariff Plans
Jio customers who pre-book the new Apple Watch Series 3 will get priority first-day home delivery and will not be charged anything over their current tariff plans. You will not have to shell out anything extra for the data plan, and both your iPhone and Apple Watch will work on the same tariff. Reliance Jio has also set up a so-called 'platinum care center', with professionals to resolve your Apple Watch 3 issues and answer queries.
Airtel customers, on the other hand, will have to open the Watch app and pair the device numbers. There's no word on the tariff plans from Airtel, but Apple Watch Series 3 cellular will be supported for both prepaid and postpaid numbers with an introductory trial offer. It's likely that Airtel will follow Jio's lead in terms of single pricing for both devices in the future.
---