Consoles have always been hugely critiqued for poor graphical fidelity and sub-par frame rate, when compared to high-end gaming PCs that are available on the market today. With the introduction of graphics cards that are capable of native 4K gaming over the last couple of years, PC gaming has evolved to a whole new level, whereas the current crop of consoles, namely PS4 and Xbox One, has been stuck with 1080p and sometimes even 720p for their games. However, both Sony and Microsoft aim to change the scenario with their latest gaming consoles, the PS4 Pro and the recently unveiled Xbox One X.
Released last November, the PlayStation 4 Pro was the first console that showcased 4K gaming capabilities. Microsoft, on the other hand, has been working hard on their most powerful gaming console, codenamed "Project Scorpio". At E3 2017, the company revealed the actual name and showcased the console, for the whole world to see. It's called Xbox One X and it's a beast of a machine with native 4K gaming potential. Interested in knowing how this new console stacks up against Sony's PS4 Pro? Well, without further ado, let's pit the Xbox One X vs PS4 Pro:
Design and Build Quality
Let's start with the new kid on the block, the Xbox One X. At first glance, the console looks quite similar to an imaginary matte black variant of last year's Xbox One S. That being said, there are a few minor changes that sets it apart from the Xbox One S. The optical drive has been moved slightly, and it's now hiding right at the junction between the top and bottom portion of the console. The front USB port has been moved towards the right and lastly, those tiny holes that covered half of the Xbox One S console, have been moved to the rear and sides on the newest model, to give it much more cleaner look. As far as build quality is concerned, the Xbox One X is made of hard-matte plastic, just like the previous consoles of this generation.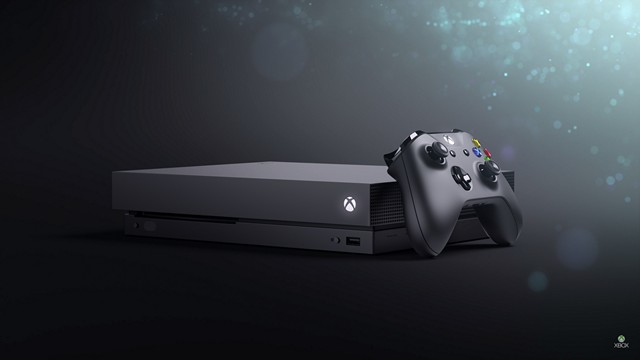 Moving on to the PS4 Pro, we have a very similar parallelogram-shaped console, with an additional deck at the top, compared to the standard PS4 and PS4 Slim. It's also wider and taller than both the previous consoles, so that it's capable of packing better hardware without sacrificing on cooling. Apart from that, the PS4 Pro is made of hard-matte plastic, which makes it look and feel just like Sony's current generation consoles. So, nothing much has changed in terms of design and build quality for the PlayStation 4 Pro.
When it comes to the build quality and design, the Xbox One X is definitely the better looking console of the two. However, if you don't care about the looks, both the PS4 Pro and the Xbox One X are well built devices.
Hardware
Well, this is the interesting part, as hardware improvements are way more important than cosmetic changes, and on that regard, neither of the consoles fail to impress. So, let's breakdown the components of both these consoles:
This is without doubt, the crucial component that drives both of these consoles. On the Xbox One X, we have eight custom x86 cores clocked at 2.3 GHz. This is marginally higher than the eight-core custom "Jaguar" CPU clocked at 2.1 GHz, that powers the PlayStation 4 Pro. So, you can be certain of getting noticeable improvement in overall performance of the One X.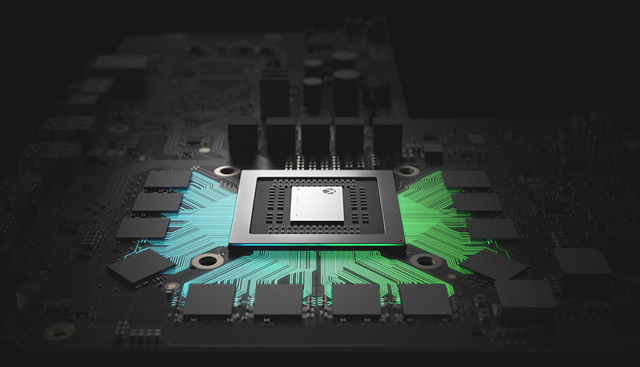 This is the department which discloses the stark difference between both the consoles. The Xbox One X's graphical horsepower will be provided by the integrated AMD GPU based on Polaris architecture, clocked at 1172 MHz. The console also boasts 12 GB of GDDR5 memory, which is a significant step up from the 8 GB DDR3 memory offered by the older Xbox One consoles. The memory bandwidth for the GPU is rated at a blistering fast 326 GB/s, which matches high-end gaming PCs.
On the other hand, the PS4 Pro is powered by an AMD Polaris GPU clocked at a much lower 911 MHz speed, and just like the original PS4, the newer console packs the same 8 GB GDDR5 memory. The memory bandwidth is rated at 218 GB/s which is significantly lower than what Microsoft brings to the table.
All in all, the newer Xbox One X crushes the PS4 Pro on paper, but we'll have to wait and see how the new console performs in a real-world test.
Both the PS4 Pro and Xbox One X consoles are packed with 1 TB hard disk drives. So, in terms of storage, there's no difference at all. However, we'd have loved to see a console with a hybrid drive, as mechanical hard drives are dying pretty fast.
Performance
Ever since "Project Scorpio" was originally revealed, Microsoft has been constantly reminding us about the 6 Teraflops of computing performance offered by their newest console. To put that in comparison, the PS4 Pro packs only 4.12 Teraflops of performance and this essentially makes it the inferior console. Sony has been resting on their laurels of having the superior console over the last 4 years, but the tides have turned now.
Due to the inferior hardware, the PS4 Pro is not capable of native 4K gaming on almost all of the games, with the exception of a few. Sony makes use of checkerboard rendering technique to upscale the games to 4K resolution. Most of the PS4 Pro games run at a native 1440p resolution, and are then upscaled to 4K using this technique. On the other hand, there's no upscaling involved in the Xbox One X, as it promises native 4K gaming at 60 frames per second, if the company's claims are to be gone by.
In terms of graphical prowess, Microsoft clearly has the upper hand. At E3 2017, the company has showcased a whole slew of games that are capable of running at native 4K resolution, without breaking a sweat.
Games
A console is only as good as its games, no matter how much powerful it is, and Xbox One X is a clear example for that. Sure, Microsoft announced a slew of new, console launch exclusive games, like Forza Motorsport 7, Super Lucky's Tale, State of Decay 2, Crackdown 3, Sea of Thieves etc.,  that are all set to arrive on the Xbox One X and older Xbox One consoles, but you need to realize that they're going to be available on the PC as well. So, if you have a beefy gaming rig, you might as well play those games on it, instead of purchasing the new console, just to play those games. Microsoft has made it clear that no games will be exclusive to just the Xbox One X, as they don't intend to split the community. The company had also claimed that, all the current Xbox One games will be able to take advantage of the improved hardware on the Xbox One X and perform better, regardless of whether the developers intend to update their game or not.
On the other hand, Sony has a very strong lineup of exclusive titles that's all set to arrive on the PS4 very soon, like God of War, Spider-Man, Last of Us Part II, Death Stranding and Days Gone. If you want to play these games, you definitely need to own a PlayStation 4 console, as they are not going to make their way to PCs, unlike Xbox games. In terms of exclusives, the company has proved to be far superior in comparison to Microsoft, as most of the recent releases have garnered positive reviews from critics and fans alike. As far as existing games are concerned, the developers will be able to take full advantage of the PS4 Pro hardware with just a software patch. All in all, when it comes to quality exclusive games, Sony's console is the real winner.
Connectivity
Microsoft's latest Xbox One is packed with ports. On the back, we have a HDMI Out, HDMI In, 2 USB 3.0, IR Out, S/PDIF and Ethernet ports. There's another USB 3.0 port at the front of the console. The console is capable of 4K UHD Blu-ray playback via its optical drive, something which the PS4 Pro misses out on. As far as wireless connections are concerned, the console supports IEEE 802.11 ac Dual Band Wi-Fi, just like the other Xbox Ones.

Moving on to the PS4, we have a USB 3.0, HDMI Out, AUX, Ethernet and Digital Out ports behind the console. On the front, we have a couple of USB 3.0 ports as well, which is primarily used for connecting our controllers. The Blu-ray drive on the console is not capable of UHD 4K video playback, which is a major downside in comparison to the Xbox One. In terms of Wireless connections, the console supports IEEE 802.11 ac Dual Band Wi-Fi, so it's pretty much the same as the newer Xbox One X on this regard.
Pricing and Availability
No matter how powerful a gaming console is, or how many games they promise to bring, it's the price point that's going to be the ultimate factor in helping you decide which console you should be going for. The new Xbox One X is priced at $499, and it's all set to hit the stores on November 7, 2017. The release date goes hand in hand with most of the previous console launches in the recent years.
The PS4 Pro on the other hand, has been available since November 10, 2016 for an asking price of $399. The early release date did give Sony the head start in terms of sales and they've been enjoying the momentum so far. That being said, we think the price points of both these consoles are justified in terms what they bring to the table.
PS4 Pro vs Xbox One X: Quick Specs Comparison
| | Xbox One X | PS4 Pro |
| --- | --- | --- |
| Dimensions | 11.8 x 9.4 x 2.4 inches | 12.8 x 11.6 x 2.1 inches |
| Weight | 8.4 lbs | 7.2 lbs |
| CPU | 8-core custom x86 cores clocked at 2.3 GHz | 8-core Jaguar cores clocked at 2.1 GHz |
| GPU | Integrated AMD Polaris GPU clocked at 1172 MHz | Integrated AMD Polaris GPU clocked at 911 MHz |
| Memory | 12 GB GDDR5 | 8 GB GDDR5 |
| Floating point performance | 6 TFlops | 4.2 TFlops |
| Memory Bandwidth | 326 GB/s | 218 GB/s |
| Storage | 1 TB | 1 TB |
| Optical Drive | UHD 4K Blu-ray drive | Blu-ray drive |
| Connectivity | HDMI Out, HDMI In, IR Out, S/PDIF, Ethernet, 3 x USB 3.0 | HDMI Out, AUX, Digital Out, Ethernet, 3 x USB 3.0 |
| Wireless | IEEE 802.11 a/b/g/n/ac Dual-band Wi-Fi | IEEE 802.11 a/b/g/n/ac Dual-band Wi-Fi |
| Native 4K Support | Yes | No |
| HDR Support | Yes | Yes |
| Virtual Reality | Yes | Yes |
| Price | $499 | $399 |
| Availability | November 7th, 2017 | Released, November 10th, 2016 |
SEE ALSO: Intel Core i9 vs AMD Ryzen Threadripper: Quick Comparison
Which Console Are You Going For?
Now that you've read our whole article, you probably have a clear idea of what these consoles are capable of. Neither of these machines fail to impress us and it all comes down to your budget and preference. If you're on a tight budget constraint, but you want to enjoy Sony's vast library of exclusive games on your TV at UHD resolution, regardless of whether they're upscaled or not, PS4 Pro is certainly the better option. However, if you want to own the most powerful hardware, in order to handle your games at native 4K resolution, you just cannot go wrong with the Xbox One X, especially if you're willing to sacrifice on some great exclusive titles that Sony has to offer. So, are you planning to make the switch to 4K and get a new gaming console? If so, which one are you going for? Make sure you let us know, by dropping a few words in the comments section down below.