WhatsApp is one of the most widely used messaging platforms, with over a billion users exchanging texts every month. The company has just recently pushed a significant beta update, version 2.18.13, to Android users.
This update is said to be loaded with a hoard of compelling new features, some of which are already live while others are currently hidden from the users. Discovered by the one and only WABetaInfo, the features are under development and are expected to debut in coming updates very soon. Here's a list of the features that are inbound to WhatsApp:
Stickers Support
If you feel that emojis and GIFs are not enough for you to express your feelings, then lo and behold, WhatsApp is soon rolling out support for Facebook's sticker packs. All of the stickers will be shown in a separate tab that can be accessed by tapping the emojis key in the message box.

It has been found that the Unchi and Rollie sticker packs from the social media platform will come baked in WhatsApp by default. You also get a sticker store, like the one which has been added to Messenger to enable you to download sticker packs of your choice.
Mention Notifications
Has there ever been an instance where you couldn't see your group's messages due to a spotty connection, but all of them trickled in when you reached home? Now, you have to scroll through hundreds of messages to find when you were mentioned. That'll soon be a thing of the past.
Well, WhatsApp has debuted a "mention notification" feature in the latest beta that will display an '@' symbol on the bottom right with the number of times you've been tagged in a recent conversation. This has been one of the most-requested features by the WhatsApp community.
Security Improvements
WhatsApp is also working to make the platform more secure and security notifications will play an important part in the same. Now, if you open the security code verification section from the settings menu and the feature is disabled, then WhatsApp will soon intimate you to enable 2FA to better protect your messages from being accessed by outsiders.
Group Improvements
The company has recently been placing a lot of focus on improving group conversations. It is already said to be testing group voice/video calls and privacy features for admins, where the latter is a lot more significant. It has taken the first step towards the same by now allowing group admins to demote any other admins.
Previously, you had to remove an admin and re-add them to the group to remove them from the position of an admin. You no longer need to follow this process and can use the 'dismiss as admin' option to do the same. Any WhatsApp user can now manage the members of the group.
Spam Control
In addition, Whatsappen has just uncovered that Whatsapp is experimenting with a variety of methods to curb the spread of spam/fake messages on the platform. This has also become quite important, especially with the launch of WhatsApp Business.
While you already have a 'Report Spam' button to make the company aware of users who forward spam, it's now working to detect messages that've been forwarded multiple times. A new leak, which shows an iOS device, suggests that WhatsApp will shortly notify you when you're about to send an already excessively forwarded message. Here's how it'll look: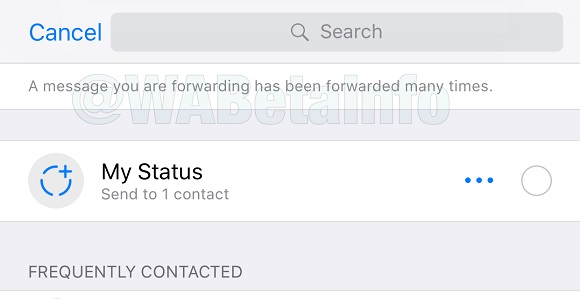 And no, this doesn't violate your privacy if you're about to go on a rant about the same in the comments section. All Whatsapp messages are end-to-end encrypted. The company is most likely going to track messages via some sort of tracking id. It is still working out the specifics on how it wants to implement this feature.
So, as you can clearly see above, WhatsApp is making the platform lush with new features that'll further enhance your experience. What other features would you want WhatsApp to add to its platform? Let us know in the comments below.