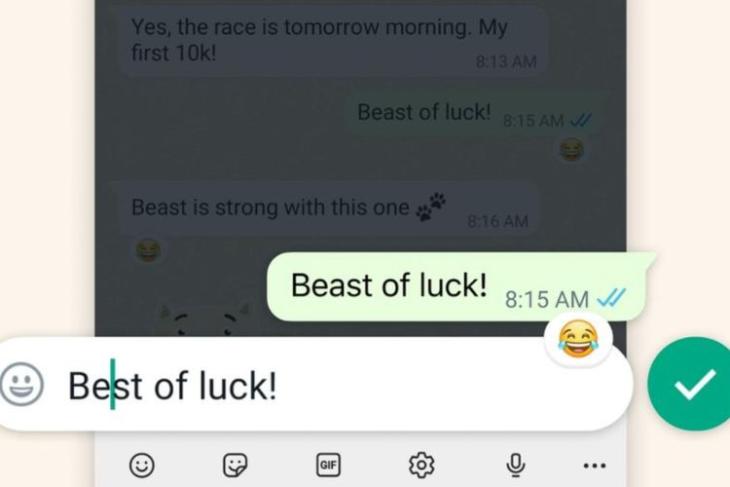 Yes, it's finally official! WhatsApp has introduced the ability to edit messages helping Meta take on the likes of iMessage and Telegram, which have already had the feature for a while now. This comes after multiple testing attempts. Have a look at the details.
WhatsApp Introduces Editable Messages
WhatsApp's edit messages feature can be a great relief for those who often misspell or send the wrong information to the wrong person, or simply add the details you forgot to add. This is in addition to the ability to delete messages for all, which has been an alternative for correcting mistakes and typos.
The option to edit messages will be easily available. You will just have to long-press a message and select the Edit option to make the desired changes. One thing to note over here is that there will be capping on the process; you will just get 15 minutes to edit from the time you have sent the message.
We expect this window to increase eventually much like it happened with 'Delete for Everyone.' Once the message is edited, there will be a label attached to it so that others can know of the deed. There won't be an edit history, though.
The most crucial part is that edited messages on WhatsApp are end-to-end encrypted, the way other messages, media, and calls are. The edit messages feature has now started rolling for Android and iOS users globally and should reach everyone in the coming weeks. We were currently unable to use it, so I guess, we would have to wait!
The latest WhatsApp feature joins the existing '2023 feature dump,' which includes the ability to use WhatsApp on up to 4 phones, locked chats to keep people from prying on you, and captions for forwarded messages, among other things. The list is expected to grow soon and we will be keeping you posted on what's to come! Stay tuned for further updates and do share let us know if you like the new WhatsApp feature in the comments below.