Twitter introduced hashtags in Aug 2007 to club the tweets that contained information surrounding a particular keyword, very much like tags. Initially people hated them, mostly because they looked ugly and people weren't sure about their usefulness. But, with enough time, hashtags became hit, not just on Twitter but on every other social networking site we know.
Here are a few important stats regarding hashtags from a recent study published on the blog of bufferapp.
Appropriate hashtags enhances the impact of a tweet.
Tweets with hashtags get twice as engagement as tweets without hashtags.
If your tweet contains more than two hashtags engagement will drop by 21%.
So, now we know the importance of hashtags in tweets, here are some of the best Twitter hashtag analytics tools that can help you to enhance the influence of your tweet.
1. tweetreach
tweetreach is one of the most widely used tool to analyse hashtags, It provides the detailed report of the tweets posted with hashtag you searched for. The tools is quite simple to use, just enter the hashtag you want to analyse in the search bar and hit enter. It will ask you for authorization from your Twitter account, just authorize and the results will be there in front of you.
Here's what this tool has to offer,
Estimated reach of the tweet
Exposure, the number of times the tweet has landed in someone's timeline
Activity, the number of tweets posted containing a particular hashtag in a given time span
Top contributor, having the highest exposure
Most retweeted tweets
Contributors and Timeline
You can save the report in any of these formats, Link, Excel, PDF or Print.
This is what you will get with free option, If you choose any of the paid option availabe, you will get access to real time analysis.
2. Tweet Binder

Tweet Blinder is another amazing tool that provides hashtag analysis. Just enter the hashtag in the search bar, do authorization and that's it, you will land on the dashboard having a Twitter timeline, just click on the stats for the detailed analysis report. The procedure to sign up is quite simple, here are the features of the tool,
Analysis of 2000 tweets over past 7 days
Impact, potential number of times someone could have seen the hashtag
Followers per contributor, average number of followers of the people contributing in the hashtag
Number of contributors, number of tweets per contributors, tweets containing links and pictures
Graph showing the time when the people contributing to this hashtag were most active.
This is what you get in free plan, If you upgrade to paid plan, the number of tweets analysed by the tool over past 7 days will increase, more metrics will be provided. Also, In the paid plan there will be options like XLS download, report customization and realtime tracking.
3. hashtags.org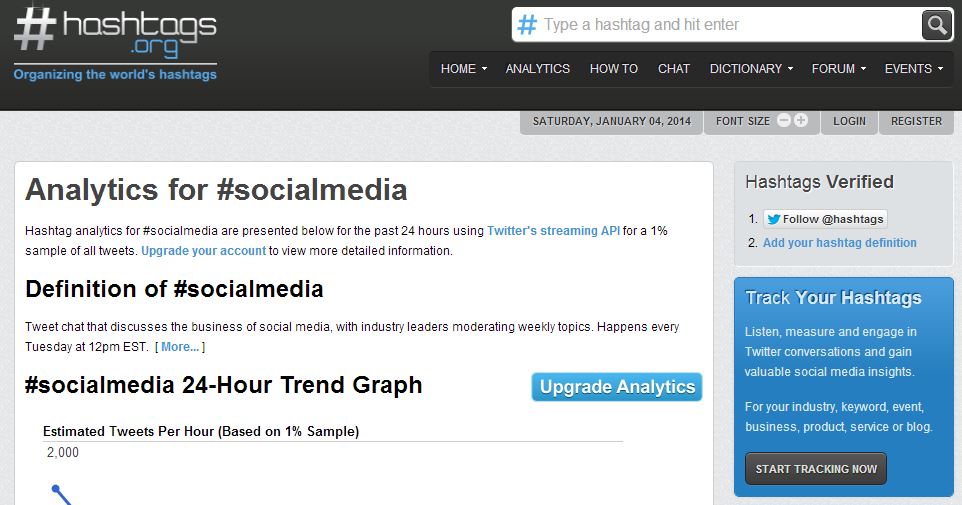 This tool is best for people who are looking to go with paid option because It doesn't provide much of analysis with the free version. Sign up process is similar to what I have already explained in other two tools. Let's have a look at the features offered by this tool,
Gathers information from 1% of all the tweets with the hashtag
24 hour trend graph of the hashtag
Top 5 users of the hashtag
Twitter timeline
That's all you can do with free option. With the paid option you get following features,
Related hashtags
Free data storage
Export data in desired format
Get dedicated support from the company
Apart from above mentioned hashtag tracking tools, you can also try these two tools, hashtracking and tweet archivist. 
SEE ALSO: 
5 Useful Twitter Tools To Schedule Tweets 
3 Useful Tools to Track Twitter Unfollowers
If you have any query or suggestion, feel free to comment below the post and subscribe to our newsletter for more articles on social media tools.