As technology progresses, our computers are expanding in power and at the same time, shrinking in size. The original, heavy desktops have (mostly) given way to the portable and ultra-light laptops. And "Stick PCs" are an illustration of the latest development in this chain of evolution, packing in the basic hardware of computing in a ridiculously small form factor. One such (and probably the most well-known) Stick PC is the first gen Intel Compute Stick.
The Intel Compute Stick is aimed at providing truly on-the-go computing, needing just an HDMI capable display (and a mouse and keyboard) that it can turn into a computer. And even as we wait for the recently announced second generation Intel Compute Stick to hit the market, just how good is the original, at doing what it says it does?
To know that, folks, read through our in-depth Intel Compute Stick review, and find out whether it's worth shelling almost $150 for.
What's in the Box?
Note: The Intel Compute Stick comes in two variants: a Windows version with 32 GB on-board storage, and a Linux version with 8 GB on-board storage. This review focuses on the Windows version, bearing the model number – STCK1A32WFC.
The Intel Compute Stick comes packaged in a nice looking slide-out box, which has a ton of details (e.g. brand trademark and copyright info, product images) imprinted on it everywhere. But obviously, you're not going to bother checking out that. So let's get to the actual box contents:
1 Intel Compute Stick (Model No. – STCK1A32WFC).
1 HDMI extension cable.
1 Micro USB to USB type A cable.
1 AC adapter.
4 Plug attachments for electrical wall socket compatibility.
1 Quick Start Guide
1 McAfee AntiVirus Plus subscription for one year (redeemable online).
Technical specifications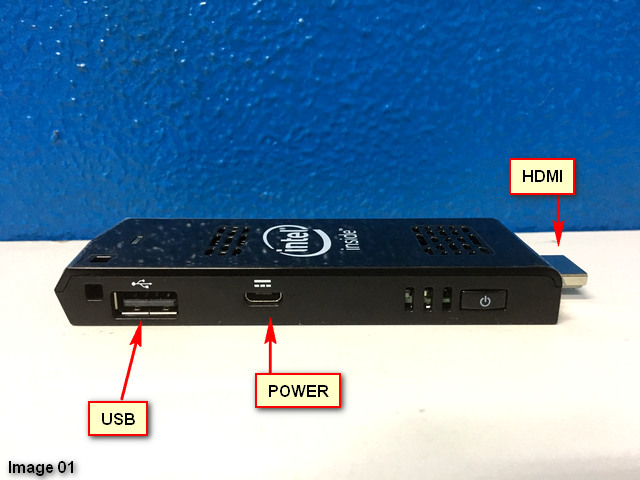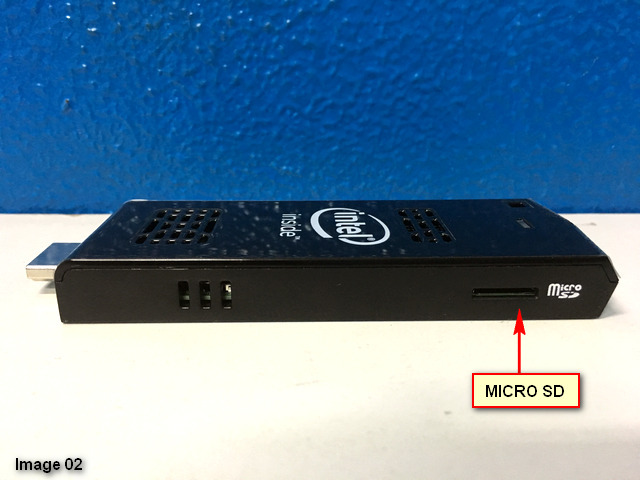 Dimensions – 103 mm x 37 mm x 12 mm
Processor – Intel Atom Z3735F 1.33 GHz Quad Core
RAM – 2 GB
Operating System – Windows 8.1 with Bing (upgradeable to Windows 10)
On-board storage – 32 GB eMMC
Connectivity – Wi-Fi 802.11 b/g/n, Bluetooth 4.0
Graphics – Intel HD Graphics
Audio – Intel HD Audio via HDMI
Ports – 1 HDMI 1.4 port, 1 Power port, 1 USB 2.0 port (See Image 01 embedded above)
Expansion slot(s) – 1 MicroSD card slot (See Image 02 embedded above)
Other features – Power button, Security notch for lanyard
Setup and Configuration
Getting Intel Compute Stick all set and running doesn't really require any effort. All you require is an HDMI compatible TV (or computer monitor), in addition to Wi-Fi connectivity, and basic input devices (mouse and keyboard). Read here to find out the details.
General Usage Performance
For measuring the performance of Intel Compute Stick, we took some general usage scenarios (e.g. browsing the web, online video streaming, editing documents), executing each for roughly 15 minutes, and saw how this thing measured up. Let's talk about them one by one:
1. Web Browsing (using Google Chrome)
For the most part, browsing the web using Intel Compute Stick worked well. Websites loaded up as they should, and the loading speeds were overall pretty good. However, problems arose when we opened multiple browser tabs. Working with these many tabs ate up almost all of the tiny (free) memory the Intel Compute Stick has, frequently resulting in the browser getting unresponsive/crashed. And not just that, Chrome suspended the inactive tabs more often, making for a less-than-perfect browsing experience. In essence, the Intel Compute Stick works for casual browsing, but don't expect to be an online multi-tasker with it.
2. Video Playback (offline and streaming)
Generally, video playback on the Intel Compute Stick was no slouch. We played a couple of high-definition (both 720p and 1080p) videos and movies via VLC media player, and with barely an issue. Not only that, high-definition video streaming (again, both 720p and 1080p) on YouTube worked great as well. But the limitations of the under-powered Intel Atom made themselves known as soon as we tried playing/streaming 4K video. Shorter version? Don't even think about trying to play/stream 4K video content on the Intel Compute Stick, unless endlessly waiting for 1-2 seconds of video to buffer is your thing.
3. Creating/Editing documents (using Word, Excel & PowerPoint)
Installing Microsoft Office on the singular available system partition, we took its core apps (Word, Excel and PowerPoint) for a test run, using them to create/edit a document each. And we're happy to say that the Intel Compute Stick didn't let us down. Thus, it works pretty nicely as an on-the-go solution for working with spreadsheets, presentations, and other documents. However, the performance slowed down a bit when editing documents with other programs (e.g. Google Chrome), causing a little lag every now and then. So as long as you don't really have too many resource heavy programs open at the same time, the Intel Compute Stick should serve you fine.
Performance: Summary
In view of the above discussion, it can be concluded that while the Intel Compute Stick can easily handle the basics of everyday computing, it shouldn't be used for working with intensive programs. That's because it's supposed to be a bare-bones PC for the occasional browsing and document editing, and not a replacement for your powerhouse desktop workstation (or laptop).
The Good and The Bad
Pros:
Lightweight and compact.
Relatively easy to setup.
Comes with multiple plug attachments for world electrical socket compatibility.
Works well for lightweight computing tasks.
Cons:
Additional hardware (e.g. USB hub, mouse, and keyboard) generally needed to get things up and running.
Single chip for Bluetooth & Wi-Fi degrades performance.
OS takes too much of the total on-board storage.
Balks at even the slightest of multi-tasking.
Intel Compute Stick: Some use cases
Home entertainment (e.g. using Home Theater applications like Kodi or Plex)
Kiosks (e.g. using Windows' kiosk mode)
Thin Clients (e.g. for working with files stored in the cloud, online)
What the competition has to offer?
While it's certainly a revolutionary product (especially given its diminutive size), the Intel Compute Stick isn't the only one of its kind out there. And if you're willing to take a look at alternatives, there are quite a few interesting choices available. Take for example, the ASUS Chromebit, which is a stick PC running Google's Chrome OS. Then there's the MeegoPad T02, which is nearly identical to the Compute Stick when it comes to hardware, but also adds in a 3.5 mm audio jack to the mix. Want even more? Take a look at the 8 best Stick PCs we've covered.
Intel Compute Stick: Headed the right way, but not there yet
Without a doubt, the Intel Compute Stick solidly indicates how exciting the future of computing is. I mean, a few years ago, who would've thought that you'd be able to carry a PC the size of a candy-bar with you anywhere. But as impressive a product it is, the Intel Compute Stick has quite some way to go. It's a great for casual computing, but if you want a more overall polished product, it's better to wait for the second generation.
What do you think of the Intel Compute Stick? Is it something you'd buy? And if yes, for what? Do let us know your thoughts in the comments below.
Send your products to be reviewed. Contact Devinder Maheshwari for further details.