When it comes to social media marketing Twitter plays a very important role. No one can afford to ignore Twitter while planning their social media marketing strategy and for creating a successful Twitter marketing campaign, It is important to sit back, analyse the behavior of target audience and do a thorough research on competitors.
To help you with that, here are some of the best and free Twitter analytic tools,
1.  twitonomy- Twitter analytics and much more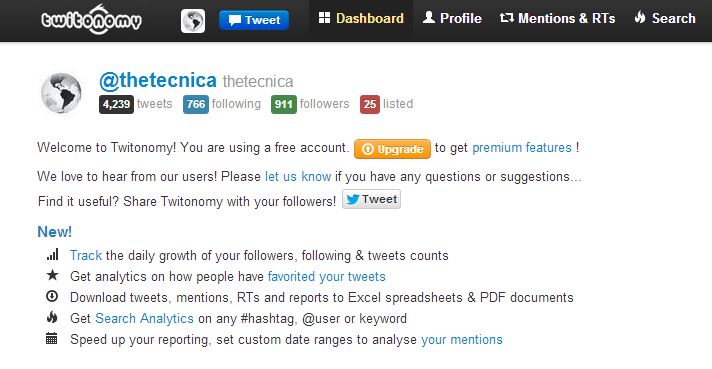 twitonomy is one of the best Twitter analytic tools in the market. To start using this tool, you just have to sign up with your Twitter account. After signing up, you will see a dashboard with a lot of options. Let's break out all these options to know what exactly this tool has to offer,
Detailed analysis of all the tweets since day one
Most re-tweeted, Favorited and most replied to tweets
hashtag analysis, 10 most used hashtags
Information about best day of the week to tweet and also the best time of the day to tweet
You can run analysis on any user or hashtag
That's all you can do free and If you upgrade to the paid option you will have access to a lot more features, here are they,
You can download data in the form of Excel or PDF
Set custom range in the graphical interpretation of data
Get search analytics for any keyword
Daily tracking
twitonomy's paid plan starts from 19 USD per month.
2. twtrland- Social Intelligence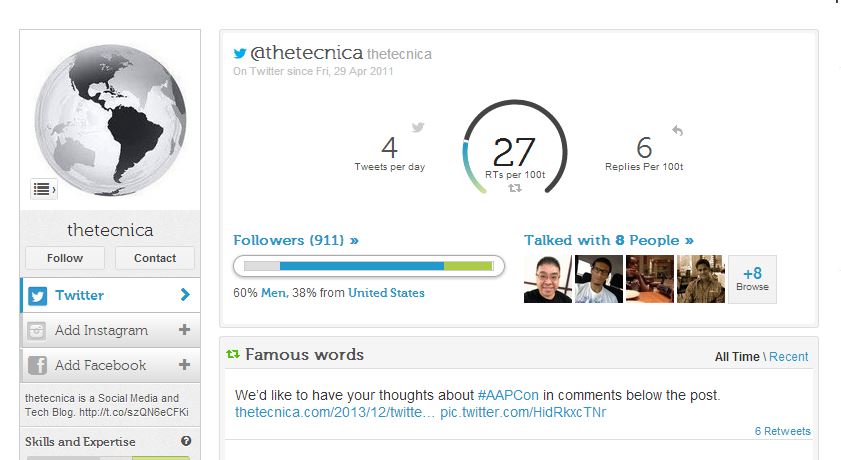 twtrland is not just Twitter analytics tool, It also offers analytics for Facebook and Instagram but for now, we'll talk about Twitter only. Just sign up with your Twitter account and you will see the dashboard with a lot of information about your Twitter account. Here are the features of this tool,
Your profile information such as Tweets per day, Tweets amplification, recent top content and new followers.
Real time statistics, number of people that tweeted in your feed in past one hour
Follower analysis, based on their age, gender, demographic and interests
Sort followers on the basis of their influence, demographic and interests
And a few more features like conversation and welcome new followers with a tweet
Though, you can study your competitor's profile too but the report won't be detailed
All the features mentioned above are free. Now, If you upgrade to Pro, here are the extra features you'll get,
Get advanced analytics with more features
Track your competitors and the campaigns
twtrland paid plan starts from 19.99 USD per month.
3. Topsy- Twitter Search Monitoring and Analytics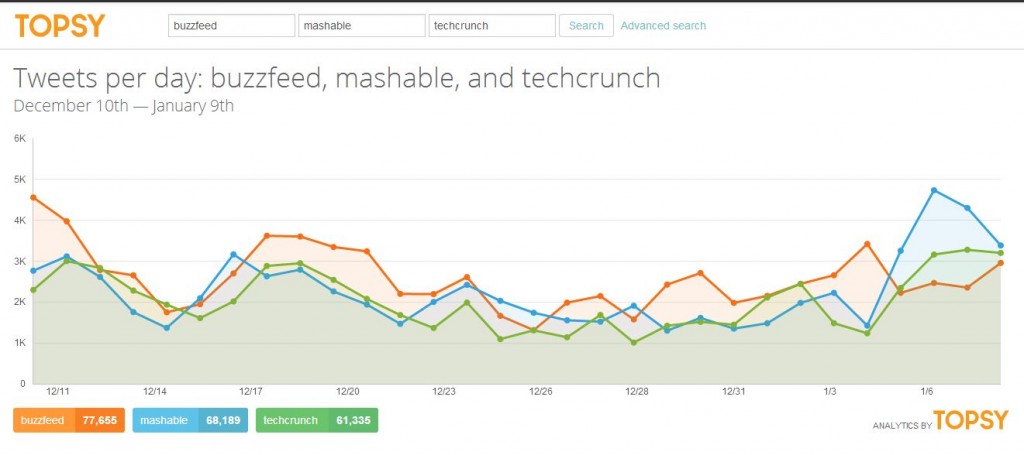 Topsy is a social web search engine and analytics. Signup isn't required if you are not opting for Topsy pro. Just type the keyword in the search box. Let's say you want to search for the hashtag #SocialMedia, here are the results offered by Topsy,
You can see the number of tweets with #SocialMedia hashtag in past one hour, one month or you can enter any specific range
You can sort the tweets, like, tweets with or without link; tweets with picture or video
You can find out the most influential people for a particular keyword or hashtag.
If you want to see Tweets in languages other than English, there's an option for that too.
One noticeable feature is that you can compare number of tweets over a period time for three different Twitter accounts, we have done it for Buzzfeed, Mashable and Techcrunch.
Paid option is also available.
4. followerwonk- Twitter Analytics, Social Graph Tracking and More

followerwonk is a Moz owned analytics tool. Though, It doesn't provide detailed analysis like the first three in the list but, there are some great features that makes this tool stand strong. Let's find out the features of this tool,
Search Twitter Bios, Let's say you are looking for people who have the word 'Startup' in their Twitter bio, just enter the keyword Startup in the search bar, hit enter and that's it, you've got the results in front of you. Now, If you want to filter these results, you can use advanced options.
Compare Users, this option lets you compare followers/followings of three Twitter accounts.
For more features, you will have to opt for the paid option, It comes with 30 days trial option.
5. Twitter Counter- Check Your Own Twitter Stats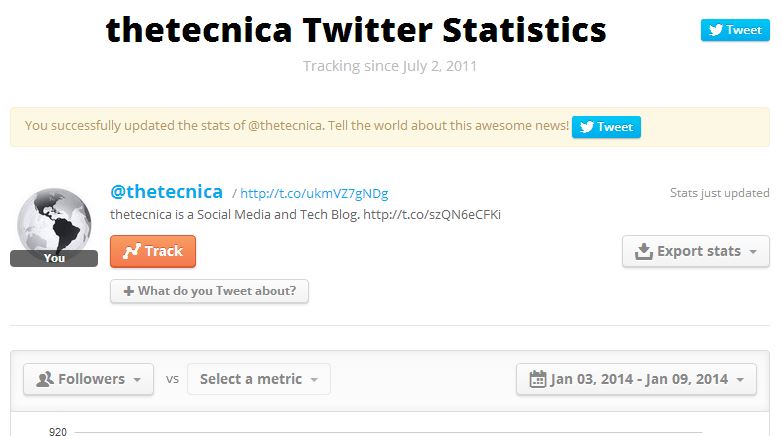 Twitter counter is again a very impressive Twitter analytics tool with lots of features. Let's see the features offered by this tool,
Graphical representation of your tweets, followers and followings. An extrapolated graph that tells you the number of followers you will be having after a certain period of time
You can analyse multiple accounts and switch when you want to
You can compare two Twitter accounts
These are the freely available features but you can do a lot more with the paid option, here are the extra features in paid option,
You can promote your Twitter account by advertising with Twitter counter
Buy detailed statistics of Twitter account of your competitor
Twitter counter paid plan starts from 17 USD per month.
SEE ALSO: 5 Free Twitter Tools To Schedule Tweets
6. Tweriod- Know Best Time To Tweet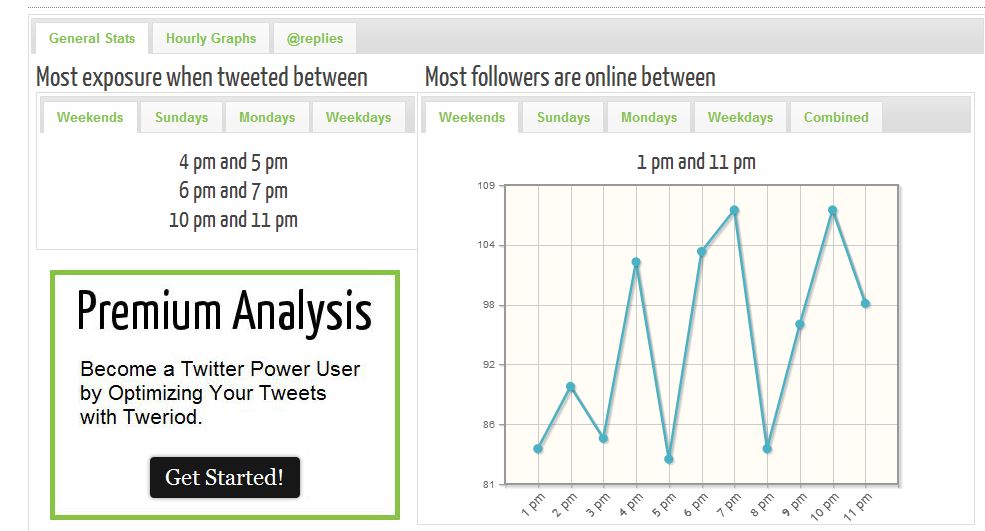 With Tweriod you can find out the best time to tweet. It runs an analysis on 1000 followers and returns the result with best time to Tweet. For analyzing more than 1000 followers, you will have to go with the paid plan.
Tweroid's paid plan starts from 3.99 USD per month.
7. TweetLevel- How Influential Are You
With TweetLevel you can analyse a particular topic or a Twitter account.
When you search for a topic or a hashtag, TweetLevel provides result from past one month. In the result you will find out, the level of buzz, most influential Twitters and top shared web links.
When you search for a particular Twitter account, TweetLevel provides you with a score for that account, a graphical representation showing the influence of the Twitter account, active hours and the word cloud showing most used words in the tweets.
Paid option is also available.
8. foller.me- Twitter Analytics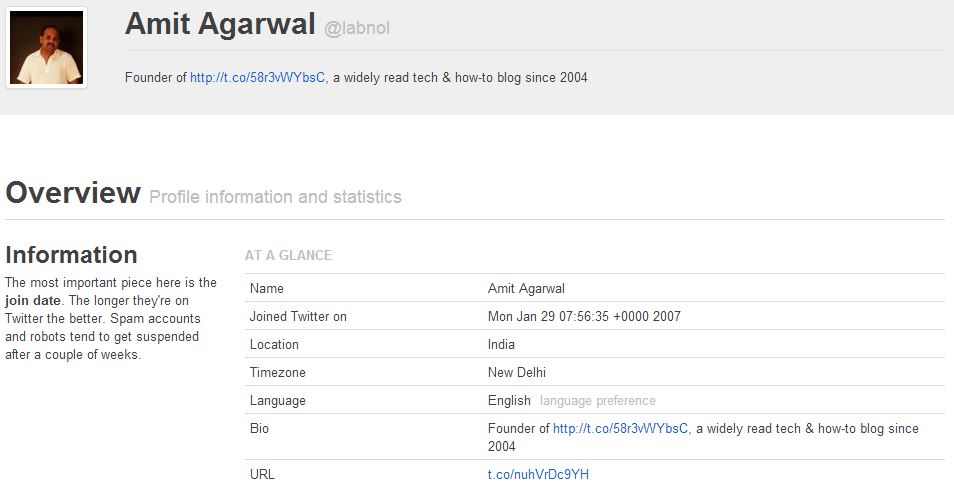 foller.me is completely free. It provides information about Twitter account, no need to sign up, just type the Twitter handle in the search bar and hit enter. Here's what it returns,
General information about the Twitter account, such as, date of joining Twitter, bio, country, followers, followings, etc.
Most used topics, hashtags and mentions
tweet analysis, break down of tweets on the basis of retweets, favorites, with or without link etc.
active time
This tool is most suited when you are looking for an overview of the Twitter account. Don't expect detailed analysis from this tool.
 9. ads.twitter.com
With all the tools mentioned above you can analyse Twitter accounts, trends, particular hashtags and a lot of other stuff too. But, there's one thing that's missing, here's that one thing.

Let's say, your tweet contains a link and you want to find out how many times the link got clicked. Here's what you should do,
Open this link, ads.twitter.com and log in with your twitter account
Click on the Analytics option
Here, you will see all your recent tweets with the information about how many times the link got clicked.
SEE ALSO: 3 Tools to Track Twitter Unfollowers
I hope this post helps you in finding out the Twitter analytics tool that suits you the most. I've tried to cover as much detail as possible but, If you still have any query, feel free to ask in comments below the post.