Everyone loves a cool gesture-based UI, remember Nokia's Meego or Palm's webOS? Well, they were gesture-based operating systems that did not really take off due to poor timing or just poor hardware. However, they are still remembered for the intuitiveness they brought to the table. While today's bigwig mobile platforms, Android and iOS, incorporate gestures, we only know the simple ones like pinch to zoom or different swipe gestures. Well, the fact is Android does pack in a few cool gestures that not everyone is aware of. As you might have guessed, we are listing down 10 cool Android gestures you should be using:
Native Android Gestures
First, let's talk about the hidden Android gestures. Let's begin:
1. Switch Tabs in Chrome
Chances are, you use Chrome a lot on your Android smartphone and if you indeed do, you might have had problems switching between tabs, especially if you have a large smartphone aka phablet. Well, Chrome for Android packs in a couple of cool gestures to help you switch tabs with ease:
Swipe left or right on the address bar to switch between open tabs in Chrome.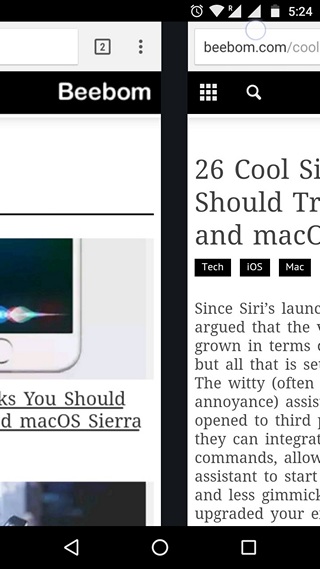 Swipe down from the address bar to open the tab switcher in Chrome. Here, you can move to a different tab, add a new tab or close tabs.
 2. Trigger Split Screen Mode
As you might have guessed, this gesture is reserved for Android 7.0 Nougat users. While you can always press hold the multitasking/recent apps button to start the split-screen mode, Google has included another cool gesture to trigger this feature. To enable this gesture, you will first have to enable System UI Tuner. You can do this by press holding the Settings cog in the Quick Settings for 5 seconds and when you release the press hold, you will get a toast message saying, "Congrats! System UI Tuner has been added to Settings".
Then, you can head to Settings and scroll down to the end to find the "System UI Tuner" option. Here, head to "Other" and enable "Enable split-screen swipe-up gesture". Once done, you will be able to trigger split-screen multi-window mode by just swiping up from the recent apps navigation button.
Note: If you want to know all of the System UI Tuner tricks, you can check out our detailed article on the same.
3. Open Quick Settings Directly
Quick Settings are the various shortcuts and toggles available from the notification shade. The way it is now, you can get to Quick Settings by swiping twice from the top and while it's pretty easy, not everyone admires the additional gesture. However, there is another simple gesture that lets you bring down the Quick Settings directly. You can use two fingers to swipe down from the status bar and you will see the Quick Settings instead of the notifications. Cool, right?
Google Keyboard Gestures
Google Keyboard is a pretty feature rich keyboard app and along with its unique features, the keyboard includes some very cool gestures that you can use to speed up your typing:
4. Move Cursor Easily
Moving the cursor to edit text can be really annoying and most of the times, we tend to miss the exact point. Well, if you are using the Google Keyboard, you can just swipe left and right on the Space bar to move the cursor around.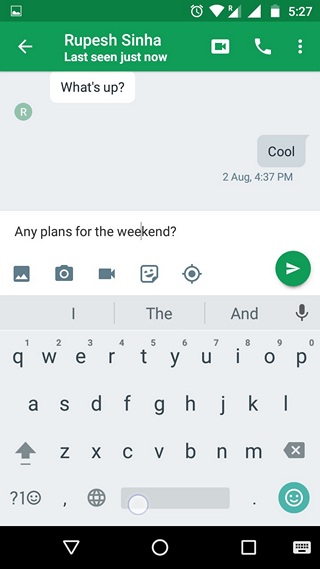 5. Delete Complete Words
Press holding the delete key is the usual way to delete text but it's not the most accurate or streamlined solution when it comes to deleting a few words. Well, Google Keyboard lets you drag the delete key to the left to delete complete words. For instance, dragging the delete key to "M" will delete one word, dragging it on "N" will delete two words and so on. When you drag the key, the words that are going to be deleted are highlighted, to give you a better idea.
6. Capitalize Individual Letters
Capitalizing single letters can be a hectic task if you are writing a long text, as we tend to hit the caps-lock key and then type the letter and then, hit the caps-lock key again to turn it off. Thankfully, Google Keyboard has a cool gesture that fixes this problem. All you need to do is swipe from the caps-lock button to the letter you want to capitalize and it'll be done.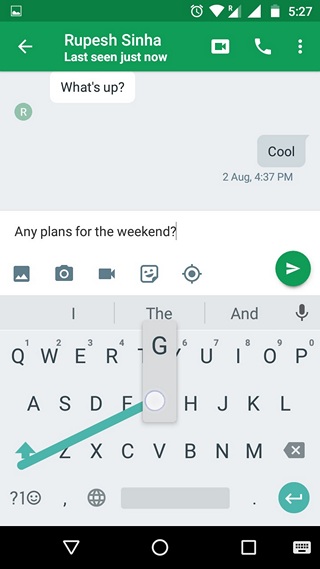 7. Remove Specific Suggestions
Google Keyboard's word suggestions can be extremely helpful when you need to type quickly but it can also be pretty annoying when you haven't used it for long. So, if you are typing something and you see a suggestion that does not make any sense, you can trash it. It's simple, just press hold the suggestion and drag it to the trash icon above.
8. Type numbers or symbols quickly
If you are typing a text that features a lot of numbers and symbols, you will have a tough time, considering you will have to press the symbols button now and again to add numbers or symbols. Not the best user experience, right? Well, Google Keyboard has a solution for this as well. You can just press hold the symbols key and drag it to a letter that corresponds to a number or symbol in the number & symbols page.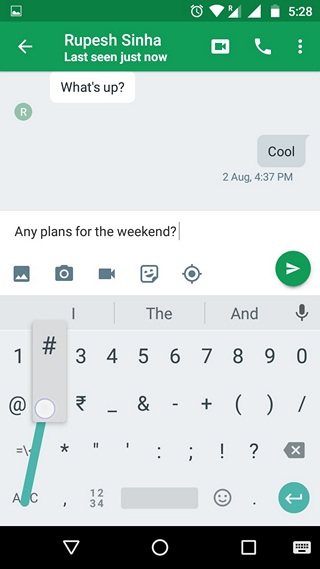 Third Party Gesture Apps
9. All in One Gestures: Add Custom Gestures
Want to totally control your Android smartphone with gestures? Well, the All in One Gestures app (Free) is your best bet. Once you have set up the app, you will be able to create custom gestures for all the corners and edges of your smartphone's display.
All you need to do is turn on the "Enable" toggle and then, tick the gestures you want to use, after which a menu will open that will let you select the action you want. You can choose between various actions like Home, Back, Recent Apps, Screen Off, Power Menu, Status Bar, Kill App, Screenshot etc. or choose an app, shortcut or activity to launch. Once done, you will see a shade at the corners or edges that you have enabled gestures on, signifying that you can use them to launch your action.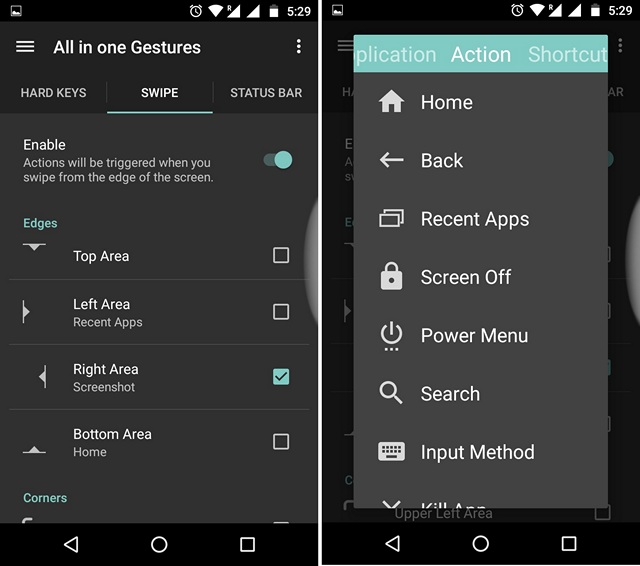 10. Apex Launcher: Homescreen Gestures
If you want homescreen gestures for various actions, you can try out a launcher app with gesture support. Apex Launcher (Free) fits the bill here, as it brings some gesture options in its free version. After you have installed and set Apex Launcher as the default launcher, you can head to "Apex Settings". Here, go to "Behavior Settings" and scroll down to the Gestures section, where you can set up gestures for pinch in, swipe up, swipe down, double tap, long press.
You can choose from actions like show app drawer or previews, go to default screen, show notifications, lock desktop etc. or launch an app, shortcut or activity. If you'd like more gestures like two finger swipes, you will have to get the Apex Launcher Pro ($3.99).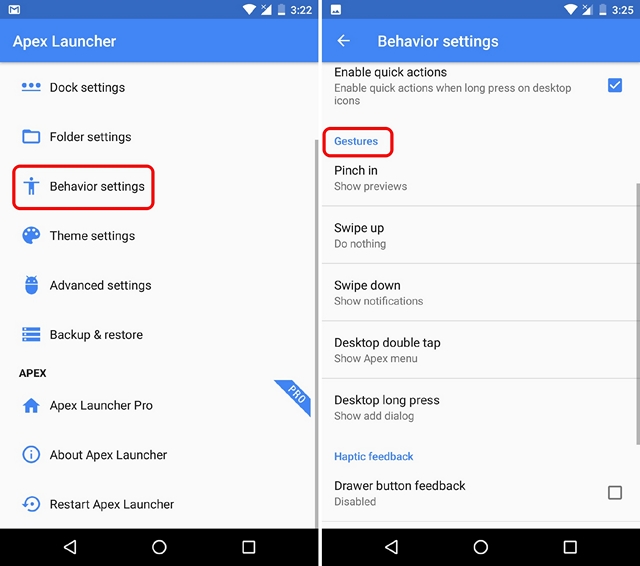 Also, you can even get Nova Launcher Prime ($4.99), which brings the same homescreen gestures like Apex but offers rotate and double finger gestures too.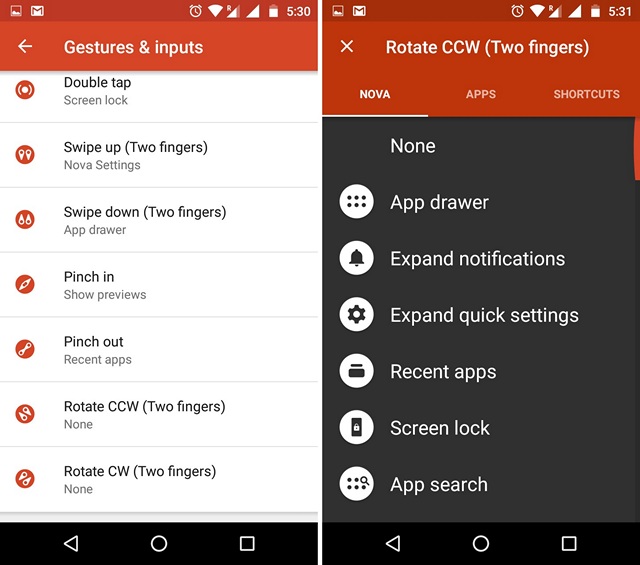 Bonus: Hands-free Air Gestures
While you can always control Android smartphones hands-free thanks to Google Now, there are some apps that bring hands-free air gestures. Firstly, there's KinScreen (Free, $0.99 for full version), which lets you turn on your device's display by just waving over the proximity sensor. You can even make sure the screen does not timeout by just waving over the proximity sensor. The app also brings a host of other options like the ability to check working of your device's proximity sensor, turn on screen or keep screen on when motion is detected. All of these features are configurable but only in the full version of the app.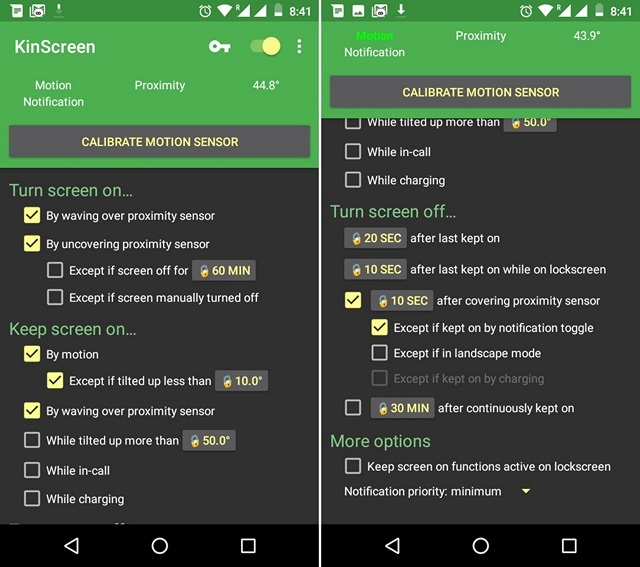 You can also check out the Wave control app (Free), which lets you control music, calls and other apps through air gestures. We had a hit-miss experience with the app and the full-page ads (in the free version) along with a bloated UI surely don't make up for a great experience. Plus, most of its features are locked in its paid version ($2.99).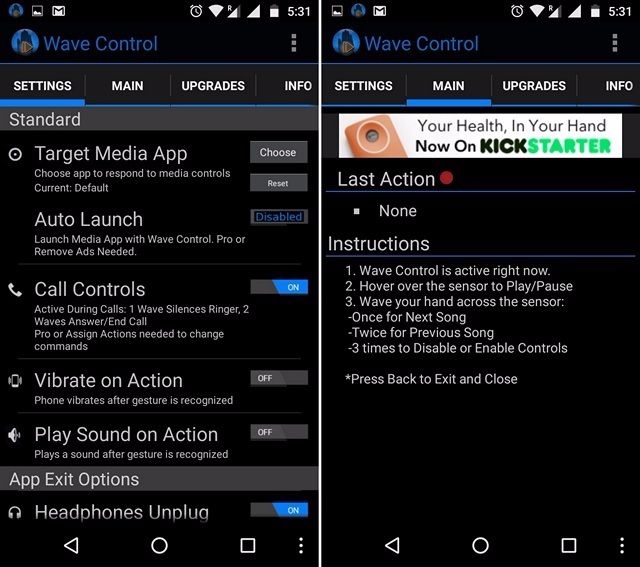 SEE ALSO: 13 Cool Android Shortcuts You Must Know
Ready to use these intuitive Android Gestures?
Gestures surely make up for an intuitive experience and we so wish Google to incorporate even more native gestures in the OS. While the Android native gestures are cool, they are few but thankfully, the third party apps more than make up for it. So, try out these gestures and apps and let us know your thoughts in the comments section below.