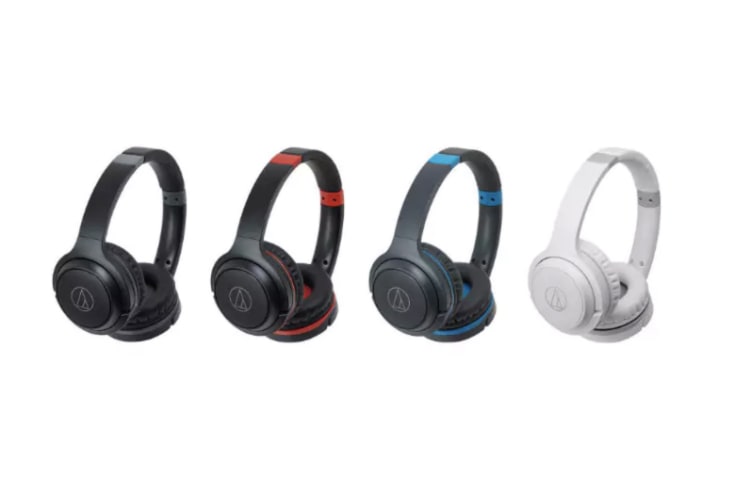 As always, the big-name audio brands are out in full force at CES and we have seen a slew of announcements in the audio and music category from companies old and new this year. But one big name was missing from this list, so far.
If you were wondering where the new range of Audio-Technica headphones are, it's time to stop and admire these 5 new wireless Bluetooth headphones from the company.
With the release of these wireless headphones Audio-Technica is covering all the prominent sub-categories for headphones including noise-canceling pairs, audiophile-tier earphones, fitness-oriented buds, and budget headphones.
Audio-Technica DSR5BT
First up is the Audio-Technica DSR5BT, which features the company's proprietary Pure Digital Drive technology, first seen in 2017's DSR9BT and DSR7BT models. According to the company, its Pure Digital Drive technology uses a Trigence Semiconductor Dnote processor that allows the in-ear headphone to bypass the digital-to-analog process and allows the audio signal to remain digital from the media source to the headphone driver delivering a more natural audio performance with vastly reduced distortions. This one is certainly a premium product and will be launched at a price of $399.
Audio-Technica ANC700BT
The second headphone that Audio-Technica launched at CES is one which focuses on active noise canceling technology to deliver a distraction-free listening experience. According to the company, "the new QuietPoint over-ear wireless active noise-canceling (ANC) headphones include a newly developed ANC system that offers a greater degree of noise cancellation, along with an intuitive touch and swipe control system for answering calls and controlling volume and playback."
The headphone sports four-microphone ANC system which results in far better noise cancellation than previous ANC models. It will be available to purchase at $199.
Audio-Technica SPORT70BT and SPORT50BT
According to the company, the new ATH-SPORT70BT and ATH-SPORT50BT Bluetooth wireless technology headphones offer a variety of fitness-oriented features, such as the comfortable ear-hook design, IPX5 waterproof-rated construction, and built-in microphone and controls.
The headphones are best for workouts as they can deliver music for up to six hours and their waterproof technology keeps the headphones working even under running water. The company is making the SPORT50BT available for $129 and the SPORT50BT for $69.
Audio-Technica S200BT
Lastly, the Audio-Technica S200BT headphones are over-ear headphones for people who are on a budget. The headphones are built using 40mm drivers and deliver decent sound. The best feature about these headphones is that they offer an impressive 40-hour long battery life. The new S200BT is priced at $79.
Looks like Audio-Technica has all bases covered as far as this year's wireless headphones and earphones are concerned, with a pair released for every segment possible. As more and more smartphones losing the 3.5 mm jack, it's only logical to follow the trend of wireless headphones.
---