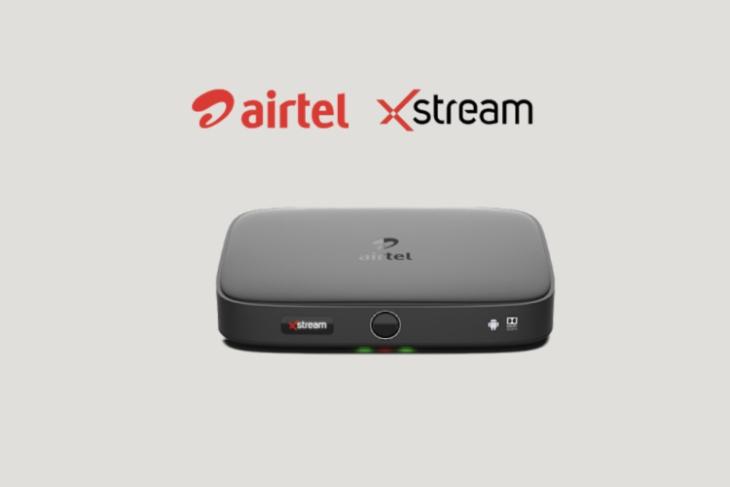 Airtel TV was recently rebranded to Airtel XStream. The Airtel TV app, which allows you to stream live TV, movies, and shows on the move, was the first to be updated with the new branding. But, the company is now gearing up to unveil a smart box and smart stick with the new XStream branding.
Airtel XStream app is designed to offer an enhanced Live TV viewing experience, with no lag and buffering. The app houses the same features as before, but the company aims to now offer more perks with the launch of the upcoming smart box and smart stick. Details for both of these devices have found its way online, of recent, and here's everything you need to know about them:
XStream Smart Box
Pictured above, the Airtel Smart Box is an Android-based device that runs Android 9 Pie out-of-the-box. It is powered by a dual-core CPU clocked at up to 1.8GHz, coupled with 2GB RAM, 8GB internal storage, and Broadcom VideoCore V HW (V3D-510) GPU. Airtel Smart Box will enable you to broadcast DTH, IPTV and OTT content all from one device.
Speaking of the XStream smart box, Bharti Airtel CEO Gopal Vittal at their earnings call said, "One of the things we are looking at is to bring in a box, which will kind of offer full-converged entertainment as well as the capacity to deliver broadband. This will happen soon, and we're already excited that once we do that, then it's a full-converged play that we can potentially deliver across multiple spaces." 
XStream Smart Stick
The smart box will be complemented by the XStream Smart Stick, which looks similar to Google Chromecast right off the bat. It will plug into the HDMI port of the television and offer access to content from popular OTT services (Eros Now, HOOQ, Hungama) and others, integrating with Airtel XStream mobile app.
Airtel XStream smart stick runs on Android out-of-the-box and has built-in Chromecast support. The bundled remote has a dedicated Google Assistant button for quicker voice search. The difference between the smart box and smart stick is that the latter will be launched with its own dedicated plans, which need to be activated separately from the smart box. However, rumors suggest that eligible Airtel Postpaid, Broadband, and DTH customers won't need a dedicated plan.
There is currently no word on the pricing and availability details of both Airtel XStream Smart box and smart stick. We will update this article as more info on either of the two streaming devices pours in.